Research and Writing Guides
Writing a paper? Don't get lost.
How to write an excellent thesis conclusion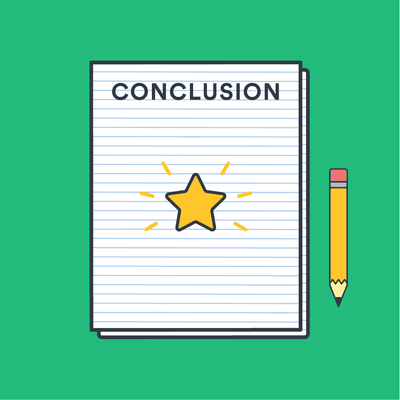 At this point in your writing, you have most likely finished your introduction and the body of your thesis, dissertation, or paper. While this is a reason to celebrate, you should not underestimate the importance of your conclusion. The conclusion is the last thing that your reader will see, so it should be memorable. Writing a good conclusion is a simple process, but it is not always easy.
A good conclusion will review the key points of the dissertation and explain to the reader why the information is relevant, applicable, or related to the world as a whole. Make sure to dedicate enough of your writing time to the conclusion and do not put it off until the very last minute. This article provides an effective technique for writing a conclusion adapted from Eby, Erica (2012) The College Student's Guide to Writing a Good Research Paper: 101 Easy Tips & Tricks to Make Your Work Stand Out .
While the thesis introduction starts out with broad statements about the topic, and then narrows it down to the thesis statement, a thesis conclusion does the same in the opposite order:
The best way to start a conclusion is simply by restating the thesis statement. That does not mean just copying and pasting it from the introduction, but putting it into different words. You will need to change the structure and wording of it to avoid sounding repetitive. Also, be firm in your conclusion just as you were in the introduction. Try to avoid sounding apologetic by using phrases like "This paper has tried to show..."
The conclusion should address all the same parts as the thesis while making it clear that the reader has reached the end. You are telling the reader that your research is finished and what your findings are.
I have argued throughout this work that the point of critical mass for biopolitical immunity occurred during the Romantic period because of that era's unique combination of post-revolutionary politics and innovations in smallpox prevention. In particular, I demonstrated that the French Revolution and the discovery of vaccination in the 1790s triggered a reconsideration of the relationship between bodies and the state.
2. Review or reiterate key points of your work
The next step is to review the main points of the thesis as a whole. Look back at the body of of your project and make a note of the key ideas. You can reword these ideas the same way you reworded your thesis statement and then incorporate that into the conclusion. You can also repeat striking quotations or statistics, but do not use more than two. As the conclusion represents your own closing thoughts on the topic, it should mainly consist of your own words.
In addition, conclusions can contain recommendations to the reader or relevant questions that further the thesis. You should ask yourself what you would ideally like to see your readers do in reaction to your paper. Do you want them to take a certain action or investigate further? Is there a bigger issue that your paper wants to draw attention to?
Also, try to reference your introduction in your conclusion. You have already taken a first step by restating your thesis. Now, check whether there are other key words, phrases or ideas that are mentioned in your introduction that fit into your conclusion. Connecting the introduction to the conclusion in this way will help readers feel satisfied.
I explored how Mary Wollstonecraft, in both her fiction and political writings, envisions an ideal medico-political state, and how other writers like William Wordsworth and Mary Shelley increasingly imagined the body politic literally, as an incorporated political collective made up of bodies whose immunity to political and medical ills was essential to a healthy state.
3. Explain why your work is relevant
Although you can encourage readers to question their opinions and reflect on your topic, do not leave loose ends. You should provide a sense of resolution and make sure your conclusion wraps up your argument. Make sure you explain why your thesis is relevant to your field of research and how your research intervenes within, or substantially revises, existing scholarly debates.
This project challenged conventional ideas about the relationship among Romanticism, medicine, and politics by reading the unfolding of Romantic literature and biopolitical immunity as mutual, co-productive processes. In doing so, this thesis revises the ways in which biopolitics has been theorized by insisting on the inherent connections between Romantic literature and the forms of biopower that characterize early modernity.
4. A take-home message for the reader
End your conclusion with something memorable, such as a question, call to action, or recommendation. You can also gesture towards future research or note how the problem or idea that you covered remains relevant. If you began your thesis with an anecdote or historical example, you may want to return to that in your conclusion. Ultimately, you want readers to feel more informed, or ready to act, as they read your conclusion.
Yet, the Romantic period is only the beginning of modern thought on immunity and biopolitics. Victorian writers, doctors, and politicians upheld the Romantic idea that a "healthy state" was a literal condition that could be achieved by combining politics and medicine, but augmented that idea through legislation and widespread public health measures. While many nineteenth-century efforts to improve citizens' health were successful, the fight against disease ultimately changed course in the twentieth century as global immunological threats such as SARS occupied public consciousness. Indeed, as subsequent public health events make apparent, biopolitical immunity persists as a viable concept for thinking about the relationship between medicine and politics in modernity.
Need more advice? Read our 5 additional tips on how to write a good thesis conclusion.
Frequently Asked Questions about writing an excellent thesis conclusion
The conclusion is the last thing that your reader will see, so it should be memorable. To write a great thesis conclusion you should:
Restate the thesis
Review the key points of your work
Explain why your work is relevant
Add a take-home message for the reader
The basic content of a conclusion is to review the main points from the paper. This part represents your own closing thoughts on the topic. It should mainly consist of the outcome of the research in your own words.
The length of the conclusion will depend on the length of the whole thesis. Usually, a conclusion should be around 5-7% of the overall word count.
End your conclusion with something memorable, such as a question, warning, or call to action. Depending on the topic, you can also end with a recommendation.
In Open Access: Theses and Dissertations you can find thousands of completed works. Take a look at any of the theses or dissertations for real-life examples of conclusions that were already approved.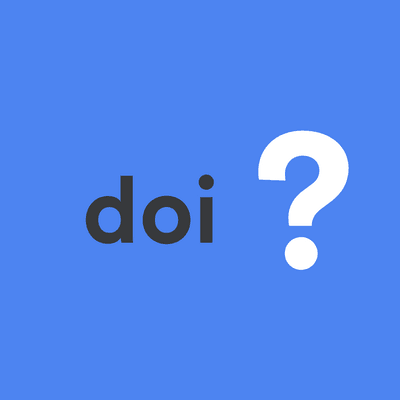 Questions about Expos?
Writing Support for Instructors
Ending the Essay: Conclusions
So much is at stake in writing a conclusion. This is, after all, your last chance to persuade your readers to your point of view, to impress yourself upon them as a writer and thinker. And the impression you create in your conclusion will shape the impression that stays with your readers after they've finished the essay.
The end of an essay should therefore convey a sense of completeness and closure as well as a sense of the lingering possibilities of the topic, its larger meaning, its implications: the final paragraph should close the discussion without closing it off.
To establish a sense of closure, you might do one or more of the following:
Conclude by linking the last paragraph to the first, perhaps by reiterating a word or phrase you used at the beginning.
Conclude with a sentence composed mainly of one-syllable words. Simple language can help create an effect of understated drama.
Conclude with a sentence that's compound or parallel in structure; such sentences can establish a sense of balance or order that may feel just right at the end of a complex discussion.
To close the discussion without closing it off, you might do one or more of the following:
Conclude with a quotation from or reference to a primary or secondary source, one that amplifies your main point or puts it in a different perspective. A quotation from, say, the novel or poem you're writing about can add texture and specificity to your discussion; a critic or scholar can help confirm or complicate your final point. For example, you might conclude an essay on the idea of home in James Joyce's short story collection,  Dubliners , with information about Joyce's own complex feelings towards Dublin, his home. Or you might end with a biographer's statement about Joyce's attitude toward Dublin, which could illuminate his characters' responses to the city. Just be cautious, especially about using secondary material: make sure that you get the last word.
Conclude by setting your discussion into a different, perhaps larger, context. For example, you might end an essay on nineteenth-century muckraking journalism by linking it to a current news magazine program like  60 Minutes .
Conclude by redefining one of the key terms of your argument. For example, an essay on Marx's treatment of the conflict between wage labor and capital might begin with Marx's claim that the "capitalist economy is . . . a gigantic enterprise of dehumanization "; the essay might end by suggesting that Marxist analysis is itself dehumanizing because it construes everything in economic -- rather than moral or ethical-- terms.
Conclude by considering the implications of your argument (or analysis or discussion). What does your argument imply, or involve, or suggest? For example, an essay on the novel  Ambiguous Adventure , by the Senegalese writer Cheikh Hamidou Kane, might open with the idea that the protagonist's development suggests Kane's belief in the need to integrate Western materialism and Sufi spirituality in modern Senegal. The conclusion might make the new but related point that the novel on the whole suggests that such an integration is (or isn't) possible.
Finally, some advice on how not to end an essay:
Don't simply summarize your essay. A brief summary of your argument may be useful, especially if your essay is long--more than ten pages or so. But shorter essays tend not to require a restatement of your main ideas.
Avoid phrases like "in conclusion," "to conclude," "in summary," and "to sum up." These phrases can be useful--even welcome--in oral presentations. But readers can see, by the tell-tale compression of the pages, when an essay is about to end. You'll irritate your audience if you belabor the obvious.
Resist the urge to apologize. If you've immersed yourself in your subject, you now know a good deal more about it than you can possibly include in a five- or ten- or 20-page essay. As a result, by the time you've finished writing, you may be having some doubts about what you've produced. (And if you haven't immersed yourself in your subject, you may be feeling even more doubtful about your essay as you approach the conclusion.) Repress those doubts. Don't undercut your authority by saying things like, "this is just one approach to the subject; there may be other, better approaches. . ."
Copyright 1998, Pat Bellanca, for the Writing Center at Harvard University
How to Read an Assignment
How to Do a Close Reading
Developing A Thesis
Topic Sentences and Signposting
Transitioning: Beware of Velcro
How to Write a Comparative Analysis
Brief Guides to Writing in the Disciplines
Quick Links
Schedule an Appointment
Drop-in Hours
English Grammar and Language Tutor
Harvard Guide to Using Sources
Writing Advice: The Harvard Writing Tutor Blog
Departmental Writing Fellows
Videos from the 2022 Three Minute Thesis Competition
Follow @HCWritingCenter
Academic Phrases for Writing Conclusion Section of a Research Paper
Overview   |   Abstract   |  Introduction  |   Literature Review  |  Materials & Methods  |  Results & Discussion  |  Conclusion & Future Work  |  Acknowledgements & Appendix
A research paper should end with a well-constructed conclusion. The conclusion is somewhat similar to the introduction. You restate your aims and objectives and summarize your main findings and evidence for the reader. You can usually do this in one paragraph with three main key points, and one strong take-home message. You should not present any new arguments in your conclusion. You can raise some open questions and set the scene for the next study. This is a good place to register your thoughts about possible future work. Try to explain to your readers what more could be done? What do you think are the next steps to take? What other questions warrant further investigation? Remember, the conclusion is the last part of the essay that your reader will see, so spend some time writing the conclusion so that you can end on a high note.
The conclusion section of your research paper should include the following:
Overall summary
Further research
1. Overall summary
The paper concludes by arguing __ On this basis, we conclude that __ The authors concluded that __ is not confined to __ This allows the conclusion that __ The findings of this study can be understood as __ This may be considered a promising aspect of __ This may be considered a further validation of __ Remaining issues are subject of __ In summary, this paper argued that __ This aspect of the research suggested that __ In conclusion, __ seems to improve __ In summary, this paper argued that __ In conclusion, it would appear that __ The analysis leads to the following conclusions: __ It is difficult to arrive at any conclusions with regard to __ The main conclusion that can be drawn is that __ The present findings confirm __ As we have argued elsewhere __ may be considered a promising aspect of __ Ideally, these findings should be replicated in a study where __ By using __ we tested the hypothesis that __ In conclusion, __ seems to improve __ Broadly translated our findings indicate that __ This is an important finding in the understanding of the __ More generally, these basic findings are consistent with research showing that __ In addition, these findings provide additional information about __ Despite the limitations these are valuable in light of __ Overall, our results demonstrate a strong effect of __ Nevertheless, we found __ To our knowledge, this is the first report of __ Our results on __ are broadly consistent with __ The broad implication of the present research is that __ This conclusion follows from the fact that __ Collectively, our results appear consistent with __ Importantly, our results provide evidence for __ Results provide a basis for __ This experiment adds to a growing corpus of research showing __ Our data indicate that __; a result that casts a new light on __ These findings provide a potential mechanism for __ We have shown that __ Our data suggest that we still have a long way to go to __
2. Future work
Future research should consider the potential effects of __ more carefully, for example __ This assumption might be addressed in future studies. Future research on __ might extend the explanations of __ This is very much the key component in future attempts to overcome __ In future work, investigating __ might prove important. This is desirable for future work. Future investigations are necessary to validate the kinds of conclusions that can be drawn from this study. Future studies could fruitfully explore this issue further by __ Future research is needed to delimitate __ It will be important that future research investigate __ It is a question of future research to investigate __ We believe that apart from looking for __, future research should look for __ Regardless, future research could continue to explore __ This is an issue for future research to explore. Future studies could investigate the association between __ Future studies should aim to replicate results in a larger __ Future research should be devoted to the development of __ This may constitute the object of future studies. Future research could examine __ Interesting research questions for future research that can be derived from __ In future research, more research is needed to apply and test __ This is an interesting topic for future work. Future research should further develop and confirm these initial findings by __ Future research should certainly further test whether __ As also recommended above, future research should __ Future research should examine strategically __ Future research might apply __ In addition, __ might prove an important area for future research. A number of recommendations for future research are given. Therefore, future research should be conducted in more realistic settings to __ Further research on __ issue is warranted. Further work is certainly required to disentangle these complexities in __ Looking forward, further attempts could prove quite beneficial to the literature. Further research is needed to confirm this novel finding. These result warrant further investigation via __ This provides a good starting point for discussion and further research. Further studies should investigate __ The possibility of __ warrants further investigation.
Similar Posts
Academic Phrases for Writing Results & Discussion Sections of a Research Paper
In this blog, we discuss phrases related to results and discussion sections such as findings, limitations, arguments, and comparison to previous studies.
Academic Writing Resources – Academic PhraseBank | Academic Vocabulary & Word Lists
In this blog, we review various academic writing resources such as academic phrasebank, academic wordlists, academic vocabulary training sites.
How to Write a Research Paper? A Beginners Guide with Useful Academic Phrases
This blog explains how to write a research paper and provides writing ideas in the form of academic phrases.
Academic Phrases for Writing Methods Section of a Research Paper
In this blog, we discuss phrases related to materials and methods such as experimental setup, data collection & analysis, and statistical testing.
Academic Phrases for Writing Literature Review Section of a Research Paper
In this blog, we discuss phrases related to literature review such as summary of previous literature, research gap and research questions.
Academic Phrases for Writing Introduction Section of a Research Paper
In this blog, we discuss phrases related to introduction section such as opening statement, problem definition and research aims.
i humbly ask for some help here……………………i am conducting a science research on water wastage in poor areas and i have also come up with some sort of like a solution to that issue now im stuck i do not know how to wrote the future research please help
Pingback: Scholarly Paraphrasing Tool and Essay Rewriter for Rewording Academic Papers - Ref-N-Write: Scientific Research Paper Writing Software Tool - Improve Academic English Writing Skills
thank you very much
Ksi k pss first five chepter ka conclusion h to plz send urgently Book ranjit Kumar research
Perfect…
Leave a Reply Cancel reply
Your email address will not be published. Required fields are marked *
Save my name, email, and website in this browser for the next time I comment.
Have a language expert improve your writing
Run a free plagiarism check in 10 minutes, generate accurate citations for free.
Knowledge Base
How to conclude an essay | Interactive example
How to Conclude an Essay | Interactive Example
Published on January 24, 2019 by Shona McCombes . Revised on December 6, 2021.
The conclusion is the final paragraph of your essay . A strong conclusion aims to:
Tie together the essay's main points
Show why your argument matters
Leave the reader with a strong impression
Your conclusion should give a sense of closure and completion to your argument, but also show what new questions or possibilities it has opened up.
This conclusion is taken from our annotated essay example , which discusses the history of the Braille system. Hover over each part to see why it's effective.
Braille paved the way for dramatic cultural changes in the way blind people were treated and the opportunities available to them. Louis Braille's innovation was to reimagine existing reading systems from a blind perspective, and the success of this invention required sighted teachers to adapt to their students' reality instead of the other way around. In this sense, Braille helped drive broader social changes in the status of blindness. New accessibility tools provide practical advantages to those who need them, but they can also change the perspectives and attitudes of those who do not.
Table of contents
Step 1: return to your thesis, step 2: review your main points, step 3: show why it matters, what shouldn't go in the conclusion, more examples of essay conclusions, frequently asked questions about writing an essay conclusion.
To begin your conclusion, signal that the essay is coming to an end by returning to your overall argument.
Don't just repeat your thesis statement —instead, try to rephrase your argument in a way that shows how it has been developed since the introduction.
Next, remind the reader of the main points that you used to support your argument.
Avoid simply summarizing each paragraph or repeating each point in order; try to bring your points together in a way that makes the connections between them clear. The conclusion is your final chance to show how all the paragraphs of your essay add up to a coherent whole.
Prevent plagiarism. Run a free check.
To wrap up your conclusion, zoom out to a broader view of the topic and consider the implications of your argument. For example:
Does it contribute a new understanding of your topic?
Does it raise new questions for future study?
Does it lead to practical suggestions or predictions?
Can it be applied to different contexts?
Can it be connected to a broader debate or theme?
Whatever your essay is about, the conclusion should aim to emphasize the significance of your argument, whether that's within your academic subject or in the wider world.
Try to end with a strong, decisive sentence, leaving the reader with a lingering sense of interest in your topic.
The easiest way to improve your conclusion is to eliminate these common mistakes.
Don't include new evidence
Any evidence or analysis that is essential to supporting your thesis statement should appear in the main body of the essay.
The conclusion might include minor pieces of new information—for example, a sentence or two discussing broader implications, or a quotation that nicely summarizes your central point. But it shouldn't introduce any major new sources or ideas that need further explanation to understand.
Don't use "concluding phrases"
Avoid using obvious stock phrases to tell the reader what you're doing:
"In conclusion…"
"To sum up…"
These phrases aren't forbidden, but they can make your writing sound weak. By returning to your main argument, it will quickly become clear that you are concluding the essay—you shouldn't have to spell it out.
Don't undermine your argument
Avoid using apologetic phrases that sound uncertain or confused:
"This is just one approach among many."
"There are good arguments on both sides of this issue."
"There is no clear answer to this problem."
Even if your essay has explored different points of view, your own position should be clear. There may be many possible approaches to the topic, but you want to leave the reader convinced that yours is the best one!
Argumentative
Literary analysis
This conclusion is taken from an argumentative essay about the internet's impact on education. It acknowledges the opposing arguments while taking a clear, decisive position.
The internet has had a major positive impact on the world of education; occasional pitfalls aside, its value is evident in numerous applications. The future of teaching lies in the possibilities the internet opens up for communication, research, and interactivity. As the popularity of distance learning shows, students value the flexibility and accessibility offered by digital education, and educators should fully embrace these advantages. The internet's dangers, real and imaginary, have been documented exhaustively by skeptics, but the internet is here to stay; it is time to focus seriously on its potential for good.
This conclusion is taken from a short expository essay that explains the invention of the printing press and its effects on European society. It focuses on giving a clear, concise overview of what was covered in the essay.
The invention of the printing press was important not only in terms of its immediate cultural and economic effects, but also in terms of its major impact on politics and religion across Europe. In the century following the invention of the printing press, the relatively stationary intellectual atmosphere of the Middle Ages gave way to the social upheavals of the Reformation and the Renaissance. A single technological innovation had contributed to the total reshaping of the continent.
This conclusion is taken from a literary analysis essay about Mary Shelley's Frankenstein . It summarizes what the essay's analysis achieved and emphasizes its originality.
By tracing the depiction of Frankenstein through the novel's three volumes, I have demonstrated how the narrative structure shifts our perception of the character. While the Frankenstein of the first volume is depicted as having innocent intentions, the second and third volumes—first in the creature's accusatory voice, and then in his own voice—increasingly undermine him, causing him to appear alternately ridiculous and vindictive. Far from the one-dimensional villain he is often taken to be, the character of Frankenstein is compelling because of the dynamic narrative frame in which he is placed. In this frame, Frankenstein's narrative self-presentation responds to the images of him we see from others' perspectives. This conclusion sheds new light on the novel, foregrounding Shelley's unique layering of narrative perspectives and its importance for the depiction of character.
Your essay's conclusion should contain:
A rephrased version of your overall thesis
A brief review of the key points you made in the main body
An indication of why your argument matters
The conclusion may also reflect on the broader implications of your argument, showing how your ideas could applied to other contexts or debates.
For a stronger conclusion paragraph, avoid including:
Important evidence or analysis that wasn't mentioned in the main body
Generic concluding phrases (e.g. "In conclusion…")
Weak statements that undermine your argument (e.g. "There are good points on both sides of this issue.")
Your conclusion should leave the reader with a strong, decisive impression of your work.
The conclusion paragraph of an essay is usually shorter than the introduction . As a rule, it shouldn't take up more than 10–15% of the text.
Cite this Scribbr article
If you want to cite this source, you can copy and paste the citation or click the "Cite this Scribbr article" button to automatically add the citation to our free Citation Generator.
McCombes, S. (2021, December 06). How to Conclude an Essay | Interactive Example. Scribbr. Retrieved March 2, 2023, from https://www.scribbr.com/academic-essay/conclusion/
Is this article helpful?
Shona McCombes
Other students also liked, how to write an essay introduction | 4 steps & examples, how to write a thesis statement | 4 steps & examples, example of a great essay | explanations, tips & tricks, what is your plagiarism score.
Developing a Thesis Statement
Many papers you write require developing a thesis statement. In this section you'll learn what a thesis statement is and how to write one.
Keep in mind that not all papers require thesis statements . If in doubt, please consult your instructor for assistance.
What is a thesis statement?
A thesis statement . . .
Makes an argumentative assertion about a topic; it states the conclusions that you have reached about your topic.
Makes a promise to the reader about the scope, purpose, and direction of your paper.
Is focused and specific enough to be "proven" within the boundaries of your paper.
Is generally located near the end of the introduction ; sometimes, in a long paper, the thesis will be expressed in several sentences or in an entire paragraph.
Identifies the relationships between the pieces of evidence that you are using to support your argument.
Not all papers require thesis statements! Ask your instructor if you're in doubt whether you need one.
Identify a topic
Your topic is the subject about which you will write. Your assignment may suggest several ways of looking at a topic; or it may name a fairly general concept that you will explore or analyze in your paper.
Consider what your assignment asks you to do
Inform yourself about your topic, focus on one aspect of your topic, ask yourself whether your topic is worthy of your efforts, generate a topic from an assignment.
Below are some possible topics based on sample assignments.
Sample assignment 1
Analyze Spain's neutrality in World War II.
Identified topic
Franco's role in the diplomatic relationships between the Allies and the Axis
This topic avoids generalities such as "Spain" and "World War II," addressing instead on Franco's role (a specific aspect of "Spain") and the diplomatic relations between the Allies and Axis (a specific aspect of World War II).
Sample assignment 2
Analyze one of Homer's epic similes in the Iliad.
The relationship between the portrayal of warfare and the epic simile about Simoisius at 4.547-64.
This topic focuses on a single simile and relates it to a single aspect of the Iliad ( warfare being a major theme in that work).
Developing a Thesis Statement–Additional information
Your assignment may suggest several ways of looking at a topic, or it may name a fairly general concept that you will explore or analyze in your paper. You'll want to read your assignment carefully, looking for key terms that you can use to focus your topic.
Sample assignment: Analyze Spain's neutrality in World War II Key terms: analyze, Spain's neutrality, World War II
After you've identified the key words in your topic, the next step is to read about them in several sources, or generate as much information as possible through an analysis of your topic. Obviously, the more material or knowledge you have, the more possibilities will be available for a strong argument. For the sample assignment above, you'll want to look at books and articles on World War II in general, and Spain's neutrality in particular.
As you consider your options, you must decide to focus on one aspect of your topic. This means that you cannot include everything you've learned about your topic, nor should you go off in several directions. If you end up covering too many different aspects of a topic, your paper will sprawl and be unconvincing in its argument, and it most likely will not fulfull the assignment requirements.
For the sample assignment above, both Spain's neutrality and World War II are topics far too broad to explore in a paper. You may instead decide to focus on Franco's role in the diplomatic relationships between the Allies and the Axis , which narrows down what aspects of Spain's neutrality and World War II you want to discuss, as well as establishes a specific link between those two aspects.
Before you go too far, however, ask yourself whether your topic is worthy of your efforts. Try to avoid topics that already have too much written about them (i.e., "eating disorders and body image among adolescent women") or that simply are not important (i.e. "why I like ice cream"). These topics may lead to a thesis that is either dry fact or a weird claim that cannot be supported. A good thesis falls somewhere between the two extremes. To arrive at this point, ask yourself what is new, interesting, contestable, or controversial about your topic.
As you work on your thesis, remember to keep the rest of your paper in mind at all times . Sometimes your thesis needs to evolve as you develop new insights, find new evidence, or take a different approach to your topic.
Derive a main point from topic
Once you have a topic, you will have to decide what the main point of your paper will be. This point, the "controlling idea," becomes the core of your argument (thesis statement) and it is the unifying idea to which you will relate all your sub-theses. You can then turn this "controlling idea" into a purpose statement about what you intend to do in your paper.
Look for patterns in your evidence
Compose a purpose statement.
Consult the examples below for suggestions on how to look for patterns in your evidence and construct a purpose statement.
Franco first tried to negotiate with the Axis
Franco turned to the Allies when he couldn't get some concessions that he wanted from the Axis
Possible conclusion:
Spain's neutrality in WWII occurred for an entirely personal reason: Franco's desire to preserve his own (and Spain's) power.
Purpose statement
This paper will analyze Franco's diplomacy during World War II to see how it contributed to Spain's neutrality.
The simile compares Simoisius to a tree, which is a peaceful, natural image.
The tree in the simile is chopped down to make wheels for a chariot, which is an object used in warfare.
At first, the simile seems to take the reader away from the world of warfare, but we end up back in that world by the end.
This paper will analyze the way the simile about Simoisius at 4.547-64 moves in and out of the world of warfare.
Derive purpose statement from topic
To find out what your "controlling idea" is, you have to examine and evaluate your evidence . As you consider your evidence, you may notice patterns emerging, data repeated in more than one source, or facts that favor one view more than another. These patterns or data may then lead you to some conclusions about your topic and suggest that you can successfully argue for one idea better than another.
For instance, you might find out that Franco first tried to negotiate with the Axis, but when he couldn't get some concessions that he wanted from them, he turned to the Allies. As you read more about Franco's decisions, you may conclude that Spain's neutrality in WWII occurred for an entirely personal reason: his desire to preserve his own (and Spain's) power. Based on this conclusion, you can then write a trial thesis statement to help you decide what material belongs in your paper.
Sometimes you won't be able to find a focus or identify your "spin" or specific argument immediately. Like some writers, you might begin with a purpose statement just to get yourself going. A purpose statement is one or more sentences that announce your topic and indicate the structure of the paper but do not state the conclusions you have drawn . Thus, you might begin with something like this:
This paper will look at modern language to see if it reflects male dominance or female oppression.
I plan to analyze anger and derision in offensive language to see if they represent a challenge of society's authority.
At some point, you can turn a purpose statement into a thesis statement. As you think and write about your topic, you can restrict, clarify, and refine your argument, crafting your thesis statement to reflect your thinking.
As you work on your thesis, remember to keep the rest of your paper in mind at all times. Sometimes your thesis needs to evolve as you develop new insights, find new evidence, or take a different approach to your topic.
Compose a draft thesis statement
If you are writing a paper that will have an argumentative thesis and are having trouble getting started, the techniques in the table below may help you develop a temporary or "working" thesis statement.
Begin with a purpose statement that you will later turn into a thesis statement.
Assignment: Discuss the history of the Reform Party and explain its influence on the 1990 presidential and Congressional election.
Purpose Statement: This paper briefly sketches the history of the grassroots, conservative, Perot-led Reform Party and analyzes how it influenced the economic and social ideologies of the two mainstream parties.
Question-to-Assertion
If your assignment asks a specific question(s), turn the question(s) into an assertion and give reasons why it is true or reasons for your opinion.
Assignment : What do Aylmer and Rappaccini have to be proud of? Why aren't they satisfied with these things? How does pride, as demonstrated in "The Birthmark" and "Rappaccini's Daughter," lead to unexpected problems?
Beginning thesis statement: Alymer and Rappaccinni are proud of their great knowledge; however, they are also very greedy and are driven to use their knowledge to alter some aspect of nature as a test of their ability. Evil results when they try to "play God."
Write a sentence that summarizes the main idea of the essay you plan to write.
Main idea: The reason some toys succeed in the market is that they appeal to the consumers' sense of the ridiculous and their basic desire to laugh at themselves.
Make a list of the ideas that you want to include; consider the ideas and try to group them.
nature = peaceful
war matériel = violent (competes with 1?)
need for time and space to mourn the dead
war is inescapable (competes with 3?)
Use a formula to arrive at a working thesis statement (you will revise this later).
although most readers of _______ have argued that _______, closer examination shows that _______.
_______ uses _______ and _____ to prove that ________.
phenomenon x is a result of the combination of __________, __________, and _________.
What to keep in mind as you draft an initial thesis statement
Beginning statements obtained through the methods illustrated above can serve as a framework for planning or drafting your paper, but remember they're not yet the specific, argumentative thesis you want for the final version of your paper. In fact, in its first stages, a thesis statement usually is ill-formed or rough and serves only as a planning tool.
As you write, you may discover evidence that does not fit your temporary or "working" thesis. Or you may reach deeper insights about your topic as you do more research, and you will find that your thesis statement has to be more complicated to match the evidence that you want to use.
You must be willing to reject or omit some evidence in order to keep your paper cohesive and your reader focused. Or you may have to revise your thesis to match the evidence and insights that you want to discuss. Read your draft carefully, noting the conclusions you have drawn and the major ideas which support or prove those conclusions. These will be the elements of your final thesis statement.
Sometimes you will not be able to identify these elements in your early drafts, but as you consider how your argument is developing and how your evidence supports your main idea, ask yourself, " What is the main point that I want to prove/discuss? " and " How will I convince the reader that this is true? " When you can answer these questions, then you can begin to refine the thesis statement.
Refine and polish the thesis statement
To get to your final thesis, you'll need to refine your draft thesis so that it's specific and arguable.
Ask if your draft thesis addresses the assignment
Question each part of your draft thesis
Clarify vague phrases and assertions
Investigate alternatives to your draft thesis
Consult the example below for suggestions on how to refine your draft thesis statement.
Sample Assignment
Choose an activity and define it as a symbol of American culture. Your essay should cause the reader to think critically about the society which produces and enjoys that activity.
Ask The phenomenon of drive-in facilities is an interesting symbol of american culture, and these facilities demonstrate significant characteristics of our society.This statement does not fulfill the assignment because it does not require the reader to think critically about society.
Drive-ins are an interesting symbol of American culture because they represent Americans' significant creativity and business ingenuity.
Among the types of drive-in facilities familiar during the twentieth century, drive-in movie theaters best represent American creativity, not merely because they were the forerunner of later drive-ins and drive-throughs, but because of their impact on our culture: they changed our relationship to the automobile, changed the way people experienced movies, and changed movie-going into a family activity.
While drive-in facilities such as those at fast-food establishments, banks, pharmacies, and dry cleaners symbolize America's economic ingenuity, they also have affected our personal standards.
While drive-in facilities such as those at fast- food restaurants, banks, pharmacies, and dry cleaners symbolize (1) Americans' business ingenuity, they also have contributed (2) to an increasing homogenization of our culture, (3) a willingness to depersonalize relationships with others, and (4) a tendency to sacrifice quality for convenience.
This statement is now specific and fulfills all parts of the assignment. This version, like any good thesis, is not self-evident; its points, 1-4, will have to be proven with evidence in the body of the paper. The numbers in this statement indicate the order in which the points will be presented. Depending on the length of the paper, there could be one paragraph for each numbered item or there could be blocks of paragraph for even pages for each one.
Complete the final thesis statement
The bottom line.
As you move through the process of crafting a thesis, you'll need to remember four things:
Context matters! Think about your course materials and lectures. Try to relate your thesis to the ideas your instructor is discussing.
As you go through the process described in this section, always keep your assignment in mind . You will be more successful when your thesis (and paper) responds to the assignment than if it argues a semi-related idea.
Your thesis statement should be precise, focused, and contestable ; it should predict the sub-theses or blocks of information that you will use to prove your argument.
Make sure that you keep the rest of your paper in mind at all times. Change your thesis as your paper evolves, because you do not want your thesis to promise more than your paper actually delivers.
In the beginning, the thesis statement was a tool to help you sharpen your focus, limit material and establish the paper's purpose. When your paper is finished, however, the thesis statement becomes a tool for your reader. It tells the reader what you have learned about your topic and what evidence led you to your conclusion. It keeps the reader on track–well able to understand and appreciate your argument.
Writing Process and Structure
This is an accordion element with a series of buttons that open and close related content panels.
Getting Started with Your Paper
Interpreting Writing Assignments from Your Courses
Generating Ideas for
Creating an Argument
Thesis vs. Purpose Statements
Architecture of Arguments
Working with Sources
Quoting and Paraphrasing Sources
Using Literary Quotations
Citing Sources in Your Paper
Drafting Your Paper
Generating Ideas for Your Paper
Introductions
Paragraphing
Developing Strategic Transitions
Conclusions
Revising Your Paper
Peer Reviews
Reverse Outlines
Revising an Argumentative Paper
Revision Strategies for Longer Projects
Finishing Your Paper
Twelve Common Errors: An Editing Checklist
How to Proofread your Paper
Writing Collaboratively
Collaborative and Group Writing
Conclusion Transition Words and Phrases: The Most Comprehensive Guide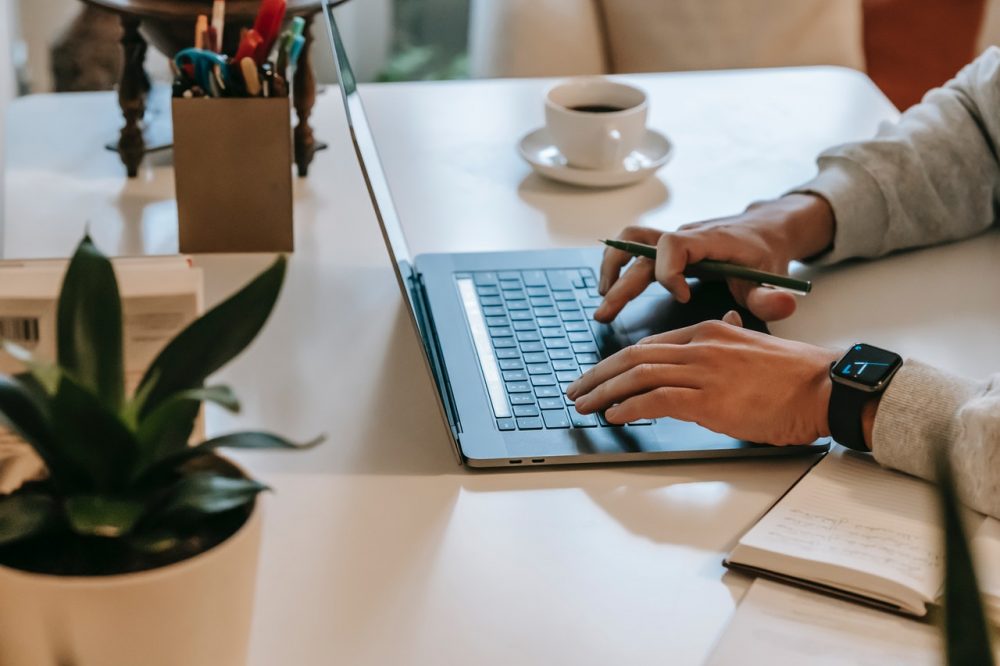 If you are writing an essay or speech, one of the most important parts is the conclusion because it allows you to summarize your thoughts. To craft your essay's conclusion like a professional, it is crucial to use the right words and phrases. In this post, we take a deeper look at the best conclusion transition phrases and how to use them to make your work outstanding.
Conclusion Transition Words for Conclusion: What Are They?
As the name suggests, transitions to conclusion are words that you apply within your essay's conclusion. These words help to tell the reader you have come to the end of the speech or essay and tie the arguments discussed in the body of your work. Some writers also use them to bring together the main ideas in one sentence. There are many good conclusion transition words, and it is important to select only those that make your work more compelling.
Examples of Good Transitions for Conclusion
You have worked so hard on your essay, and now it is time to finish it, but what transition words for the conclusion paragraph? Here is a list of the best transition words to consider for your work:
Generally speaking.
As demonstrated above.
As has been pointed out.
All the factors considered.
Given these considerations.
In the end.
In summary.
In conclusion.
On the whole.
By and large.
Given these arguments.
Given these points.
It has been pointed out.
To summarize.
In essence.
In the final analysis.
15 Samples of Good Conclusion Transitions in Sentences
Now that you know some of the best conclusion transition words, the next step is to apply them in your essays. To help you out, here is a demonstration of how to transition to a conclusion in your essay. Check the conclusion transition examples below and try to use them as they are or similar words to perfect your skills.
In summary, Emily Daniela had a very painful upbringing but ultimately found happiness after meeting Prince Jeremy.
It has been noted with a lot of concern that the author of the book "Next Generation on the Rocks" did not have ample knowledge about the weighty subject of "Generation X" and, we can conclude that the book is not appropriate for learning.
In short, the southern part of the park is relaxing and enjoyable for all, while the upper section is risky because of wild animals.
All things considered, I found Paris to be a great place for a short getaway.
To sum up, all the kids had an excellent time when growing up, yet they still ended up joining violent gangs in the neighborhood.
Finally, we can conclude that antimalware technology is an impressive discovery in the age of modern cyber threats.
By and large, online learning should be considered an important method of study, regardless of the discipline that a college student is studying.
Jennie's farm has cut a name for producing high-quality apples in the district, and this is one of the reasons why its products are in high demand both locally and abroad.
On the whole, beef is much more popular meat compared to pork in the whole country.
Given these points, it is clear that the time to consider changes in the organization has arrived. In the end, the recommendations will benefit the company by growing sales.
On balance, the organization has had a successful year, and the long-term strategy can help grow sales by 50% in the next financial year.
Overall, the author took a satirical tone in the book.
Usually, when the company advertises a vacant position, it does so only to follow the rules. In the end, most candidates are selected through nepotism.
In either case, school discipline should be enforced in line with strict adherence to human rights.
Obviously, computer games have both pros and cons.
Tips for Using Conclusion Transition Phrases
To use transition conclusion words and make your work shine, consider it a process that starts when you commence writing the essay. This implies that even as you think of the best conclusion transition phrase to use, the essay also needs to be professionally done. Here are the main tips to help make your work stand out.
Make Your Essay as Professional as Possible
Long before your readers can get to the last part and note how well it is done, they will have to go through the essay. Therefore, you should make the first part, especially the topic, introduction, and thesis, interesting to grab the reader's attention. If the first part is not enticing enough, the reader might not reach where you have used the transition words for the conclusion.
You should also do the essay's body professionally, ensuring the main points flow seamlessly from the begging to the end. This will help readers to easily follow your main arguments and, finally, the conclusion. Take the example of an essay about the growing levels of obesity. In such a paper, you might want to start by looking at the background of obesity, the interventions, and why they appear not to work. Finally, draw the conclusion, indicating why the numbers might probably double in the next decade or two.
Capture the Main Points that You Want to Highlight in the Conclusion
When writing a conclusion, the best method is identifying the main points and summarizing them. Depending on the length of the essay, you might want to put it into a single sentence or several. So, start by highlighting them.
Use Transitions for Conclusions to Interweave the Main Points
Before you can use transition words for conclusions, ensure to evaluate them and select the most appropriate for your work. Try different strong conclusion transition words to establish how effectively they can help you tie the main points. You might want to check other several conclusion transitions examples to see how experts did it.
Confirm the C onclusion Transition Phrases Help to Improve Your Work
As we mentioned earlier, the conclusion transition sentences cannot work in isolation. Instead, they must be viewed as part of the whole essay. Therefore, read through the entire essay to ensure the main points are clear and the transition words for the conclusion give it a perfect finish.
Consider Writing the Conclusion as the Last Item and Together with the Introduction
When readers go through the introduction of an essay, they should be able to understand your stand and get highlights of the conclusion. This is why it would be a great idea to work on your conclusion and introduction as the last items for greater harmony of your work.
Conclusion Transition Phrases:  Summary
Selecting the right conclusion transition words makes it easy for the writer to tie up the main arguments and close the write-up. They make the work look professional and easy for the reader to follow and understand your arguments. This post has demonstrated how to transition into a conclusion more effectively. Consider doing some practice with different conclusion transition words to build your skills further.
Can transitions for conclusion help me get a better grade on my essay?
Yes, they can. When you use a good transition for the conclusion, it makes the essay look professional, and your teacher will be persuaded to give you a better mark. Make sure that the entire essay is also written professionally for better grades.
How do you use conclusion transition words to trigger the end of a paper or essay?
To prepare your audience that it is the end of the speech or essay, you need to select the right trigger words, such as "in summary" or "In conclusion." Then use them at the start of the conclusion or in some of the concluding sentences.
What is a good conclusion transition phrase?
This is a phrase that can help to make a clear connection between the main essay and the conclusion paragraph. It signals the reader that the essay, speech, or that piece of writing is getting wrapped up. Besides, it helps the writer to summarize the main points professionally.
In addition to transition conclusion words, what else should you do to make your work outstanding?
The conclusion is indeed only one part of your essay, and it alone is not enough to win you top marks. Therefore, in addition to crafting the conclusion well, your work needs to be well researched and formatted professionally.
Should I always use transitions for conclusion in all writing tasks?
If your work, such as an essay or speech, requires you to write a conclusion, it is a great idea to use transition words. They make the work easy to ready, look professional, and increase your chances of getting a better grade.
What transition words or phrases people use to indicate a conclusion?
Finally and therefore.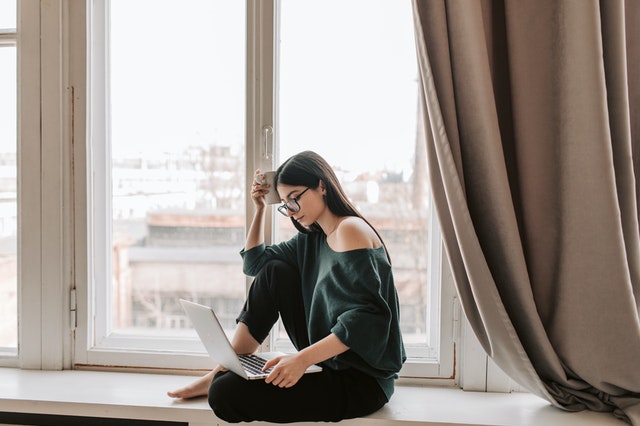 Don't Let Homework Take Over Your Life
Leave a Reply Cancel reply
Save my name, email, and website in this browser for the next time I comment.
As Putin continues killing civilians, bombing kindergartens, and threatening WWIII, Ukraine fights for the world's peaceful future.
Ukraine Live Updates

Shiny Essays Blog
Essay conclusion | example words & phrases.
Do you know what people remember most from your essay or speech? It is the beginning and the conclusion.
Our professionals know how to make your report catchy. One can learn helpful tips from our mature writers or order a ready-made captivating text with a strong conclusion.
Why does the conclusion matter?
The last paragraph reflects your ability to select the most important things from the whole flow of information. This abstract ends the text; thus, it makes the final impression.
We know from experience that the last phrase forms sort of aftertaste. Rest assured that it will be associated with your paper. So, pay enough attention to your closing words.
Good conclusion for your essay | Tips from experts
A conclusion is a final push to your brilliant essay. You have already spent so many efforts to come up with original ideas, find strong facts, and explain the core points of your project.
Now it is time to sum up your thoughts and reveal key findings. Do not give it up since you are one step away from success. If you feel absolutely exhausted at this stage, turn to our specialists for help.
For those who feel power and enthusiasm to write an essay till the last point, we have selected effective recommendations.
A magic formula to write a conclusion for an essay
For more than ten years of successful writing experience, we have written an unlimited number of conclusions for essays. We have found that the final paragraph should be composed according to the rule.
1. Short and to the point
The final part of the essay is definitely not for long reflections and new suggestions. The point is to recap all the information you have presented above. Do not overload your readers.
2. Memorable
Use eye-catching phrases to conclude your essay. You can reach this goal by selecting the most suitable words.
3. Valuable
The sense of the conclusion boils down to summarizing and, what is more important, analyzing all the above information. Herein lies its value for a reader.
A strong conclusion leaves a lasting impression on the reader. It is what shows the best of your essay.
Essay conclusions: the ultimate list of pro tips
We want to share our experience and, thus, provide this guidance on effective endings for your high school and college essays. Inspiration and in-depth knowledge enable us to write a conclusion in one breath. But what if a muse does not come? Then, one can try some routine ways. Here we emphasize practical advice.
1. Make a list of the core ideas presented in the main part
It will help you concentrate attention around them for summing up. Meantime, having this outline in front of eyes, you avoid repeating the same wordings.
2. Reread the introduction
The conclusion must follow from the first part of the paper. Start with a transition sentence connecting the initial idea to your closing thoughts.
3. Rewrite the main thoughts
Rephrase wordings to avoid duplication. Or ask our rewriter to do it https://shinyessays.com/blog/essay-rewriter-for-hire . Wrapping up is essential for this part of the report. Meantime, it cannot be an end in itself.  A conclusion should be much more than a summary.
4. Look one more time at your final abstract
Cross out new arguments and facts from it.
5. "Dig deeper"
What is the sense of my essay? What is my central message? Why is it helpful? What is the value of my suggestions for a reader (field of science, humankind, in general...) Ask yourself similar questions to synthesize and highlight key points of your project.  A professor expects to see a logical flow of thoughts related to each other in your conclusion.
6. Add confidence
If you need a powerful conclusion, eliminate all the doubts from this paragraph. Avoid words: "probably," "maybe," "I am not sure," etc.
7. Give food for thought
If the format of the essay allows, end it on a provocative note. A rhetorical question is remembered since it leaves a reader alone with his/her thoughts.
Are there any alternatives to conclusions?
It happens that an essay has no conclusion in the traditional sense. Yes, sometimes, professors do not require to end a paper according to academic standards. So, you are free to come up with new ideas.
Here are some prompts for inspiration and practical use.
Describe only implications of the core issue.
Speculate on the further course of events.
Pose an unexpected question to the reader. (Still it, should be relevant to the topic.)
Go from the particular to the general. Show how the object of your study influences the whole picture.
Rules for writing conclusions may vary depending on the type of the essay. Let's figure it out in detail.
What is the best conclusion for a critical essay?
A critical essay is a matter of analysis , firstly. Students might associate it with a negative review (critique), yet, it's not like that. The sense is to study a particular object and give an objective evaluation. Therefore, the final part of these papers must contain the core findings made during this examination.
Some ideas on how to write it:
put it all together;
find stronger wordings to recap the main suggestions,
come up with a succinct phrase reflecting your discovery.
Conclusions for academic papers
Obviously, academic papers require a serious approach to writing. Educational institutions set their rules for composing essays, and their chapters, in particular. Students are restricted with these standards and have to operate within rigid frames. These may vary according to colleges and types of academic papers. Yet, we can reveal the most common of them.
In fact, you need to answer the following questions in a couple phrases.
What is the purpose of the paper?
What is the best way to prove your thesis statement?
Why is your academic paper worth reading? Demonstrate the importance of your insights.
Is there any value of your treatise for further research?
Conclusions that irritate
The truth is your teachers and professors read thousands of essays every year. They explain the rules of good conclusions and give practical recommendations. Still, some students go against these principles and common sense, in general.
Our assistants have selected phrases that may spoil the overall impression of your report. However, do take them as the only truth. You could have quite another college policy.
1. "In conclusion," "the conclusion is..."
If you want to stand out among other multiple applicants and pupils, think about more interesting wording. Stop being Captain Obvious, look for new catchphrases, and get a well-earned A. 
2. "And now let's talk about a new concept (event, phenomena, theme)..."
Wait, it is the conclusion, not a new chapter. Thus, do not give any new facts and explanations. The reader expects a summary but not a continuation or a beginning, which is even worse. Calculations, clarifications, statistics, and other arguments must be written in the main part.
3. "Look  at this issue from the new angle," "I have just revealed that, ..."
Unexpected conclusions are good for fiction. An academic field does not appreciate such twists. They definitely need "spoilers" in the body of your paper.
4. "That' all, folks…"
It's not a good idea to cite Looney Tunes cartoons in essays for high schools or colleges. The same can be said about jargon and slang.
Here are some more variants on how to annoy a professor. https://shinyessays.com/blog/how-to-annoy-a-phd-professor-13-ways-from-our-writer
Typical mistakes in conclusions
We want you to avoid common misconceptions concerning the final paragraph. For this purpose, we have selected some of the most popular remarks from professors.
✓ It is too long
You need to monitor the proportions of this part. Obviously, the conclusion cannot be longer than the main part.
✓ Pupils start a new page to write it
The conclusion is the last part of an essay. It is not the same as a new chapter of a dissertation.
✓ The style of the conclusion differs from the manner of writing of the previous parts
Sometimes we witness this dissonance, and it really comes across as something weird. Your teacher might also think that another person wrote it.
Conclusion in an opinion essay
The purpose of the opinion essay is to express a personal point of view. One can take it as an opportunity to show individuality. Importantly, this principle must be reflected in the final paragraph.
Here is an abstract from an essay by an actor James Franco . He demonstrates his positive attitude to selfies and sums up thoughts in one beautiful abstract.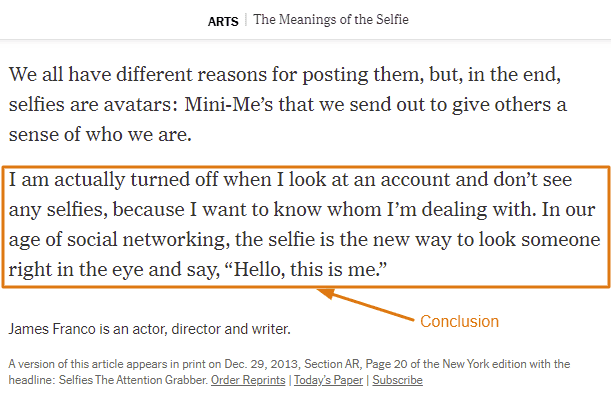 Source: https://www.nytimes.com/2013/12/29/arts/the-meanings-of-the-selfie.html
Some hints from our authors
Do not change your attitude in the final part
It is not recommended to write sudden new views. You need to demonstrate a consistent piece of writing.
Formulate your viewpoint in one phrase
Learn to be concise. The conclusion is not for repeating the same thoughts that are presented in the body of the essay. What is even more important, it is not about overloading your readers with a bunch of information.
Show the uniqueness of your thoughts and reflections. Your fresh view is what professors will definitely appreciate.
A conclusion from "an essay about knowledge in 2020" (random example from our author):
"In fact, one needs to know only the basic things and principles. Yet, you need to understand much more. The sense is not to memorize encyclopedic data but to comprehend it. Your abilities are unlimited when you are good at observing, analyzing, and predicting."
How to conclude a problem solution essay?
One clear answer is what a professor wants to read at the end of your problem solution essay. You can come up with various decisions, yet do not forget about a concise manner of the final abstract. Here are some of our variants from our specialists:
✓ reveal preventive measures;
✓ show well-known ways of fight against the issue;
✓ determine the most effective strategies;
✓ demonstrate the effectiveness of your solution;
✓ add your personal recommendations.
General phrases for an essay conclusion
There are numerous synonyms to a banal phrase "in conclusion."  If you cannot find proper words for your final part, check out our hints.
A little bit sophisticated :
unquestionably,
all things considered,
in view of all the above aspects,
in the final analysis.
Convincing:
most would agree that,
as a result of,
there is general agreement that,
the present findings confirm.
In case you need academic wordings:
The findings of this essay can be understood as…
The research leads to the following findings…
The results demonstrate...
These outcomes suggest that...
Parts of an essay conclusion
For your convenience, we present a classical structure of the essay conclusion. It could help you put thoughts together and finish your text quickly and efficiently.
1. So, how to start a conclusion?
Formulate the thesis using new words. It could be your first sentence.
2. The main part of the conclusion
"Squeeze" essential moments from the body of the essay.
3. The final concluding sentence
It is a place for the best "polished" thoughts and ideas.
Purposes of conclusions:
leave an aftertaste (it is not compulsory to end your essay on a positive note. It depends on the topic of the paper),
draw attention to the bottom line of the essay.
Things to avoid in conclusions:
new data on your topic,
long abstracts,
irrelevant information.
Strategies for writing conclusions
1. Three layers of "so-what?"
We know firsthand that " So-what model " of analysis is helpful for writing conclusions. The thing is to get to the root of the issue.Let's consider an example. Say, you are working on an essay "The importance of education in 2020." You need to answer three questions:
What is the core message of the report?
Education is extremely essential for students today.
You cannot get a dream job without a college degree.
Ignoring education, you deprive yourself of opportunities to succeed in life.
In fact, you need to question your takeaway and prove the point. Herein lies the sense of in-depth analysis that forms the basis of a well-considered essay.
2. Tie it to the introduction
A sense of completion is what your conclusion must leave. A reader has to find brief answers to questions posed at the beginning.
3. Analyze, but do not repeat
There is no value in duplicating the same thoughts at the end of the essay. Instead, you need to reveal cause and effect, provide an outlook, interpret the results from your angle. In doing so, you add value to your piece of writing.
4. Find a balance between emotions and rational suggestions
In most cases, sentimental phrases are not acceptable for academic writing. Still, sometimes you can draw emotional images to add sincerity.
Conclusion examples for inspiration
Have you read an essay by Angelina Jolie about so-called "wicked" women?
It is about female power and independence.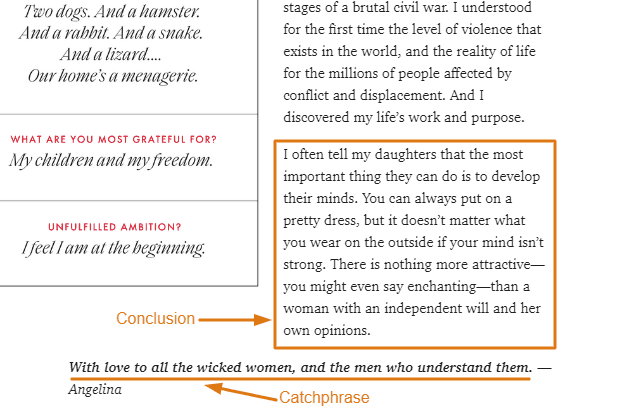 Source: https://www.elle.com/culture/a28555952/angelina-jolie-maleficent-interview/
Expert opinion:
We really appreciate this article for revealing such acute matters. And the conclusion is written perfectly. What do we see here?
1. Summing. It is about the significance of a woman's self-sufficiency and her active life position, since "there is nothing more attractive and enchanting."
2. Catchphrase. We like this wording about the love of "wicked" women and, especially, of men who accept them. It comes across as a sincere message.
If you need a similar essay, you can order it from our team of skilled writers . 
George Orwell's essay on an atomic bomb was the reason for numerous discussions all over the world back in the day.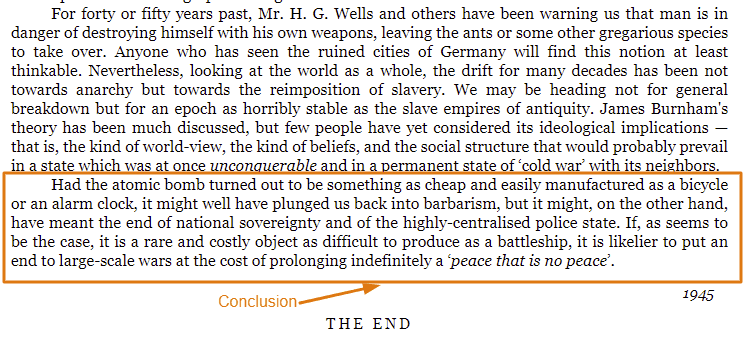 Source: https://orwell.ru/library/articles/ABomb/english/e_abomb
Expert's opinion:
It is a classic example of a short-and-to-the-point conclusion. It concisely demonstrates the implications of the atomic bomb, which is a restriction of the savagery and establishing some semblance of peace.
What about your good old friends Shinyessays.com? We cannot share the conclusions we have written for clients due to the Privacy Policy. So, why not consider our pages?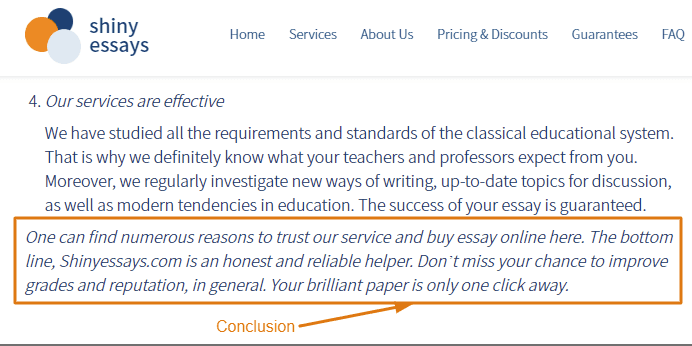 https://shinyessays.com/purchase
This conclusion does not contain banal words. Apparently "the bottom line" sounds better than "in conclusion." One can find an answer to the question "Your services are good, so what?" Here we show obvious benefits you get: better grades and ratings.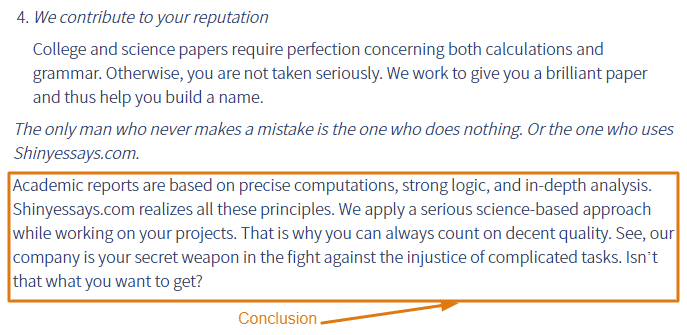 As we see, attention is drawn to the academic level of services, which is the main thought of this post. The last question makes readers ponder on their wishes.
Send us your essay to get a review on your conclusion or order essay writing and related services on our website.
What is it all for?
We are sure this post will be helpful for you sooner or later. If you have read it till the end, you might become a " guru of conclusions ." Having studied the above tips and examples, you can write the ending for your essay in a snap. If you are stuck with this assignment, our writing agency Shinyessays.com will do it with skill.
You might also like:
National symbols of Canada essay: Tips & Ideas
How to Write a DBQ Essay? | DBQ Writer Tips | ShinyEssays.com
How To Get Your Grades Up
Place your order — make the first step to your hassle-free life!