Educational Information Library
ICSSR Research Projects (Major/Minor) Application invited for the year 2022-23
The proposed study could be multidisciplinary or may belong to a social science discipline.
Applicants must apply in accordance with the ICSSR Research Projects Guidelines .
The candidates need to upload the documents referred in Application form.
All scholars are required to keep the hard copies of their application and annexures ready, duly forwarded by the competent authorities of the Affiliating Institution so that they may submit the required hard copies, within one week after the completion of the screening process. It is being done for the sake of convenience of the applicants so that they get more time for preparing the hard copies.
Last date for online submission of application is October 8, 2022 (Saturday).
Note :  Scholar is permitted to apply for two schemes. But, in case of selection, the candidate in consultation with the ICSSR will take up only one study. Those who are still continuing with ICSSR any other study can take up the fresh study only after completing the ongoing study.
The Research Projects may belong to any of the social science disciplines or may be multi-disciplinary in nature. The broad disciplines of study, within the domain of social sciences, are:
1. Economics/ Development Studies 2. Management 3. Commerce 4. Sociology 5. Social Work 6. Social Anthropology 7. Cultural Studies 8. Sanskrit Studies 9. Socio-Philosophical Studies 10. Social Linguistics 11. Gender Studies 12. Health Studies 13. Political Science 14. International Studies 15. Public Administration 16. Diaspora Studies 17. National Security and Strategic Studies 18. Education 19. Social Psychology 20. Legal Studies 21. Social Geography 22. Environmental Studies 23. Modern Social History 24. Media Studies 25. Library Science
Categories of Research Projects
The ICSSR awards two types of research projects on the basis of the scope, duration of the study and budget: (a) Major Project – Duration from 12 months to 24 months with a budget of Rs.5-15 lakh. (b) Minor Project – Duration from 6 months to 12 months with a budget up to Rs.5 lakh.
Eligibility
ICSSR Research Institutes/institutes of national importance as defined by the Ministry of Education (MoE) / UGC recognized Indian universities / deemed universities under 12 B etc. are eligible to apply. However, other registered organisations with established research and academic standing may collaborate with any of the above mentioned institutions for implementation of the study and may form a joint team consisting of Project Director, Co-Project Director/s etc. Such collaborations have to be clearly stated in application itself.
Professional social scientists who are regularly employed or retired as faculty in a UGC(University Grants Commission) recognized Indian university/deemed university/colleges with requisite research infrastructure/institute of national importance and ICSSR Research Institutes, and possessing a Ph.D. and demonstrable research experience through publications of books/research papers/reports are eligible to apply. Both the Project Director and Co- Director must possess a Ph.D. degree and a proven track record of high quality research as evidenced by past studies, publications and their academic background. The condition of Ph.D. for a Co-Director can be relaxed if he/she has very credible research publications.
Senior government and defence officers (not less than 25 years of regular service) and persons with proven Social Science expertise possessing a Ph. D. degree or equivalent research work in any social science disciplines and demonstrable research experience through publications of books/research papers/reports can also apply, preferably in collaboration with a faculty in a social science discipline from institutions given in 2.1 above.
Individual scholars can apply for two projects at a time. However, in case both projects are selected, the applicant will be required to choose only one project. Institutes having good research infrastructure and resources may affiliate a number of Project Directors.
How to Apply
Link to apply : https://icssr.org/administrator
 The applications will be invited through an advertisement on ICSSR website and if required, in print media.
The applicants shall submit an online application which includes the Research Proposal Format, given in the Application Form.  At this stage, the applicants need not submit any document other than those referred in application form. All scholars are required to keep the hard copies of their application and annexures ready, duly forwarded by the competent authorities of the university/college/institute so that they may submit the required hard copies, within one week after the completion of the process of screening. It is being done for the sake of convenience of the applicants so that they get more time for preparing the hard copies.
In case, the hard copy of application is not received within 10 days of asking, the candidature of applicants shall be treated as withdrawn/cancelled.
Research proposals and final reports should either be in English or Hindi. (Use Devanagari to fill Application form in Hindi).
One applicant can apply only once under a particular Research Project scheme.  However, he / she can apply separately for another scheme.
Procedure for Awards
Applications are scrutinised by the ICSSR Secretariat/and or by a Screening Committee in respect of eligibility.  Eligible applications are then examined by the Expert Committee (s). Shortlisting of the programme is done for the purpose of interaction/presentation at ICSSR (in person or through technology).  The expert committee/s make(s) recommendation for award of studies and also suggest budget for the recommended studies.
The recommendations of the Expert Committee(s) are then placed before the requisite Committee(s) of the ICSSR for their approval.
Duration and Value
The duration of a Major Project is twelve to twenty four months and that of Minor Project is six to twelve months.
The budget for Major Project ranges from Rs.5-15 lakh and for Minor Projects it is up to Rs.5 lakh. The amount will be disbursed in number of instalments, depending on the phases and duration of the study, as indicated in the Sanction Letter. ICSSR reserves the right, based on Expert opinion, to convert a proposal for Major Research Project into Minor Research Project or vice versa.
The budget estimates for these proposals are to be prepared on the basis of the format given in the guidelines. The Institute/group of scholars will propose the budget subject to the following broad expenditure sub-heads. Those Project Director would like to work without Research Personnel, especially under Minor Research Project would apply separately. For that, the limits of expenditure, duly approved by the Expert Committee will be separately indicated in the sanction letter.
Click here for detailed instructions on how to apply in the Guidelines.
For more details check
Guidelines : https://icssr.org/research-projectsmajor-and-minor
Help on application procedure : https://icssr.org/how-apply
For Technical assistance, email to cc [at] icssr [dot] org
For more alerts Join: Telegram
Leave a Reply Cancel reply
Your email address will not be published. Required fields are marked *
Save my name, email, and website in this browser for the next time I comment.
Related News
UGC CARE List-2023 Journals: UGC CARE Multidisciplinary Journals-PDF
Top 50 scopus indexed multidisciplinary journals-august 2022 [list of scopus indexed multidisciplinary journals list-august, 2022], 50 scopus indexed open access library & information science journals-2022 [open access scopus indexed lis journal-2022].
You cannot copy content of this page
Have a language expert improve your writing
Run a free plagiarism check in 10 minutes, generate accurate citations for free.
Knowledge Base
Starting the research process
How to Write a Research Proposal | Examples & Templates
How to Write a Research Proposal | Examples & Templates
Published on October 12, 2022 by Shona McCombes and Tegan George. Revised on November 21, 2023.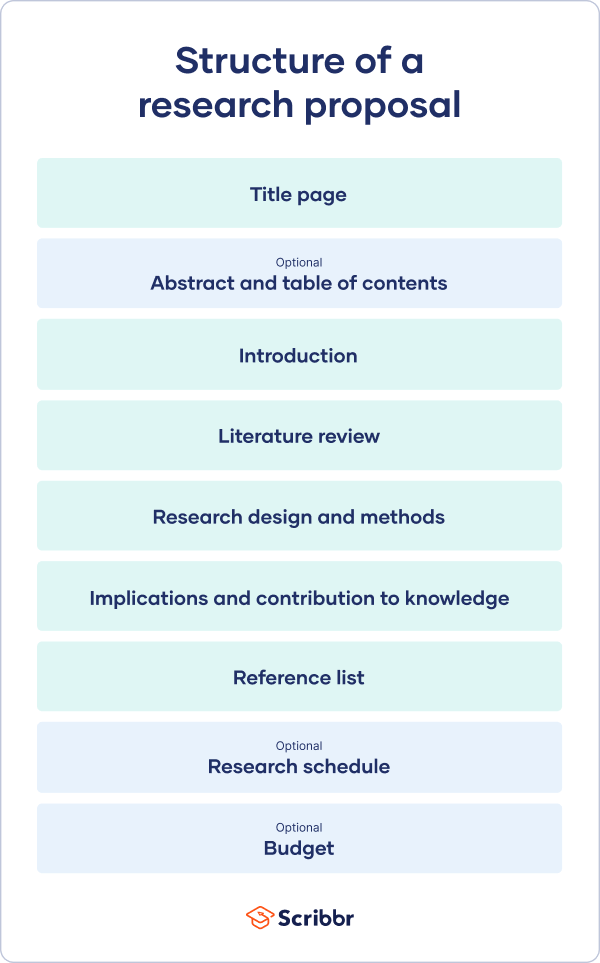 A research proposal describes what you will investigate, why it's important, and how you will conduct your research.
The format of a research proposal varies between fields, but most proposals will contain at least these elements:
Introduction
Literature review.
Reference list
While the sections may vary, the overall objective is always the same. A research proposal serves as a blueprint and guide for your research plan, helping you get organized and feel confident in the path forward you choose to take.
Table of contents
Research proposal purpose, research proposal examples, research design and methods, contribution to knowledge, research schedule, other interesting articles, frequently asked questions about research proposals.
Academics often have to write research proposals to get funding for their projects. As a student, you might have to write a research proposal as part of a grad school application , or prior to starting your thesis or dissertation .
In addition to helping you figure out what your research can look like, a proposal can also serve to demonstrate why your project is worth pursuing to a funder, educational institution, or supervisor.
Research proposal length
The length of a research proposal can vary quite a bit. A bachelor's or master's thesis proposal can be just a few pages, while proposals for PhD dissertations or research funding are usually much longer and more detailed. Your supervisor can help you determine the best length for your work.
One trick to get started is to think of your proposal's structure as a shorter version of your thesis or dissertation , only without the results , conclusion and discussion sections.
Download our research proposal template
Prevent plagiarism. Run a free check.
Writing a research proposal can be quite challenging, but a good starting point could be to look at some examples. We've included a few for you below.
Example research proposal #1: "A Conceptual Framework for Scheduling Constraint Management"
Example research proposal #2: "Medical Students as Mediators of Change in Tobacco Use"
Like your dissertation or thesis, the proposal will usually have a title page that includes:
The proposed title of your project
Your supervisor's name
Your institution and department
The first part of your proposal is the initial pitch for your project. Make sure it succinctly explains what you want to do and why.
Your introduction should:
Introduce your topic
Give necessary background and context
Outline your  problem statement  and research questions
To guide your introduction , include information about:
Who could have an interest in the topic (e.g., scientists, policymakers)
How much is already known about the topic
What is missing from this current knowledge
What new insights your research will contribute
Why you believe this research is worth doing
As you get started, it's important to demonstrate that you're familiar with the most important research on your topic. A strong literature review  shows your reader that your project has a solid foundation in existing knowledge or theory. It also shows that you're not simply repeating what other people have already done or said, but rather using existing research as a jumping-off point for your own.
In this section, share exactly how your project will contribute to ongoing conversations in the field by:
Comparing and contrasting the main theories, methods, and debates
Examining the strengths and weaknesses of different approaches
Explaining how will you build on, challenge, or synthesize prior scholarship
Following the literature review, restate your main  objectives . This brings the focus back to your own project. Next, your research design or methodology section will describe your overall approach, and the practical steps you will take to answer your research questions.
To finish your proposal on a strong note, explore the potential implications of your research for your field. Emphasize again what you aim to contribute and why it matters.
For example, your results might have implications for:
Improving best practices
Informing policymaking decisions
Strengthening a theory or model
Challenging popular or scientific beliefs
Creating a basis for future research
Last but not least, your research proposal must include correct citations for every source you have used, compiled in a reference list . To create citations quickly and easily, you can use our free APA citation generator .
Some institutions or funders require a detailed timeline of the project, asking you to forecast what you will do at each stage and how long it may take. While not always required, be sure to check the requirements of your project.
Here's an example schedule to help you get started. You can also download a template at the button below.
Download our research schedule template
If you are applying for research funding, chances are you will have to include a detailed budget. This shows your estimates of how much each part of your project will cost.
Make sure to check what type of costs the funding body will agree to cover. For each item, include:
Cost : exactly how much money do you need?
Justification : why is this cost necessary to complete the research?
Source : how did you calculate the amount?
To determine your budget, think about:
Travel costs : do you need to go somewhere to collect your data? How will you get there, and how much time will you need? What will you do there (e.g., interviews, archival research)?
Materials : do you need access to any tools or technologies?
Help : do you need to hire any research assistants for the project? What will they do, and how much will you pay them?
If you want to know more about the research process , methodology , research bias , or statistics , make sure to check out some of our other articles with explanations and examples.
Methodology
Sampling methods
Simple random sampling
Stratified sampling
Cluster sampling
Likert scales
Reproducibility
 Statistics
Null hypothesis
Statistical power
Probability distribution
Effect size
Poisson distribution
Research bias
Optimism bias
Cognitive bias
Implicit bias
Hawthorne effect
Anchoring bias
Explicit bias
Once you've decided on your research objectives , you need to explain them in your paper, at the end of your problem statement .
Keep your research objectives clear and concise, and use appropriate verbs to accurately convey the work that you will carry out for each one.
I will compare …
A research aim is a broad statement indicating the general purpose of your research project. It should appear in your introduction at the end of your problem statement , before your research objectives.
Research objectives are more specific than your research aim. They indicate the specific ways you'll address the overarching aim.
A PhD, which is short for philosophiae doctor (doctor of philosophy in Latin), is the highest university degree that can be obtained. In a PhD, students spend 3–5 years writing a dissertation , which aims to make a significant, original contribution to current knowledge.
A PhD is intended to prepare students for a career as a researcher, whether that be in academia, the public sector, or the private sector.
A master's is a 1- or 2-year graduate degree that can prepare you for a variety of careers.
All master's involve graduate-level coursework. Some are research-intensive and intend to prepare students for further study in a PhD; these usually require their students to write a master's thesis . Others focus on professional training for a specific career.
Critical thinking refers to the ability to evaluate information and to be aware of biases or assumptions, including your own.
Like information literacy , it involves evaluating arguments, identifying and solving problems in an objective and systematic way, and clearly communicating your ideas.
The best way to remember the difference between a research plan and a research proposal is that they have fundamentally different audiences. A research plan helps you, the researcher, organize your thoughts. On the other hand, a dissertation proposal or research proposal aims to convince others (e.g., a supervisor, a funding body, or a dissertation committee) that your research topic is relevant and worthy of being conducted.
Cite this Scribbr article
If you want to cite this source, you can copy and paste the citation or click the "Cite this Scribbr article" button to automatically add the citation to our free Citation Generator.
McCombes, S. & George, T. (2023, November 21). How to Write a Research Proposal | Examples & Templates. Scribbr. Retrieved November 28, 2023, from https://www.scribbr.com/research-process/research-proposal/
Is this article helpful?
Shona McCombes
Other students also liked, how to write a problem statement | guide & examples, writing strong research questions | criteria & examples, how to write a literature review | guide, examples, & templates, what is your plagiarism score.