Jealousy in "Othello" by W.Shakespear Analytical Essay
Introduction, works cited.
Throughout the world, a dark, primal aspect of humanity is not hard to find. It is silent, usually never more than a whisper until it is too late, and can be as dangerous as poison. It is jealousy. Jealousy can destroy friendships, relationships, and even alliances. William Shakespeare undoubtedly knew the significance of this ugly part of human nature when writing his play Othello.
By examining the three central male characters in this play – Lago, Othello, and Cassio – Shakespeare illustrates the causes, immediate effects, and the ever-lasting bitterness that can result by allowing one to fall prey to this self-destructive affliction.
By following closely these three characters and the results of their attitudes and actions, Shakespeare presents support to the idea that the more an individual allows oneself to associate with jealousy, the more and more likely that the individual is to do harm to both those whom they love, as well as to their own person.
It is everyone's responsibility to avoid jealousy at any cost; however, many people shun this responsibility and allow themselves to propagate this vice. Nevertheless, whilst one can choose to dodge the responsibility of living jealousy-free life, one cannot dodge its consequences thereafter.
The best thing is that, when one makes a choice, he/she chooses the consequences also and this is what Othello and Lago painfully learns later. On the other hand, living a principled life pays as in the case of Cassio. Othello and Lago are punished for their jealousy, while Cassio is rewarded for living a principled life.
Othello is the protagonist in this story. Despite the fact that he is a great storyteller and a trained soldier, he has let these good qualities and reputation to be "stained with jealousy and making emotional decisions" (Bradley Para. 4). His jealous traits become pronounced after marrying Desdemona.
After Lago plots to stain Cassio's reputation by staging an attack at the bar, Othello comes in and sacks Cassio immediately without consultations. He says, "Cassio, I love thee / But never more be officer of mine" (Shakespeare 36). This is immature, irrational, and emotional decision; Othello should at least do some investigations before firing Cassio. To some extent this is insensitive and selfishness which resonates well with jealousy.
Due to jealousy, Othello does not trust his wife and he is even willing to kill her based on unfounded hearsays. After finding Cassio in his house, he gullibly believes Lago's lies that Cassio is having an affair with Desdemona. Othello's jealousy consumes him making him withdraw from his wife. He says, "I will deny thee nothing / Whereon, I do beseech thee, grant me this / To leave me but a little to myself" (Shakespeare 49).
The reason why he wants to be left alone is that he cannot contain his jealousy. Human beings are bound to make mistakes occasionally; however, Othello behaves as though he is holier that thou and this is why he cannot understand Desdemona. Othello is not perfect either and the reason he acts the way he acts is that he is jealous; not that Desdemona cannot match his 'principles'.
Finally, Othello's jealousy hits climax when he kills his wife. Even though Lago is a schemer and is out to ruin Othello's life, he realizes how jealous Othello is and warns him, "O, beware, my lord, of jealousy / It is the green-eyed monster which doth mock" (Shakespeare 57).
Surely, this 'green-eyed monster' is lurking around the corner, waiting for the right time to pounce on Othello. He confesses, "When I shall turn the business of my soul/ The smallest fear or doubt of her revolt / Away at once with love or jealousy" (Shakespeare 58). The business of 'his soul' is to kill his wife for he questions her 'revolt'. This tells it all and to cap it all he says he is done with her regardless of whether what he had for her was 'love or jealousy.'
Nevertheless, as aforementioned, when one makes a decision, he/she chooses the consequences also. The immediate effects of Othello's choice to believe every lie he hears and harbor jealousy is the breakdown of his marriage. The effects affect Othello's life together with those around him. The long-lasting effect cum rewards of Othello's decisions is guilt and eventually, death. After smothering his wife, he realizes that she is innocent and she did not give Cassio her handkerchief; Lago had planned everything.
Even if Othello does not die, this guilt will be long lasting and heavy to bear. However, the ultimate rewards of jealousy finally catch up with Othello as he kills himself. He says, "I took by the throat the circumcised dog / And smote him, thus" (Shakespeare 67). The 'circumcised dog' here is his wrong decisions and jealousy and to 'smote it' he has to die and thus gets rewards of jealousy, a dark, primal aspect of humanity.
Lago is the most flagitious character in this play. He is out to hurt everyone and settle scores as he enjoys people's suffering. Surely, is not hard to find jealousy amongst human kinds. First, it is his wife; he thinks she has cheated on him by sleeping with Othello.
He says, "It is thought abroad that 'twixt my sheets / He has done my office" (Shakespeare 87). This is uncalled for as he cannot justify his claims and due to jealousy coupled with timidity, he kills Emilia, his wife. Then it comes to Cassio, after Cassio's appointment, Lago's jealousy is obvious.
He says, "I know my price, I am worth no worse a place/ One Michael Cassio, a Florentine, A fellow almost damn'd in a fair wife/ As masterly as he: mere prattle, without practice" (Shakespeare 29). This description is harsh and can only stem from jealousy. According to Mabillard, Othello knows Lago is not a competent man and that is why he prefers Cassio to him (Para. 5).
After arriving in Cyprus, Lago plots how to eliminate Cassio to further his plans of ruining Othello. His plans work out well and Cassio is fired; however, he does not get the post left vacant by Cassio.
He arranges Cassio to meet with Desdemona only to reveal this to Othello. Despite the fact that he knows about Cassio's meeting with Desdemona, he says, "Cassio, my lord! No, sure, I cannot think it/ That he would steal away so guilty-like/ Seeing you coming" (Shakespeare 65). This is hypocrisy fuelled by jealousy. He has planned all these and he should defend Cassio better were it not for his jealousy.
Surely, jealousy would do anything. Apparently, Lago has been pushing Emilia to steal Desdemona's handkerchief to use it as a proof of Desdemona's infidelity. After he gets the handkerchief, he hurriedly places it in Cassio's house. This gives him a foothold to accuse Desdemona of infidelity. When Othello asks for proof of infidelity, Lago vows that has seen "Cassio wipe his beard with her handkerchief" (Shakespeare 99). This is heinous act founded on jealousy.
Nothing can match Lago's jealousy and wickedness. He seems to enjoy every bit of other people's sufferings. Even after getting Cassio out of his job and straining Othello's marriage, he is not satiated. He still wants Cassio dead and this is why he tells Roderigo to ambush Cassio and kill him. He tells Roderigo, "…by making him incapable of Othello's place/ knocking out his brains" (Shakespeare 65). This is the far jealousy and wickedness can get.
However, killing to Lago is not an issue; he kills his wife and now is planning the death of Cassio. Nevertheless, there is prize for jealousy and Lago has to pay it fully. Othello attacks Lago and wounds him badly and this is the reward of jealousy and wickedness. People attract what they are, Lago is wicked; consequently, he attracts wickedness (Bradley Para. 9).
Cassio is a principled and he has no bad intentions whatsoever. Throughout the play, He lives by his principles and does not allow himself to be drawn into wickedness or jealousy. Due to his goodness, he is rewarded. First, Othello prefers him to Lago and trusts him with the coveted post of a lieutenant albeit inexperienced. The only time Cassio attacks someone is when he attacks Roderigo in self-defense.
After long time of remaining loyal to his work maintaining good relationship with everyone, he is rewarded with the post of Othello. Lodovico arrives with reveals that Cassio has been appointed as he says, "May be the letter moved him / For, as I think, they do command him home / Deputing Cassio in his government" (Shakespeare 203). This is a reward of goodness and living a principled life.
Surely, Shakespeare knew well about the primal nature of human beings characterized by jealousy. He knew for sure that, those who are jealous and wicked receive wickedness in return and those living by good principles receive good rewards in turn. Nature has way of regulating these events and it rewards everyone according to his/her actions without favoritism. Othello is gullible and full of jealousy.
He cannot trust his wife and this is why he accuses her of infidelity and finally kills her. He confesses that he really does not know what he feels for her is love or jealousy; however, jealousy takes precedence and he kills Desdemona based on unfounded accusations of infidelity. Lago on the other side is an epitome of extreme human wickedness. He is out to settle scores and hurt everyone around him.
This makes him kill Emilia; plots to ruin Othello, Desdemona, and Cassio. Nevertheless, due to their wickedness, Othello and Lago receive rewards of death and hurt respectively. Cassio on the other side receives good rewards due to his good principles. Shakespeare's message here is, "do not be deceived, you reap what you plant" (Mabillard Para. 11).
Bradley, Alex. "Shakespeare: Othello." Nd. Web.
Mabillard, Amanda. "The Moral Enigma of Shakespeare's Othello." 2009. Web. < http://www.shakespeare-online.com/plays/othello/othelloessay1.html >.
Shakespeare, William. "Othello." Furness, Horace. (Ed.). Philadelphia; J. B. Lippincott Co. 1886.
Play's Plot Explored
Act 1 Scene 1
Act 1 Scene 2
Act 1 Scene 3
Act 2 Scenes 1-2
Act 2 Scene 3
Act‌ ‌3‌ ‌Scenes‌ ‌1-2
Act‌ ‌3‌ ‌Scene‌ ‌3
Act 3 Scene 4
Act‌ ‌4‌ ‌Scene‌ ‌1
Act 4 Scene 2
Act‌ ‌4‌ ‌Scene‌ ‌3
Act‌ ‌5‌ ‌Scene‌ ‌1
Act 5 Scene 2
Characters Analysis
Important Quotes
Essay Samples
Topics‌ for‌ ‌Essay‌
William Shakespeare
Chicago (A-D)
Chicago (N-B)
IvyPanda. (2021, November 12). Jealousy in "Othello" by W.Shakespear. https://ivypanda.com/essays/othello-2/
"Jealousy in "Othello" by W.Shakespear." IvyPanda , 12 Nov. 2021, ivypanda.com/essays/othello-2/.
IvyPanda . (2021) 'Jealousy in "Othello" by W.Shakespear'. 12 November.
IvyPanda . 2021. "Jealousy in "Othello" by W.Shakespear." November 12, 2021. https://ivypanda.com/essays/othello-2/.
1. IvyPanda . "Jealousy in "Othello" by W.Shakespear." November 12, 2021. https://ivypanda.com/essays/othello-2/.
Bibliography
IvyPanda . "Jealousy in "Othello" by W.Shakespear." November 12, 2021. https://ivypanda.com/essays/othello-2/.
A Play "Hamlet" by William Shakespear
Lago's Hatred and Jealousy in the "Othello" by William Shakespeare
Theme of Jealousy in Othello by Shakespeare - Research Paper
Hamlet's Attitude Toward Women in Shakespear's "Hamlet"
Shakespear's "Macbeth": Main Character Change Analysis
Hamlet, Ophelia and Insanity in Shakespear's "Hamlet"
The Role of Trickery in Shakespear's "King Lear"
Treatment of women by Shakespeare and Sophocles
What Can Lawyers Learn From 'Othello'?
The Tragedy of Othello
The Glass Menagerie
Susan Glaspell's biography and historical context in relation to Trifles
Faith or Free Will Used in the Movie – Minority Report and the Drama – Antigone
Mrs. Hale: Different but Equal - Legitimate Gender Differences
A Critical Analysis of Hamlet's Constant Procrastination in Shakespeare's Hamlet
Home — Essay Samples — Life — Jealousy — The Power Of Jealousy In Shakespeare's Othello

The Power of Jealousy in Shakespeare's Othello
Categories: Jealousy Othello William Shakespeare
About this sample

Words: 1174 |
Published: Sep 1, 2020
Words: 1174 | Pages: 3 | 6 min read
Table of contents
Jealousy in "othello" has the power to drive to crave revenge, iago's plan to cover his lack of power.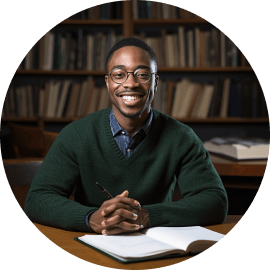 Cite this Essay
Let us write you an essay from scratch
450+ experts on 30 subjects ready to help
Custom essay delivered in as few as 3 hours
Get high-quality help

Prof Ernest (PhD)
Verified writer
Expert in: Life Literature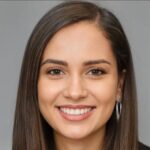 + 120 experts online
By clicking "Check Writers' Offers", you agree to our terms of service and privacy policy . We'll occasionally send you promo and account related email
No need to pay just yet!
Related Essays
3 pages / 1544 words
1 pages / 833 words
2 pages / 1130 words
1 pages / 385 words
Remember! This is just a sample.
You can get your custom paper by one of our expert writers.
121 writers online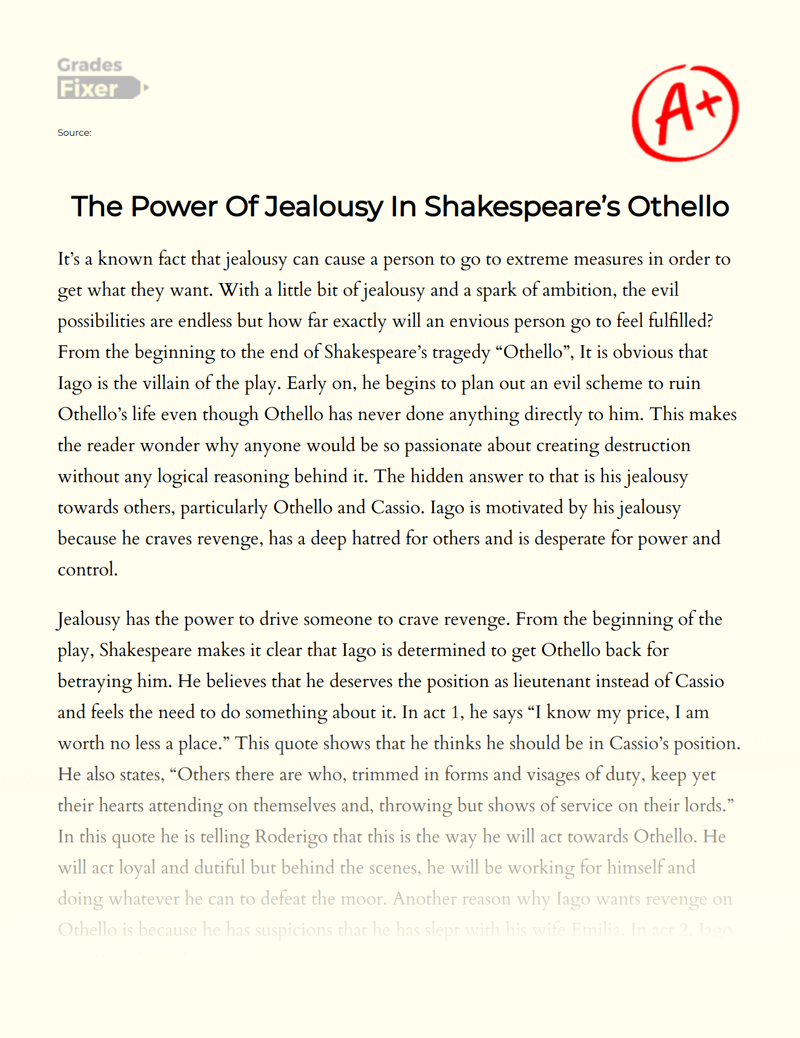 Still can't find what you need?
Browse our vast selection of original essay samples, each expertly formatted and styled
Related Essays on Jealousy
Across Jane Eyre by Charlotte Bronte and 'For My Lover, Returning to His Wife' by Anne Sexton, jealousy is presented as both resulting in self-deprecation and anger. Whereas in 'After the Lunch' by Wendy Cope a form of love [...]
In her article "Listening to Jealousy," Sara Eckel explains how jealousy can be a useful emotion that can bring a couple closer together if it is properly managed; however, if left unchecked it can lead to the demise of the [...]
In Toni Morrison's novel "The Bluest Eye," the author delves into the nuanced distinction between jealousy and envy, shedding light on the intricacies of these emotions. According to Morrison, jealousy is characterized by [...]
Unlike the spectacle and indiscriminate destruction of early disaster films, modern disaster films take a more personal and internalized look at disaster. Films from the golden age of disaster, like Guillermin's The Towering [...]
Mani Ratnam produces and directs the film Guru, in which a young commoner has a dream to become a businessman. He succeeds despite obstacles and social constructs, but in the end his life in on trial for various corruptions [...]
Marivaux's play "The Game of Love and Chance" is a short work composed in the Italian style of commedia dell'arte, using stock characters and humor to explore conventional themes. Specifically, "The Game of Love and Chance" [...]
Related Topics
By clicking "Send", you agree to our Terms of service and Privacy statement . We will occasionally send you account related emails.
Where do you want us to send this sample?
By clicking "Continue", you agree to our terms of service and privacy policy.
Be careful. This essay is not unique
This essay was donated by a student and is likely to have been used and submitted before
Download this Sample
Free samples may contain mistakes and not unique parts
Sorry, we could not paraphrase this essay. Our professional writers can rewrite it and get you a unique paper.
Please check your inbox.
We can write you a custom essay that will follow your exact instructions and meet the deadlines. Let's fix your grades together!
Get Your Personalized Essay in 3 Hours or Less!
We use cookies to personalyze your web-site experience. By continuing we'll assume you board with our cookie policy .
Instructions Followed To The Letter
Deadlines Met At Every Stage
Unique And Plagiarism Free
Academia.edu no longer supports Internet Explorer.
To browse Academia.edu and the wider internet faster and more securely, please take a few seconds to upgrade your browser .
Enter the email address you signed up with and we'll email you a reset link.
Othello Jealousy Essay
When jealousy is inserted in an individual's heart; it begins to grow into evil and results in the ultimate destruction of the victim and the culprit. Consequently, the emotion of jealousy causes destruction of one's self, leading to the manipulation, revenge, betrayal and even the death of others. An illustration of jealousy is a seed. When a seed is implanted, it turns into a plant; afterward the plant turns into a fruit, then humans as
Related Papers
Jenny Rathod
naseer ahmed
DISCRIMINATION IS EVIL: Essays on Literary Masterpieces
Cansu Ecem KESGİN
Jealousy and Regret Human nature is unalike, and one should be more careful about factors that affect their emotions. Shakespeare states that we should suppress our negative feelings and shape our lives accordingly. Shakespeare created a spectacular work by his strong writing skills and reflected the weaknesses of human beings through the charisma of Othello, the deceit of Iago, and the relationship between love and hate. For instance, Iago's personality in Othello is a sick person's psychology who has come to harm humanity. Shakespeare has chosen the theme of jealousy for this *
Consciousness, Literature and the Arts
Michael Winkelman
Though everyone agrees that jealousy is the theme of Shakespeare's Othello, critics have tended to neglect or misunderstand its significance. The Moor's infuriated reaction, however, makes sense in light of evolutionary biology, the fundamental explanation for life on Earth—including that branch of hominid primate mammals known as Homo sapiens. My paper explains relevant aspects of Darwin's theory of sexual selection, plus the Biochemistry and genetics involved, and then analyzes Othello's natural apprehension over the threat of cuckoldry, especially in Act 4, scene 2. In the conclusion, I contend that such a New Humanist approach can help elucidate what makes the tragedy a masterpiece.
Rina Dewiastuti
ABSTRAK This study is focused on the psychological phenomena, i.e. jealousy experienced by the major character in Shakespeare's The Winter's Tale, one of Elizhabethan greatest tragicomedies that was written in about 1609. The play itself is about the jealousy feeling of the king of Sicilia that causes some destructive acts towards people around him, and the end is in happy ending. Using psychological approach, the study is aimed at: (1) describing the causes of Leontes' jealousy; and (2) describing the reflection of Leontes' jealousy. The method used in this study is descriptive qualitative. In conducting data analysis, it applies interactive model proposed by Milles and Huberman. Firstly, data are collected using purposive sampling based on the concepts of theory presented in the theoretical review. This activity is accompanied with data reduction to get the most data. The data, then, are presented in data display added with sufficient description to be used in analysis before even...
Mansour Mohammed Ali Faraj Faraj
The current study is a new investigation of The Tragedy of Othello as an honor-killing tragedy that deals with the issues of love and honor under the context of the patriarchal institution of marriage. However, its primary concern is the hero's internal conflict that sets on the collision of love and honor under the influence of the external factor played by Iago, whose role is necessary to bring these two passions into collision and, accordingly, leads to the tragic end. The significance of this study is apparent. It is new. Unlike other various studies, it analyses the issue of love in terms of the (neo) platonic theory of love for the first time. The second place offers new valuable insights into Othello's tragic flaws. It proves the play is a tragedy of character and the hero's ruin is due to neither jealousy nor racism. His drawback is his upholding the absoluteness of these two passions. As a husband, he has failed to prey to his absolute adherence to the patriarchal attitude concerning honor and was unable to recognize the validity of his absolute love for his wife and her innocence.
Anglica, An International Journal of English Studies Special Issue: William Shakespeare.
A venerable critical tradition has long flavoured the reception of Shakespeare's plays with psychology. Characters are read as real people, and as a consequence, the plays are ana- lysed from the starting point of an individual character's inward personality. However, this literary reading of the plays fails to take into account not only the performance of character on the Renaissance stage but also the theatrical culture that predetermines forms of characterisation for that audience. The playing of roles within this drama needs to be continually re-investigated, and in the case of The Winter's Tale and Othello, fully reimag- ined. The conventional ascription of the plot development entirely to the jealousy of both Leontes and Othello can accordingly be reworked. The modern obsession with psycholo- gy obscures a field of semantic forces that goes well beyond the purview of any individual to a social encoding of possible behaviours. This restores multiple potentialities to the plays in performance, freeing them from a narrow insistence that meaning is rooted en- tirely in the individual. This in turn provides a context for deeper analysis of gender roles and how they intersect with the impetus generated by patriarchal modes of inheritance.
Md. Ziaul Haque
General Othello's trustworthy companion and advisor Iago makes the Moor 'mad' in William Shakespeare's "Othello". He causes the ruin of quite a few characters in the play because of his uncontrollable jealousy and a feeling of revenge. Iago takes the help of his ally named Roderigo in order to translate his own destructive dreams into reality. Once Othello is in Cyprus, Iago decides to work on his central plan. He wants to make Othello believe that his wife is in an adulterous relationship with the new lieutenant, Michael Cassio. Iago keeps on playing with Othello's mind through the process of having Othello listen to Cassio speak generously about his mistress, Bianca, even as Othello thinks that the mistress must be Desdemona. Othello blindly sees coincidences as evidences. It is true that the fire of jealousy in Othello's heart and his unjust trust in Iago lead him towards insanity and ultimate tragedy where he is found murdering Desdemona and committing suicide.
jayantha herath
RELATED PAPERS
Marilú Marino
Hue Woodson
Roohollah Roozbeh
Luke Purshouse
American Journal of Humanities and Social Sciences Research (AJHSSR)
International Journal of Social Science Studies
David Torevell
Hungarian Journal of English and American Studies ( …
Geza Kallay
SMART M O V E S J O U R N A L IJELLH
Othello Syndrome in Harold Pinter's The Lover
Ajda Baştan
Mohit U L Alam
SP Publications International Journal Of English and Studies (IJOES)
Intakhab A Khan
Emanuel Stelzer
JURNAL BASIS
Puja maharani
Nicolas Evzonas
English Language and Literature Studies
marwan alqaryouti
Nicolas Xenios
Affonso kristeva
Todd K Shackelford
New Ideas in Psychology
Christine Stephens
Studies in English Language and Literature 21
David Hurley
Ronan Hatfull
Albert Rolls
Alustath Journal for Human and Social Sciences
Jinan Abdulla Shafiq
CNS spectrums
Enrico Massimetti
Anna Welpinghus
T. H. M. Gellar-Goad
Jennifer Waldron
European Journal of Personality
Iman Bassir
Grifith Law Review
Adrian Howe
The British journal of psychiatry : the journal of mental science
Nagy Bishay
Alessandra Fussi
Kristi Sexton
Lev Verkhovsky
Jurnal Culture
ahmad muhid
Nizar Zouidi
Research on Emotion in Organizations
Chris Poulson
Helen Pluckrose
RELATED TOPICS
We're Hiring!
Help Center
Find new research papers in:
Health Sciences
Earth Sciences
Cognitive Science
Mathematics
Computer Science
Academia ©2023
Plagiarism checker
Writing help, paraphrasing tool, iago's jealousy in othello.
How it works
William Shakespeare is prolific for his plays of love, revenge, deceit and jealousy. Among his most celebrated plays is the tragedy Othello, in which the themes of jealousy and deceit play a central role. In Othello, one of his most recognized tragedies was revolving around the central theme of jealousy and deceit. The themes of jealousy and deceit go with love. Love consumes all those who take part in it and in Othello's case, his love for Desdemona has blinded him. This is what gave Iago a chance to corrupt him so easily. Iago, the main antagonist of this story, is the embodiment of these themes, driving the theme to its tragic end. Iago compares himself to the devil. He is aware of his own evil and is aware that he is distorting his state of morality, but he chooses to be evil anyway. At his core, Iago is an evil person and this bothers him little.
For instance, in Act II, Iago purposely provokes Roderigo by telling him about Cassio's feelings towards Desdemona so Roderigo will take action and create a trouble that he knows will put Cassio's reputation at risk. The Deceitful Character of Iago: Iago, a Venetian career soldier with advanced military experience that has earned him the senior position of sword bearer to the General Othello, is notoriously ambiguous in motivation and reveals little humanity to help the audience to perceive him as anything but an evil and deceitful man. The key to understanding a mind like Othello's is through the work of the Swiss psychologist Carl Jung. For Jung, "man is an enigma to himself," and our key need is the ability for looking within instead of looking out. Jung pursued his research and published The Undiscovered Self in 1958. He believed that we all have the capability for evil within ourselves and it is only by recognizing this capability that we can escape and see through the sometimes evil influences around us.
Our fear of the unknown interior compels the individual to constantly attempt to deceive oneself into thinking that he or she is always in the right. In Othello, Jung's ideas cannot be clearer than what we see in the outward influence Iago has over Othello. Othello's final speech is itself a form of self-deception: he blames fate, he blames Iago, but he never blames himself except for loving "too well" because of the lack of the power of introspection. "Of one that loved not wisely but too well; Of one not easily jealous, but being wrought" (Act V). He turns an obvious negative into a positive, further reinforcing the defenses that he uses to direct responsibility elsewhere as opposed to his own psychological make-up. In his book Magic in the Web, Heilman explores the nature of Othello's and Desdemona's love which provokes Iago's attempt to destroy it due to his own inability to love. Iago views love as a form of witchcraft, something that he cannot understand or control. Iago possesses little emotion Phelps 3 other than bitterness and hate, "Good sense, hard sense, common sense, no nonsense, rationality—all these terms we may suppose, are ones which Iago might consider as defining his perspective" (133).
It is never really clear whether Iago has any kind of self-awareness other than the awareness of his ability to hate. What is most frightening about Iago is that even if he did have extreme amounts of self-awareness, it is highly likely that he would still do evil things. He is the epitome of evil. In examining the nature of evil, it is necessary to keep Iago in mind in comparison with Othello. In his article "Evil Characters," Daniel Haybron attempts to define evil in order to make a judgment on whether a character is truly evil in fiction. He begins by suggesting that the evil character judges how people are supposed to think, act, and behave. To be truly evil, one must have a need to dismiss evil on a regular basis.
He embraces the darkness within; he does not fight it, but embraces it, takes pleasure in it, revels in the power he has over others because of his capability for evil and his twisted intelligence in knowing how to extrapolate the worst attributes that might be found in people. There are numerous passages in the play that portray Iago's self-awareness. In Act 1 Scene 1, Iago professes the duality of his nature to Roderigo: Phelps 4 "Were I the Moor, I would not be Iago. In following him, I follow but myself; Heaven is my judge, not I for love and duty, But seeming so, for my peculiar end; For when my outward action doth demonstrate The native act and figure of my heart In complement extern, tis' not long after But I will wear my heart upon my sleeve For daws to peck at: I am not what I am." (1.1.57-65)
"In pursuit of his end of justice Iago employs the method of craft and intrigue, and in pursuit of revenge, the method of psychological suggestion"( McCloskey 27) Iago uses his skills and intelligence to get his revenge against Othello. He hated Othello so much that he decided to get even with him for his unfair decision. Iago says, "But for my sport and profit. I hate the Moor; And it is thought abroad that twixt my heets. He's done my office" (Act I Scene III 365-367). Iago had everything in his life: Goodfriends, a good job and a wife. However, he envied everything around him. "Iago becomes an Elizabethan Machiavelli, who is not bothered by moral values in the ordinary sense" (McCloskey 28). This utter apathy and wickedness is the sole conflict of this play and ultimately comes with fatal consequences.
The deadline is too short to read someone else's essay
Cite this page.
Iago's Jealousy in Othello. (2021, Jan 15). Retrieved from https://papersowl.com/examples/iagos-jealousy-in-othello/
"Iago's Jealousy in Othello." PapersOwl.com , 15 Jan 2021, https://papersowl.com/examples/iagos-jealousy-in-othello/
PapersOwl.com. (2021). Iago's Jealousy in Othello . [Online]. Available at: https://papersowl.com/examples/iagos-jealousy-in-othello/ [Accessed: 11 Nov. 2023]
"Iago's Jealousy in Othello." PapersOwl.com, Jan 15, 2021. Accessed November 11, 2023. https://papersowl.com/examples/iagos-jealousy-in-othello/
"Iago's Jealousy in Othello," PapersOwl.com , 15-Jan-2021. [Online]. Available: https://papersowl.com/examples/iagos-jealousy-in-othello/. [Accessed: 11-Nov-2023]
PapersOwl.com. (2021). Iago's Jealousy in Othello . [Online]. Available at: https://papersowl.com/examples/iagos-jealousy-in-othello/ [Accessed: 11-Nov-2023]
Don't let plagiarism ruin your grade
Make sure your essay is plagiarism-free or hire a writer to get a unique paper crafted to your needs.
Plagiarized Text
Leave your email and we will send a sample to you., not finding what you need, search for essay samples now.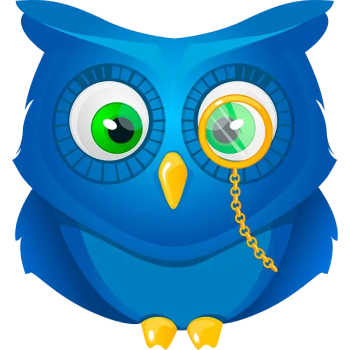 Having doubts about how to write your paper correctly?
Our writers will help you fix any mistakes and get an A+!
Please check your inbox.
Don't use plagiarized sources
Where do you want us to send this sample, attention this is just a sample..
You can order an original essay written according to your instructions.
Trusted by over 1 million students worldwide
1. Tell Us Your Requirements
2. Pick your perfect writer
3. Get Your Paper and Pay
Hi! I'm Amy, your personal assistant!
Don't know where to start? Give me your paper requirements and I connect you to an academic expert.
short deadlines
100% Plagiarism-Free
Certified writers