How to Start a Cover Letter - 4 Tips for the Perfect Opening
Here you are, looking at a blank document that's supposed to be your cover letter.
You have a general idea of what your cover letter is supposed to be about, but you're having trouble writing those first few sentences.
We get you! Whether you're writing your resume, an article, research paper, or a cover letter, getting started is sometimes the hardest part.
Lucky for you, though, there is a very straightforward way to get started with your cover letter, and in this article, we're going to teach you how to do that!
Read on to learn how to effectively get started with your cover letter! 
What should your cover letter opening contain
What to include in your contact information
How to start a cover letter greeting
How to write an attention-grabbing opening paragraph
6 Examples of how to start your cover letter
What Should Your Cover Letter Opening Contain
To successfully get started with writing your cover letter, you should include these 3 main elements:
The header with contact information. Includes your & the recipient's contact information.
The greeting to the manager. This is where you address the cover letter by greeting the hiring manager, department, or company.
An attention-grabbing opening paragraph. The opening paragraph of your cover letter is your chance to grab the recruiters' attention and get them to read the rest of your cover letter.
Below, we'll teach you how to do each of them in the right way.
If you're applying for an entry-level job and wondering what's the best way to write your cover letter, head over to our article on entry-level cover letters . 
What to Include in Your Contact Information 
As we mentioned, the first thing to add to your cover letter opening is your contact information. 
The header's essential information include the following: 
Full name and professional title (if applicable)
Phone number
Email (a professional email, that is)
In some cases, you can also add the following: 
Social media profiles. By this, we mean profiles that are relevant to the position. This includes websites like LinkedIn , GitHub (for developers), or Medium (for writers).
Personal website. If you have a personal website you've created for your industry (i.e. you're a writer with a blog), then make sure to include the link to your website on your cover letter.
After you've added your information, you should add the date and continue with the recipient's name and address. So:
Manager's name
Manager's job title
Company's name
Company's street address
Once you've done this, here's what your cover letter will look like:
And just like the essential DOs, there are also some things you should NOT include in your cover letter header: 
Unprofessional email. It's going to be difficult for a hiring manager to take you seriously if your email address is something you coined when you were still a teenager (i.e. [email protected] ). 
How to Start a Cover Letter Greeting
After you've properly listed your contact information, it's time to start writing your cover letter. 
The first thing this includes is addressing the cover letter to the hiring manager. 
Yeap, that's right! And by greeting the hiring manager, department, or company, we don't mean using the old-fashioned "Dear Sir/Madam," or "To whom it may concern."
Instead, you want to show your future employer that you've done your fair share of research about the job/company and that you're not just using one cover letter template to apply for ten jobs. After all, one of the most common mistakes job seekers do (84% of them!) is not finding the hiring manager's name and personalizing the application.
So, make sure to address the hiring manager that's going to review your manager directly. 
Now, there are a few ways you can do that. 
The simplest - and most obvious - option is to look up the head of the department you're applying to on LinkedIn. 
Let's assume that you're applying as a Communications Specialist at Novoresume. The hiring manager is probably the Head of Communications or the Chief Communications Officer. 
After a quick LinkedIn lookup, you can probably find out who that person is (that's me!).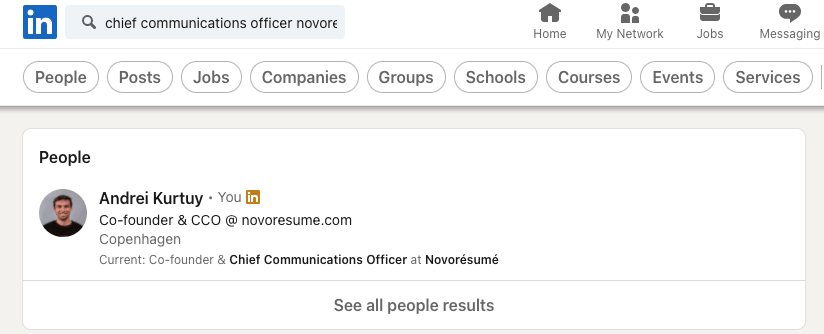 And just like that, you have your hiring manager! Piece of cake!
Not a fan of LinkedIn? You can also check the company's website and look for the "Team" or " About Us " page.
If none of these work, consider using one of the following greetings when you're addressing the hiring manager: 
Dear [Department] Hiring Manager,
Dear Hiring Manager, 
Dear [Department] Team,
Dear Director of [Department],
Dear [Company Name] Hiring Team
How you conclude your cover letter is just as important as how you start it. To learn how to ace yours, head over to our guide on how to end a cover letter . 
How to Write an Attention-Grabbing Opening Paragraph
The last, but the most important, part of your cover letter opening is your opening paragraph. 
You want your opening paragraph to be engaging and attention-grabbing to ensure that the hiring manager will continue reading the cover letter.
After all, recruiters receive hundreds of applications daily. Obviously, they can't spend all their working hours reading cover letters, so, instead, they simply skim your cover letter in a handful of seconds, and if it catches their attention, they re-read it more thoroughly.
And the part of the cover letter that helps catch their attention is usually the opening paragraph! 
Compare these 2 cover letter openers and judge for yourself which one you'd rather read:
Dear Mr. Brown,
My name is Anna and I'd like to help your company exceed its sales target as a Sales Manager. My 5-year experience as a Sales Representative at XYZ Inc. has given me substantial skills in sales. During my last year working there, we beat KPIs by around 50%. I believe that my strong track record in sales makes me the perfect candidate for the position. 
Hello, my name is Mary and I am interested in working as a Sales Manager for your company. I have 6 years of experience working as a Sales Manager for Company X, so I think I'm a good fit for the position. 
While there's nothing inherently wrong with the first example, it's not all that imaginative. Chances are, every other applicant is going to use a similar opening statement.
The second example, on the other hand, is more customized and personal, helping the recruiter understand why Anna is a good candidate for the role.
In this section we'll give you all the tips & tricks you need to ace your cover letter introduction:
Tip #1. Show Passion and Commitment
Showing the hiring manager that you're passionate about the job will instantly boost your chances of getting hired. It's not a secret that committed employees are more engaged and, therefore, more productive.
After all, research shows that engaged employees are 17% more productive than their peers.  
So, it's only logical that the hiring manager will greatly appreciate a candidate who shows commitment and enthusiasm. 
As such, these are both qualities that you want to showcase right from the start of your cover letter. Here's an example of how you can do that:
I have been immersed with human rights since I specialized in Conflict Resolution and started working with Amnesty International. During my 5 years of experience in the field, however, I haven't seen any organization do the work that you've accomplished with human rights. Your dedication makes me want to work for your organization and put my skills to use for the work you do. 
Tip #2. Mention a Mutual Contact (if Applicable)
If someone referred you to the position, the opening paragraph of your cover letter is a great place to mention that. 
Referrals are key to securing an interview, but at the same time they're not something you can mention on your resume, so take the opportunity to let the recruiter know at the start of your cover letter. 
The idea is that if someone the hiring manager knows recommended you for the position, your skills and qualifications immediately become more credible.
I was excited to learn about this job opportunity from John Doe, who has worked at your firm for five years. John and I worked on an architectural project together for over one year and he thought I'd be a good fit for the role at Company X. 
Tip #3. Prove You Have Researched The Company 
A generic cover letter will not give you many points in the eyes of your potential employers. 
The recruiter reading your cover letter wants to know that you're excited to be applying for that particular company , and you're not just applying to dozens of jobs randomly, hoping that one will stick. 
As such, it's very important to do some research about the company you're applying for, and in the cover letter, mention why you're a good culture fit. 
I have always admired the work that your organization does with vulnerable communities. I have always been passionate about social justice and I think the mechanisms you have in place to empower those in need are really making an impact. I believe my previous experience as a social worker could bring value to your mission.
Tip #4. Lead With An Achievement
There's no better way to grab attention than to lead with an achievement. It immediately gives you credibility and makes the hiring manager curious to read more about you. 
To make sure your achievements stand out, though, do this:
Whenever possible, make your achievements as quantifiable as possible. "Improved sales by 20% in 2 months" is more impressive than "improve sales."
Show how your past achievement is relevant or can add value to your current position. 
As a Public Relations representative for Company XYZ, I worked with the press to improve its reputation and public image. This translated into a 40% increase in customer satisfaction and better public reception of the company's values and identity. I am eager to yield the same results as the Head of Communications in your organization. 
Tip #5. Start With a Powerful Belief
A short and impactful belief statement that represents your work ethic and professional values is another great way to attract the recruiter's attention. Obviously, you get bonus points if said belief statement aligns with the company's goals and objectives. 
However, don't just copy-paste the company's mission statement to make a good impression. Rather, use your own words and beliefs to sound more genuine and original.
As a teacher, I believe every child should have access to quality education early on. This is the only way to ensure future generations' equity and the best chance we have at improving our society. I admire your institution's commitment to enabling quality education in the most remote areas of our country and I'd be honored to contribute to those efforts by becoming a teacher here. 
Tip #6. Be Direct  
Oftentimes, beating around the bush gets you nowhere. So, a great strategy to follow when you start writing your cover letter is to just be direct about the position you're applying for and the reasons you believe make you the perfect fit for the job. 
There's another upside to this. Recruiters receive hundreds of applications daily - sometimes, even for different positions within the same department - so it helps them to know what position you're applying for early on, as well as what exact qualifications make you the perfect fit for the job. 
I'd like to officially apply for the marketing manager position at Company X. Over the past 7 years, I've worked with 6 clients, helping them drive more than $2,000,000 worth of sales. I am confident that my marketing skills and proven sales results make me a perfect match for the position. 
Match your cover letter with your resume to make a better impression on the recruiter and reinforce your personal brand !
Key Takeaways 
And that's a wrap! 
Hopefully, you're now more confident about how you can start your cover letter!
Now, let's do a small recap of the most important points we covered in the article:
Your cover letter opening should contain a header with contact information, a greeting to the hiring manager, and an attention-grabbing opening paragraph.
Your header should include your contact information, such as your name, phone number, and professional email, the date, as well as the contact information of the recipient.
You should try to find the hiring manager's full name in order to greet them. If you can't find their name or title anywhere, then you should greet them using Dear Hiring Manager , Dear [Department] Team , or something similar.
The opening paragraph of your cover letter should grab the hiring manager's attention and make them want to read your cover letter. Some tips to write an attention-grabbing opening paragraph include being direct, starting with a strong belief statement, or leading with a relevant achievement.
Related Readings 
How to Write a Cover Letter in 2023
Cover Letter Tips 
Cover Letter Mistakes
Do I Need a Cover Letter?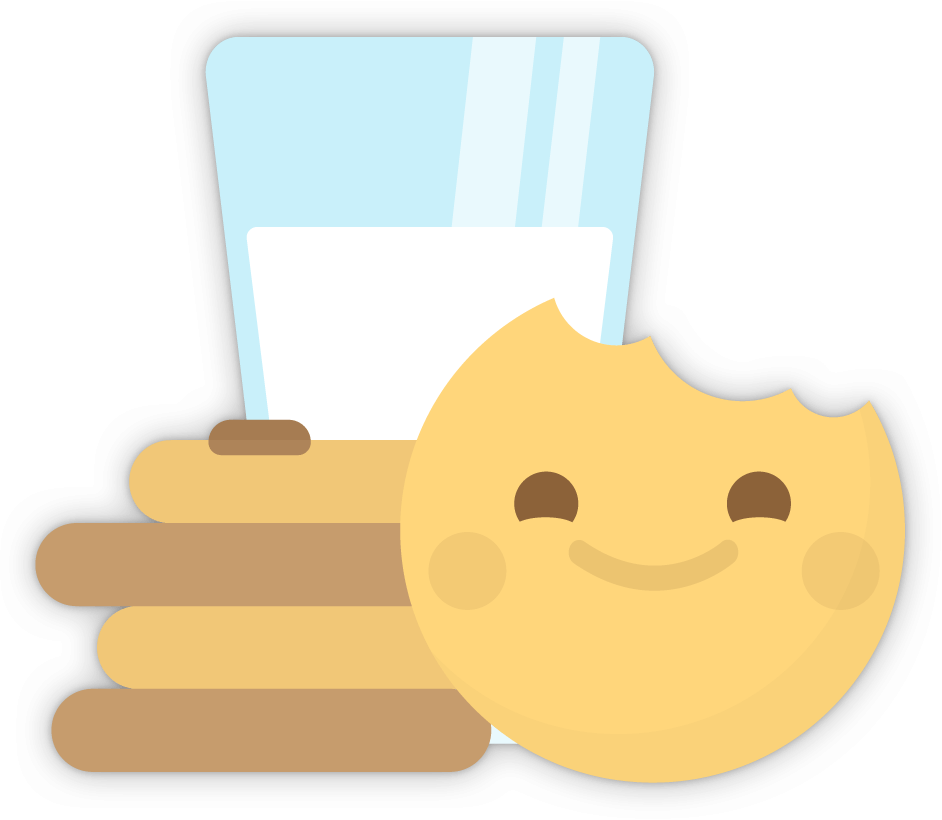 To provide a safer experience, the best content and great communication, we use cookies. Learn how we use them for non-authenticated users.
You control your data
We and our partners use cookies to provide you with our services and, depending on your settings, gather analytics and marketing data. Find more information on our Cookie Policy . Tap "Cookie Settings" to set preferences. To accept all cookies, click "Accept All".
Cookie settings
Click on the types of cookies below to learn more about them and customize your experience on our Site. You may freely give, refuse or withdraw your consent. Keep in mind that disabling cookies may affect your experience on the Site. For more information, please visit our Cookies Policy and Privacy Policy .
Choose type of cookies to accept
These cookies allow us to analyze our performance to offer you a better experience of creating resumes and cover letters. Analytics related cookies used on our Site are not used by Us for the purpose of identifying who you are or to send you targeted advertising. For example, we may use cookies/tracking technologies for analytics related purposes to determine the number of visitors to our Site, identify how visitors move around the Site and, in particular, which pages they visit. This allows us to improve our Site and our services.
These cookies give you access to a customized experience of our products. Personalization cookies are also used to deliver content, including ads, relevant to your interests on our Site and third-party sites based on how you interact with our advertisements or content as well as track the content you access (including video viewing). We may also collect password information from you when you log in, as well as computer and/or connection information. During some visits, we may use software tools to measure and collect session information, including page response times, download errors, time spent on certain pages and page interaction information.
These cookies are placed by third-party companies to deliver targeted content based on relevant topics that are of interest to you. And allow you to better interact with social media platforms such as Facebook.
These cookies are essential for the Site's performance and for you to be able to use its features. For example, essential cookies include: cookies dropped to provide the service, maintain your account, provide builder access, payment pages, create IDs for your documents and store your consents.
To see a detailed list of cookies, click here .
This site uses cookies to ensure you get the best experience on our website. To learn more visit our Privacy Policy

Cover Letter
How to Start a Cover Letter [+ Introduction & Opening Lines]
How to Start a Cover Letter [+ Introduction & Opening Lines]
Writer's block got you staring at your blank screen? It's not as hard as you think to start a cover letter that will blow the hiring manager away—this guide shows you how.
As seen in:
You've got your resume locked down and are ready to turn in your job application. But starting a cover letter… You've been staring at your blank screen for what must be days now.
How to start a cover letter?
In this guide, we'll show you how to start a cover letter perfectly and captivate the hiring manager enough to want to immediately call you in for an interview. We'll craft a professional cover letter introduction and sort out all the header details while we're at it.
Want to write your cover letter fast? Use our cover letter builder. Choose from 20+ professional cover letter templates that match your resume. See actionable examples and get expert tips along the way.
Create my cover letter now
Sample Cover Letter for a Resume— See more cover letter examples here .
About Zety's Editorial Process
This article has been reviewed by our editorial team to make sure it follows Zety's editorial guidelines . We're committed to sharing our expertise and giving you trustworthy career advice tailored to your needs. High-quality content is what brings over 40 million readers to our site every year. But we don't stop there. Our team conducts original research to understand the job market better, and we pride ourselves on being quoted by top universities and prime media outlets from around the world.
Don't miss out on exclusive stories that will supercharge your career!
Get a weekly dose of inspiration delivered to your inbox
Similar articles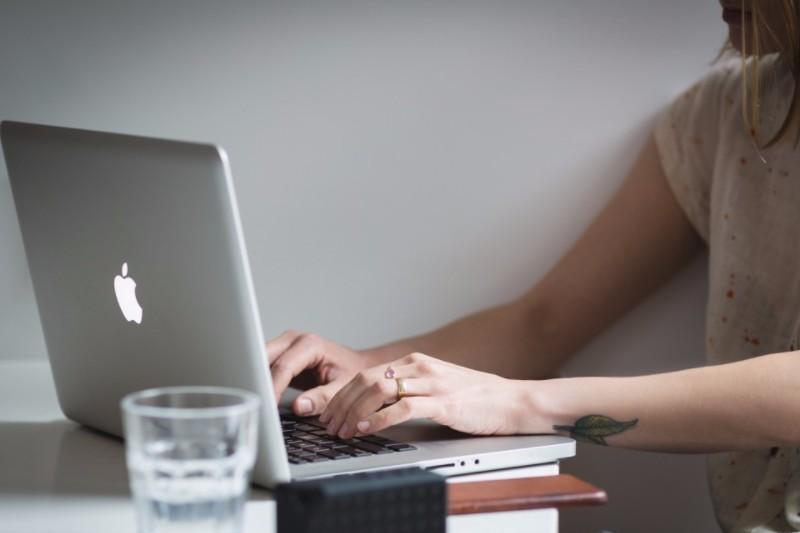 Are Cover Letters Necessary in 2023? Do You Need One?
Your resume is perfect and ready to be sent. But what about your cover letter? Is a cover letter necessary? We have the answer!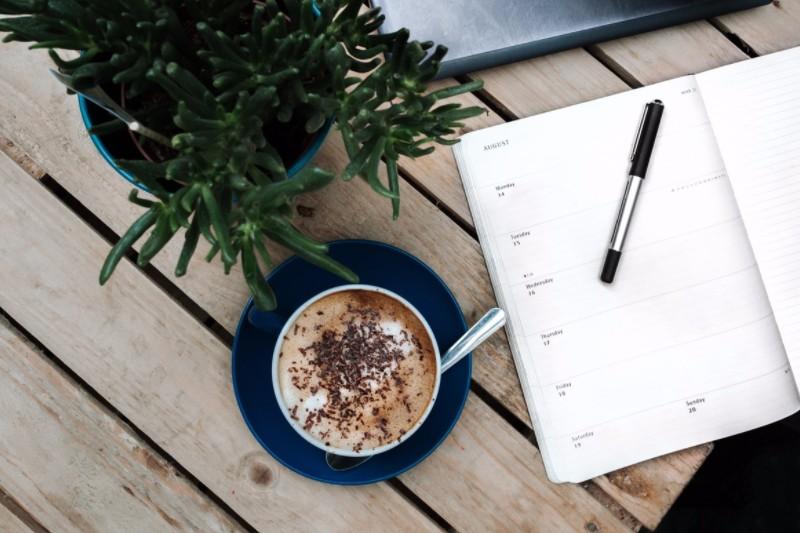 How to End a Cover Letter? Closing Examples & Tips
You started on a high note, but how to end a cover letter in an equally great way? See examples of cover letter closing paragraphs & different types of cover letter sign-offs.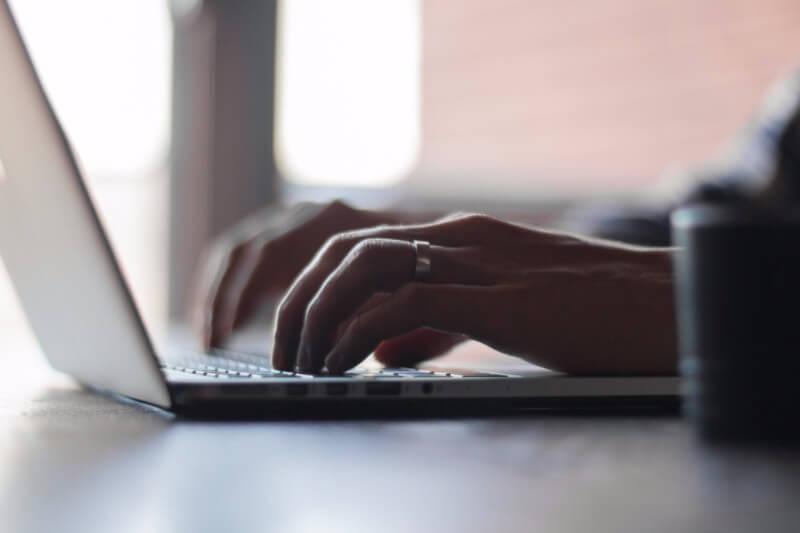 How Long Should a Cover Letter Be? Ideal Length in 2023
The right word count can make or break your cover letter. So how long should a cover letter be? 1 or 2 pages? Read on to find out.
Search Search Please fill out this field.
Career Planning
Finding a Job
Cover Letters
How To Start a Cover Letter With Examples and Tips
How to Start a Cover Letter
Cover Letter Opening Sentence Examples
Personalize Your Cover Letter
What to Write in the Rest of Your Letter
Cover Letter Sample
More cover letter examples and templates.
Theresa Chiechi / The Balance
What's the best way to start a cover letter for a job? The first couple of sentences of your cover letter are the most important ones. Recruiters and hiring managers often spend mere seconds scanning your application.
If your cover letter doesn't grab their attention right away, they may never even get as far as the second paragraph. What should these all-important first sentences say? Keep in mind that you're hoping to differentiate yourself from the competition. Your goal is to explain to the reader who you are, why you're writing, and how you can contribute to the employer's success.
This might mean highlighting a contact , providing a quick window into your relevant background and experience, or emphasizing a significant accomplishment that would make you an asset to the organization.
Think about why the hiring manager should select you, above all other candidates, for an interview, and you'll be on the right track.
How to Start a Cover Letter 
Be direct.  In these opening sentences, you want to explicitly let the reader know which position you're applying for. Hiring managers are often looking at candidates for several open jobs at any given time. Make sure it's easy for them to discover your intent. For example:
I am interested in the coordinator position at ABC company.
Mention a contact. If someone referred you to the position , include that information early on as well. Referrals are one of the key aspects to securing an interview, so be sure to mention yours right away. For example:
Jane Doe suggested I contact you about the job, as she feels my skills would be a good fit for the position.
State an accomplishment.  Try to state an accomplishment from your previous job. If you can, show how you added value to the last company you worked for. You might even add the job title you had if it's similar to the one you are applying for. For example:
As coordinator at XYZ Enterprises, I have increased my group's output by 37% over the past 15 months.
Express excitement.  Convey your passion for your work, and your excitement about the job and company. Your cover letter is an opportunity to sell yourself to the hiring manager, and to share why you're well qualified for the job. For example:
I would greatly appreciate the opportunity to meet with you to discuss what I have to bring to the position at ABC company.
Use keywords. If you can include any keywords from the job listing, do so. You can mention a skill you have that was included in the post. For example:
My track history of successfully managing teams and delivering projects on time and on budget makes me a good fit for this role.
Examples of Cover Letter Opening Sentences 
As an information technology professional with high-level management experience in the IT industry, I learned that the best way to achieve success was to utilize the resources I had by employing well-defined objectives and an attitude of empowerment.
I am very interested in the entry-level position that is available at ABC Investment Partners. I recently graduated from XYZ college, and my courses in investments, finance, and business have equipped me with a solid base upon which I plan to build my career.
I am writing to express my strong interest in the international marketing position open at WellCam, Inc. My colleague Janna Doling recommended that I contact you directly about this position, owing to the years I have spent developing successful campaigns for XYZ company.
I'm writing to express my interest in the editorial assistant position listed on Monster.com. Given my five years of editorial experience and excellent capabilities, I would appreciate your consideration for this position.
I have a very strong interest in pursuing a teaching career. With experience working at both elementary and high school levels, as well as in activities outside of the traditional classroom, I have a diverse background with much to offer.
I have the pleasure of being acquainted with one of the counselors on your staff, Eleanor Seville. She let me know about the open position and recommended that I contact you.
I was excited to read about the administrative assistant job opening at XYZ company. I have several years of administrative experience in a variety of fields, including insurance and finance.
I understand that you have been deluged with resumes since  Computer World  released their list of the best companies to work for. Mine is one more, but I do have experience that is hard to come by.
My proven track record of successfully performing complex analyses on various corporations makes me an ideal candidate for the analyst opportunity that you have advertised.
When you're not sure how to get started, it can be really helpful to review examples of cover letters . You can use these as a guide, but be sure to tailor your introduction to your personal circumstances and the job you're applying for.
The more closely you construct your cover letter to show that you're a match for the job requirements , the better your chances of getting selected for an interview.
What to Write in the Rest of Your Cover Letter
Of course, the rest of your letter is important too. You'll need to use an appropriate salutation , and make your cover letter closing polite and inviting. In the body of your letter , you have the opportunity to pitch your qualifications for the job in more detail than you have room for in your resume.
If there are specific events or accomplishments you feel are likely to make you stand out, you can briefly mention them and explain in more detail should you secure an interview.
Make sure your contact information is complete as well, and format your signature to match the letter style you are using.
Download the cover letter template (compatible with Google Docs or Word Online) or read the example below.
Sample Cover Letter (Text Version)
John Smith 37 Oak Street Middle Village, New York 10502 555-555-555 john.smith@email.com
March 22, 2021
Dr. Jane Doe All Smiles Dentistry 5 Main Street, Suite A Middle Village, New York 10502
Dear Dr. Doe,
My former coworker, Maria Rodriguez, suggested that I contact you to express my interest in the position of dental assistant in your office in Middle Village.
I'm a licensed dental assistant with over 10 years of experience helping dentists and hygienists make their patients smile. In my current role with ABC Dental, I have gained proficiency in the four-handed dentistry technique, as well as mastering Henry Schein Dentix software.
I also have the following skills and qualifications, as outlined in the job description on your website:
Experience taking and developing dental X-rays
Infection control expertise, including preparing and sterilizing instruments and equipment
Knowledge of several different types of scheduling software
Language skills (bilingual: English/Spanish)
Excellent customer service skills and attention to detail
Most importantly, I love people. I consider it a great privilege to help dentists improve their patients' lives by providing the very best support and customer care.
I've enclosed my resume, and I hope you'll contact me at your convenience to arrange an interview.
Signature (hard copy letter)
Review cover letter examples for many different types of jobs, and get downloadable templates you can use to write your own cover letters.
Ladders. " 2018 Eye-Tracking Study ."
CareerOneStop. " How Do I Write a Cover Letter ."
By clicking "Accept All Cookies", you agree to the storing of cookies on your device to enhance site navigation, analyze site usage, and assist in our marketing efforts.
How to Start a Cover Letter to Impress Employers [+ 14 Examples]
Published: August 11, 2021
According to Career Builder, 40% of recruiters look for a cover letter when they're considering job applicants.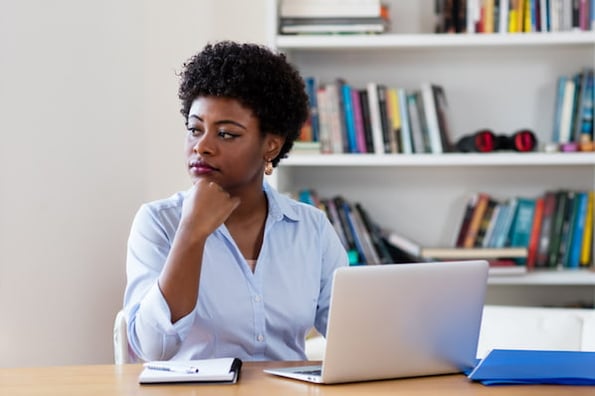 But if you had to flip through a hundred cover letters a day, and each one began, "To whom it may concern, I am applying for the digital marketing position at your company ...", how important would you rank them?
Your cover letter is an opportunity to showcase your personality, display your interest in the job, and include relevant information that otherwise wouldn't be surfaced in your application. An ideal cover letter leaves the hiring manager with a positive and memorable impression of you, something a resume alone won't always do.
To help you overcome writer's block and hook your reader right away, take a look at some sharp opening sentences you can use for inspiration.
5 Free Cover Letter Templates
Fill out this form to access your cover letters., creative cover letter opening sentence examples.
This position has me written all over it.
I've wanted to work in [your industry] since [this moment of inspiration].
Although [current employee] suggested I apply for this position, I don't just want to work with my former colleague again -- I want to join all of you in transforming the industry.
I like to think of myself as a round peg thriving in a square hole kind of world.
Aside from the requisite industry bona-fides in my CV, I bring the following to the table:
Last year, I generated [this much money] in revenue for my company, generated [this many leads], and almost tripled our social media ROI.
You might not know me, but your client services team certainly does, and now I want to join the vendor that made me such a successful [type of professional].
When I discovered [name of company] was hiring, I knew I had to apply.
I considered submitting my latest credit card statement as proof of just how much I love online shopping, but I thought a safer approach might be writing this cover letter, describing all the reasons why I'm the person who can take [name of ecommerce company] to the next level.
You might compete with my current employer, but why can't we be friends?
As a [current job position] with high-level management experience in the [industry], I learned that the best way to achieve success was to [biggest lesson you've learned].
I understand that you have been deluged with resumes since you've been listed as one of the best companies to work for. Mine is one more, but I do have experience that is hard to come by.
Read on to find out 14 ways to grab an employer's attention with an exceptional cover letter introduction.
Featured Resource: 5 Free Cover Letter Templates
Start off your cover letter (and finish it) with a bang with 5 Free Cover Letter Templates. The templates are professional and completely customizable to help you get your dream job.
How to Start a Cover Letter
1. start with humor..
Employers are humans too, and they'll often appreciate a good joke, pun, or funny opening line as much as the next person. If done tastefully and respectfully, starting your cover letter off with a joke can be an excellent way to stand out.
Plus, a joke can still include a powerful explanation for why you're the right person for the job, without coming off as boastful. For instance, think about something you love to do or something you're really good at, and then imagine how friends or family might make a joke about it -- if you're really good at analyzing data, for example, a joke or pun related to that might be a good way to exemplify both your skills and personality.
Here's a good example of using humor to bring attention to your skills, from The Muse (you'll notice this is one of our picks for most creative opening lines, earlier in this article):
"I considered submitting my latest credit card statement as proof of just how much I love online shopping, but I thought a safer approach might be writing this cover letter, describing all the reasons why I'm the girl who can take Stylight's business to the next level."
Why This Works
Right away, the personality displayed here grabs the reader's attention. Even better, this applicant uses humor to convey an important message to the employer -- she loves shopping, and she's well-versed in ecommerce as a consumer -- which might've otherwise not come up on her resume or phone screening.
2. Start with passion.
For an employer to know you'll stay dedicated to the role and company, they'll want to ensure you're passionate about what the job entails. Passion is more incentivizing than a paycheck.
For an employer, demonstrating how your passion matches the required skillset is a promising sign that you'd enjoy your job -- if you enjoy your job, you're more likely to stick around longer, help drive company growth, and become a dedicated member of the team.
Consider starting your cover letter templates with a few lines that showcase your passion: "I've been passionate about writing since I was ten years old. My love for writing has led me to write two personal travel blogs, get published in a local newspaper, and pursue two summer internships at publishing firms. Now, I'd love the opportunity to combine my writing skills with my interest in storytelling as a content marketer at Company A."
If you don't have extensive work experience in the industry you're trying to break into, but you've been unofficially preparing for years, let the employer know. In the above example, the candidate's resume would probably look weak, with only internships indicating professional experience. Her cover letter introduction, however, shows the employer she's been writing for audiences and advancing her natural ability for years.
3. Start with an accomplishment.
Employers like seeing numbers. It isn't enough to mention you're a "digital marketer with proven success in SEO strategies." Proven success? Okay, can we see?
It's more powerful to provide statistics. You want to show the employer you're capable of solving for long-term results. How have you contributed to your company's bottom line? For instance, did your Facebook marketing campaign grow your social media following, or has your blog content increased organic traffic?
Consider starting your cover letter with something like this: "Over the past year as digital marketing manager at Company A, I've generated $30k+ in revenue, increased organic traffic to our blog by 14%, and almost tripled our social media ROI."
Even if you don't have the work experience to report impressive numbers, you can still offer proof when opening with an accomplishment. Think about the qualitative feedback you've received from employers. For instance, how would your boss compliment you or tell you you're doing a good job? An accomplishment can be as simple as your boss sending you an appreciative email regarding your diligent meeting notes.
In this example from The Muse , the applicant provides an example of a skill for which he's been previously acknowledged: "My last boss once told me that my phone manner could probably diffuse an international hostage situation. I've always had a knack for communicating with people -- the easygoing and the difficult alike -- and I'd love to bring that skill to the office manager position at Shutterstock."
Even though the applicant doesn't offer numbers as proof of success, they do manage to highlight some proof of their past performance in the form of a former boss's praise. The candidate's candid and funny explanation -- that his last boss liked his phone manners -- is another good way to brag about accomplishments without, well, bragging.
4. Start with excitement for the company.
Employers want to know why you like their company, and they'll appreciate an explanation on why you're interested. But it's imperative your reasoning is thoughtful and considerate, and specific to the company. For instance, if you're applying for a financial position, don't write about your interest in finance; write about how your interest in finance relates to the company's goals.
You don't want to just say, "I'm excited to work at Company A because I'm passionate about finance, and I think my skills and experiences will be a good match." Sure, you've explained why you want to work in the financial industry, but you've done nothing to explain why Company A specifically suits your interests.
Instead, you'll want to mention something about the company and culture in correlation to your interest in finance. Take a look at this example from Glassdoor : "When I discovered Accounting Solutions was hiring, I knew I had to apply. I've been waiting to find a company where I feel like I can make a difference while working as an accountant. Not only are your clients awesome, but the overall mission of your company is something I believe in, too."
This candidate shows they've done their research and care about Accounting Solutions in particular. Remember, employers want to hire people who have a demonstrated interest in working at their company. They want someone who will enjoy the nature of the work, but just as importantly, they want a candidate who enjoys the work culture and the company mission as well.
5. Start with news about the company.
Mentioning company news in your introduction indicates you've done research on the company. Plus, including company news might give you the chance to incorporate your own values, as well. If the company just won an award for its innovative solutions in the computer industry, for instance, you might add how you value forward-thinking methods in technology, as well.
Here's an example of an introduction that uses a newsworthy event, from Indeed : "When I saw that Company ABC was featured in Fortune Magazine last month for its commitment to renewable energy and reducing waste in the workplace -- all while experiencing triple-digit revenue growth -- I was inspired. With my track record of reducing costs by 30%+ and promoting greener workplaces, I'm excited about the possibility of taking on the account executive role to expand your company's growth and work towards a more sustainable future."
The candidate does a good job demonstrating how Company ABC's news aligns well with the candidate's personal achievements. She shows she's done her research on the company, and also indicates she values similar environmental efforts in the workplace.
6. Start with what they don't know.
According to one seasoned hiring manager , a cover letter that begins, "I am writing to apply for [open position] at [name of company]" is grounds for nearly instant rejection. Of course you're applying for this job -- why waste your lede with something so boring and obvious?
Your cover letter should never directly state what they already know -- or restate what's already listed on your resume. Instead, start your cover letter by offering something new, expanding on what the employer already knows about you, and presenting new details about what you can bring to the company. Impress employers by telling them something about your skills or experiences they don't already know.
To offer new information not displayed on his resume, one of my colleagues at HubSpot wrote this cover letter introduction: "My resume will tell you I'm Content Marketing Certified. Your records will tell you I've interviewed for a few different HubSpot positions in the past. What neither one will tell you is that I've been working with your customer success team to build a new campaign strategy for my company -- one of your latest (and largest) clients."
The candidate wrote an introduction that captured the reader's attention and demonstrated he wasn't interested in wasting anyone's time. This is a memorable and impressive tactic. Consider writing a similar introduction, where you provide information absent from your resume.
7. Start with what you can bring to the table.
A hiring manager here at HubSpot told me she always looks for cover letters to tell her how the company and applicant can benefit each other.
Any employer is going to want to know why you think you can grow from the position you're applying to. An employer is more inclined to hire you if she thinks you have a genuine, intrinsic motivation to work hard in the role.
A hiring manager is also going to want to know how you'll contribute to the company's larger vision and goals. It's important for the manager to know what you want to get out of the role, but it's equally important to know how you'll help the company grow. How will the company benefit from you, over someone else?
Here's an example: "I am seeking opportunities to improve my writing ability in a forward-thinking environment while growing organic traffic and optimizing content to beat out competitors in search engines. At Company A, I believe I will find that match."
See how it works? In the example above, the candidate explained how she'd benefit from the role. She also explained what Company A could get out of the transaction -- increased organic traffic, and optimized content -- so the hiring manager is informed of the equality of the potential relationship.
8. Start with a statement that surprises them.
When applying for a role at HubSpot, one of my colleagues began her cover letter like this: "I like to think of myself as a round peg thriving in a square hole kind of world."
Doesn't that make you want to keep reading? It certainly kept me interested. Of course, you'll only want to include a bold statement if you can follow it up with some concrete supporting information. My colleague, for example, continued by writing this: "What does this mean? It means that my diverse background makes me a well-rounded candidate who is able to comprehend, develop and execute various functions in business."
While the rest of her cover letter veered on the side of professional, her opening line was casual, quirky, and surprising. Plus, you feel her personality in the line, and when an employer feels like a real person is behind the cover letter, she's going to want to keep reading.
9. Start with a lesson you've learned in your career.
A great way to start a cover letter is with a lesson you've learned in your industry from your experience.
For example, you might say something like, " As a [current job position] with high-level management experience in the [industry], I learned that the best way to achieve success was to [biggest lesson you've learned]."
This opening sentence lets a recruiter know your experience level. Not only that, but it starts off with how you can benefit the company, not how the company will benefit you.
10. Start off with intrigue.
When you're applying to larger corporate companies, you know that recruiters are getting hundreds of applicants for one entry-level position.
It's important to intrigue the hiring manager and recognize that they're looking at several applicants.
For example, you could say, " I understand that you have been deluged with resumes since you've been listed as one of the best companies to work for. Mine is one more, but I do have experience that is hard to come by."
After this, it'd be great to list examples, stats, and experience that set you apart from other candidates and will benefit the company.
Recruiters see countless resumes and cover letters every day. It's important to start your cover letter in a unique way so you can stand out amongst the crowd.
11. Start with a mutual connection.
If an internal employee suggested you apply for a role at their company, don't be shy about highlighting that fact. Hiring Managers will want to see that you've been vetted — even informally — by someone else at the company. Recognizing the name of someone they know internally will likely persuade them to give you another look.
To do this tactfully, start with something like this: "At the suggestion of my old colleague Jane Smith, I am submitting my resume for your consideration for the senior copywriter position. Jane's knowledge and enthusiasm for Company X further convinced me that this is a company where my communication skills, passion for travel, and desire to be challenged can be met."
Why This Works
When the hiring manager sees a fellow employee can attest to your work ethic, it helps assuage any risk she might feel she's taking by hiring someone she doesn't know personally. Plus, it shows you've done your research and you're truly interested in the company itself — rather than sending off a slew of generic cover letters, you took the time to identify an internal connection.
12. Begin with your personal mission statement.
Don't have a personal mission statement? You might want to take some time to create one . A good mission statement can help hiring managers understand why you're passionate about what you do — which goes a long way towards ensuring you'll work hard in your next role.
A few examples on how you might start a cover letter with a personal mission statement look like this: "As a content creator, I believe inspiring readers through creative, persuasive copywriting is vital for helping them excel professionally."
Or: "As a leader, I believe encouraging innovation and creativity is critical for ensuring my employees can do their best work and improve the lives of our customers."
A manager can help you level up on certain key skills, but she can't teach you to love your job. By demonstrating an intrinsic motivation, you're essentially telling the hiring manager, "I know the importance of this role — so I won't slack off on it."
Editor's note: This post was originally published in May 2018 and has been updated for comprehensiveness.
Don't forget to share this post!
Related articles.
The 23 Best Cover Letter Examples: What They Got Right
How to Write a Cover Letter for an Internship [Examples & Template]
Letter of Interest Tips, Templates & Examples [A 2023 Guide]
15 Cover Letter Templates to Perfect Your Next Job Application
The Ultimate Guide to Writing a Cover Letter
Eight Cover Letter Greetings for Every Situation
7 Expert Cover Letter Tips to Get the Job
Five fill-in-the-blank cover letter templates to help you impress recruiters.
SUGGESTED TOPICS
The Magazine
Newsletters
Managing Yourself
Managing Teams
Work-life Balance
The Big Idea
Data & Visuals
Reading Lists
Case Selections
HBR Learning
Topic Feeds
Account Settings
Email Preferences
How to Write a Cover Letter
Advice for tackling one of the toughest parts of the job-hunting process.
Perhaps the most challenging part of the job application process is writing an effective cover letter. And yes, you should send one. Even if only one in two cover letters gets read, that's still a 50% chance that including one could help you. Before you start writing, find out more about the company and the specific job you want. Next, catch the attention of the hiring manager or recruiter with a strong opening line. If you have a personal connection with the company or someone who works there, mention it in the first sentence or two, and try to address your letter to someone directly. Hiring managers are looking for people who can help them solve problems, so show that you know what the company does and some of the challenges it faces. Then explain how your experience has equipped you to meet those needs. If the online application doesn't allow you to submit a cover letter, use the format you're given to demonstrate your ability to do the job and your enthusiasm for the role.
No one likes job hunting. Scouring through online job listings, spiffing up your résumé , prepping for grueling interviews — none of it is fun. For many, the most challenging part of the process is writing an effective cover letter. There's so much conflicting advice out there, it's hard to know where to start. Do you even need one, especially if you're applying through an online system?
Amy Gallo is a contributing editor at Harvard Business Review, cohost of the Women at Work podcast , and the author of two books: Getting Along: How to Work with Anyone (Even Difficult People) and the HBR Guide to Dealing with Conflict . She writes and speaks about workplace dynamics. Watch her TEDx talk on conflict and follow her on LinkedIn . amyegallo
Partner Center
Cover letters
It's important to get your cover letter right. It's your one opportunity to sell your skills and experience to potential employers. Find out how to write and format a cover letter and take ideas and inspiration from our cover letter templates
What is a cover letter?
A cover letter is a document sent alongside your CV when applying for jobs. It acts as a personal introduction and helps to sell your application.
Cover letters are necessary as they give you the chance to explain to an employer why you're the best candidate for the job. You do this by highlighting relevant skills and experience; therefore, you should always write your cover letter with the position you're applying for in mind.
Not to be confused with  personal statements for your CV , cover letters should complement your CV but not duplicate it. The consensus among recruiters when it comes to the length of these documents is the shorter the better. Typically, three to five short paragraphs, cover letters should not exceed one A4 page.
If sending electronically, put the text in the body of the email rather than as an attachment, to avoid it being detected by spam filters.
Applications should always include a cover letter unless the job advert instructs you differently.
How do I write a good cover letter?
Before writing your cover letter it's important that you do your research. While reading the job description thoroughly is essential, it's not enough on its own. To help you craft a successful cover letter you'll need to find out more about:
who will be reading your cover letter
the organisation and its culture
the industry it operates in and any relevant news
company competitors and market position.
the organisations goals over the next five years.
When writing your cover letter keep it brief, while making sure it emphasises your suitability for the job. Cover letters can be broken down into the following sections:
First paragraph  - The opening statement should set out why you're writing the letter. Begin by stating the position you're applying for, where you saw it advertised and when you are available to start.
Second paragraph  - Highlight relevant experience and demonstrate how your skills match the specific requirements of the job description. Summarise any additional strengths and explain how these could benefit the company.
Third paragraph  - Cover why you're suitable for the job, what attracted you to this type of work, why you're interested in working for the company and what you can offer the organisation. This is a good opportunity to show off your knowledge of the company.
Last paragraph  - Use the closing paragraph to round up your letter. Reiterate your interest in the role and indicate your desire for an  interview. Now is the time to mention any unavailable dates.
Once finished read through the document and cut out any unnecessary words and sentences. Don't fill up space by repeating what's already covered in your CV. As a rule, only mention your current salary or salary expectations if the employer has specifically asked you to. If you're asked to include this information, put it between the third and last paragraphs.
Unless the job advert states differently (for example, it may ask you to provide your CV and cover letter as a Word document) save with a .PDF file extension to make sure it can be opened and read on any machine. Windows PCs and Macs don't always work in harmony - Windows use a .docx file extension and Macs .pages but if the recruiter uses the opposite system, they may not be able to open your file. Using a .PDF file extension should solve this.
If you need help with your CV take a look at  how to write a CV .
How should I address a cover letter?
Always try and address your cover letter directly to the person who will be reading it. Bear in mind that you're more likely to receive a reply if you send it to the right person.
If you're struggling to find a named contact, you can use a general greeting such as:
Dear Sir/Madam
Dear Hiring manager
Dear Human resources director.
However, general greetings should only be used once you have exhausted methods of finding a named contact.
How do I sign off?
How you sign off your cover letter depends on how you addressed it. If you include a named contact, sign off 'Yours sincerely'. If you use a general greeting, finish with 'Yours faithfully'.
Example cover letters
Sample cover letter  - Used to highlight your skills and experience and to express your suitability and passion for the job, cover letters are used to encourage recruiters to look at your CV. Attention to detail is crucial and spelling, grammar and formatting needs to be spot on. Take a look at our sample cover letter for inspiration.
Speculative cover letter  - These can sometimes be an effective method of creating an opportunity. To ensure that speculative cover letters are successful you'll need to do your research on the company you're applying to. Using our cover letter template, discover what to include in speculative applications.
Cover letter by a Masters graduate  - You probably embarked on a Masters to expand your subject knowledge, gain industry contacts and improve your job prospects but to really make it work you need to know how to sell your postgraduate qualification to employers.
Cover letter for a jobseeker with no experience  - It can be tough applying for a job with no experience, but our example cover letter shows you how to promote yourself to an employer if you haven't got any directly related work experience.
Explaining a gap in your CV  - Knowing how to navigate around gaps in your CV can be tricky but it's a mistake to try and gloss over them. Your cover letter is the perfect place to explain these gaps in your employment history to potential employers. Take a look at our sample cover letter to find out how to go about it.
Cover letter for changing career  - Find out how to explain a change of direction in our example cover letter for career changers. You'll need to briefly cover why you want to change career and relate your past experience and wealth of skills to the industry/job you're applying to.
Cover letter by an international graduate  - If you'd like to expand your horizons by working abroad, take a look at our cover letter of an international student applying for a job in the UK. You'll need to do your research if you apply for a job in another country, as application rules may differ.
Disclosing a disability  - Just like your gender, marital status and dependants your disability doesn't affect your ability to do a job and you're not legally required to disclose it on your CV or in your cover letter. However, if you would like to disclose a disability to outline any adjustments you may need, this sample cover letter will show you how.
Internship cover letter - To set yourself above the competition you need to successfully sell your relevant skills and experience while conveying your passion for the role. As well as explaining to employers what the opportunity could do for you, you'll need to communicate what you could do for the company. Discover how to craft the perfect application for a formal internship with our internship cover letter template.
Apprenticeship cover letter - Apprenticeships are an increasingly popular route into work, as well as a great alternative to university. Find out how to apply for these roles with our apprenticeship cover letter example.
For inspiration and guidance on crafting a CV see example CVs .
When should I follow up my application?
It's always a good idea to follow up on a job application if you don't hear back. If two weeks have passed and you've had no response, send an email to the hiring manager to check that your application has been received. Use this opportunity to reiterate your interest in the role and why you think you'd be an asset to the company.
Keep this email brief. It shouldn't act as a second cover letter or attempt to replace or repeat the original.
What are some top tips for writing a cover letter?
With employers often receiving lots of applications for each vacancy, you need to ensure that your cover letter makes a lasting impression for the right reasons. These tips will increase your chances of success:
Tailor to the organisation  - You should rewrite your cover letter every time you apply for a position in order to target the company. Sending out a generic letter for all applications rarely yields positive results and recruiters can spot your lack of time and effort from a mile away.
Format  - Presentation is important so you'll need to format your cover letter properly. Make sure the document is as uncluttered as possible, use the same font and size as you use in your CV and if you're sending it through the post or handing it in use good quality plain white paper to print it on.
Use keywords that appear in the job advert - This lets the employer know that you've read and understood the job description. It also demonstrates that you've taken the time to tailor your application to the job.
Identify your USPs  - They're your unique selling points. Be positive about what you have to offer and clearly outline how your skills and experience meet those requested in the job description. Demonstrate why you're the perfect candidate.
Include examples  - Back up the claims in your cover letter with real evidence or examples that show how and when you've used your skills and experience.
Save a copy - If you're invited to interview you might need to refer back to it.
If you're a student or recent graduate, you can make an appointment with your university's careers and employability service to access further help when writing your cover letter. You'll be able to talk with specially-trained advisers, get advice on what to include and have a professional eye look over your application before sending.
To make sure you don't trip up read about the  5 things to avoid when writing a cover letter .
Find out more
Learn more about applying for jobs .
How would you rate this page?
On a scale where 1 is dislike and 5 is like
Dislike 1 unhappy-very
Like 5 happy-very
Thank you for rating the page
IELTS Preparation with Liz: Free IELTS Tips and Lessons, 2023
Test Information FAQ
Band Scores
IELTS Candidate Success Tips
Computer IELTS: Pros & Cons
How to Prepare
Useful Links & Resources
Recommended Books
Writing Task 1
Writing Task 2
Speaking Part 1 Topics
Speaking Part 2 Topics
Speaking Part 3 Topics
100 Essay Questions
On The Day Tips
Top Results
Advanced IELTS
Opening Line for IELTS GT Letter WT1
The opening line in IELTS General Training Writing Task 1 Letter. You need to change the opening line for your letter depending on whether you are writing formally, to a company or another organisation, or if you are writing informally, for example to a friend.
Below are some sample opening lines for an IELTS GT writing task 1 letter: both formal and informal. You can also read how the opening statement sets the tone of your IELTS letter.
Formal Letter Opening Statement
In a formal letter, the opening sentence should indicate the aim of your letter. The first line of a formal letter will show if you are writing a complaint letter, requesting information, answering an invitation, applying for a position, making a formal apology or making arrangements. You will also see that the letter might start "Dear Sir" or Dear Mr …". IELTS will give you instructions on your test paper about how to start your letter.
Below is are examples of how to begin your letter :
Dear Sir / Madam,
I am writing to complain about … / to request information about … / to apply for … / to enquiry after ….  / to inform you … /  to thank you …
Full Opening Statement: I am writing to apply for the position of manager in your company which you recently advertised in the Times newspaper on June 4th.
Dear Mr Brown,
I am writing to you regarding my recent stay at your hotel … / regarding an article you wrote …. / 
Full Opening Statement: I am writing to you regarding the road works that are being carried out in Church Street, where I currently reside.
Dear Mrs Jones,
I am writing in reply to … 
Full Opening Statement: I am writing in reply to your invitation to the seminar which you will be holding on "Historical Artefacts in the Ancient World" on Saturday, June 26th.
Comments: You can see, above, that the first line of your IELTS formal letter is very structured. There is little variety. This is normal. Formal letters are not creative or descriptive, they are informative and without personal reference.
Informal Letter Opening Line
In an IELTS informal letter, your first line will often start with a friendly remark or comment. The beginning of the letter doesn't always show the aim, it shows your relationship with the person. This means there is a variety you can choose from.
See some examples below for the beginning of an informal IELTS letter :
How are you and your family? It feels like forever since we last got together for a catch up … / How are things going? It's been ages since we were last in touch.
How are you? It was great seeing you again this summer.
It was so good seeing you last weekend. I just wanted to drop you a line and thank you for such a great time.
Comments : You can see that most of the opening lines are offering greetings or just small talk. It's a chance to for you reestablish your friendship before getting into the aims of the letter.
Signing Off IELTS Letters
To learn about signing off, for example Your faithfully or Your sincerely, please see my essential tips page: IELTS Letter Essential Tips. You can also learn about types of IELTS letters and much more useful information.
More IELTS General Training Lessons
Essential Tips for IELTS GT Letters in Writing Task 1
Difference Between GT and Academic Writing Task 1 and Task 2
IELTS General Training Reading Information
Get my free lessons by email
Subscribe for free to get my new IELTS lessons sent to your email inbox.
Email Address
I have a question. For an informal or semi-formal letter do you we have to always include our purpose/ aim of writing the letter after we have written our greetings to our friend?
Await your kind response. Thank you in advance.
Formal letters usually have an opening line with a purchase stated. Informal letters usually have a greeting of some kind. After this you follow the prompts given for the content of the letter. There are no special rules, just write normally.
Hello mam, Actually one of my teacher told me that avoid use of because and but and which,when,who in the essay.is it right or not plz tell me
I don't fully understand your comment. The words "and, but, because" are all linking words that should be used in an essay. The words "which, when, who" are used with clauses which are part of the higher band score criterion for grammar. These are normal words to use in any IELTS essay. You certainly should NOT avoid using them.
Can I start my letter with "Respected Sir or Madam". or Can I loose marks if I do so?
Just start normally. Your aim is not to try to impress, it is to avoid errors.
In my last IELTS exam I was asked to write to a newspaper editor about some issues with local historical place of great importance.
It was not clear to me that is that a complaint, request, suggestion or what is the purpose. What can newspaper editor do for such a cause? so i ended up being very confused and the result was a poor letter. Can you suggest something?
What were the points to include in your letter? There should have been three points. They will also help you understand the purpose.
Thanks Liz, the points were: Why that place is important What issues concern you What actions you want to be taken.
The issue that confused me was its not the job of the newspaper to taken any action on such issues. What do you suggest?
Thanks, Tim
I can only give advice based on what you have told me. It looks like this is a letter which is aimed to bring something to his attention. Sometimes people write letters to the editor which are then published in a newspaper for others to read. The aim is just to bring an issue to light. For this I would write: "I am writing to you concerning ….". It can't be addressed as a complaint letter because you are not complaining directly to the editor – it is not his responsibility to fix anything. But you are writing concerning an issue which you are reporting to him. Does that help?
Hi Liz Your website is extremely useful I have a doubt, Please suggest. Below opening statement is appropriate for which letter style writing? " I hope his letter finds you in good health and spirit"
Try to avoid learned phrases that are so long.
Hi Liz, I have been reading your blogs and I find them really helpful. Thanks to the great job you are doing. Please could you help me rate this task 1 essay I got from your site. Please your comment will mean a lot to me and help me improve. Many thanks in advance.
Dear John, How are you and everyone at home? I want to say a big thank you for hosting me for the holidays and I must say I had a wonderful time. I had a terrible trip back home because of an unnecessary delay I had at the airport that lasted for several hours. I was completely tired even before the commencement of the trip. On getting to Lagos, I wanted to take a cab home and then I discovered that I had left my wallet in your room. Am not totally sure where I kept it, but I guess it will be on the table in your room. I eventually had to call Tom to pick me up from the airport. Please kindly help me send it through the mail. I will prefer you use a registered service particularly UPS or FedEx because I need it back urgently. Most of my identity cards and ATM cards are in it. Not to forget, text me your account number so I can transfer the postage fee to you. Many thanks to you my friend, I will be expecting your text message. Stay blessed. Yours Sincerely, Abba.
Sorry I don't comment on writing.
Its the best i saw yet …… Thanks 😊
I appreciate everthing
Hi I m Jasmina from Ahmedabad. I had given my ielts exam on 24th June in general module. I feel very great full by using your site. It is really very helpful for me. My writing task 1 is write a letter to your landlord about damage to the flat due to bad weather. Task 2 is some people think that all criminal should not be kept in prison.instead of they have to do unpaid work or community service. Do you agree or disagree.
Speaking part 1 is fruit and advertisement. Part 3 is helpfulness,politeness,teamwork Part 2 is describe a person who had worked or studied with you and help you. My part 1 & 3 gone very good. But I had done some mistake in part 2 so how it is effect to my bandscore.
Thanks for sharing 🙂 I'm so glad my website was useful 🙂
Can a high band score in General allow me to put in for educational programs after the migration to the destination with General?
Most educational programs require you to take the academic test. But you will need to check with each educational course that you are interested in.
Dear Liz, Thank you very much Liz. This is my first email from you , I'm so glad the content is about how to write a letter which is what I want. I have been always struggling with writing a letter. This email help me straight away! I'm so appreciated.
Kind Regards Linda
You're welcome 🙂 Also see this page: https://ieltsliz.com/ielts-letter-writing-essential-tips/
Thanks a lot mam, for giving useful lessons for letter writing.
Hi Liz;thank you so much for the valuable informations that you support us with.l would like to ask about the (s) of possession in reading and listening, is it count for the answer?? I mean if the word end with s for possession is it considered wrong if I did not write it?? for example : children's actions : is this count 2 or 3 words? Also if I didn't write it is it considered wrong answer?? Thank very much
You will be marked on plurals. If you write a singular answer but the answer should be plural, it will be marked wrong. So, listen out for that "s" and remember that uncountable nouns don't have "s".
Thanks for that. How about the end? Formal always "yours faithfully" and "yours sincerely"? And informal, is it "best wishes" and "best regards?
That is explained on this page: https://ieltsliz.com/ielts-letter-writing-essential-tips/
Hi Instructor Liz,
Greetings Ma, Just needed clarification with the opening statements. Like in one of the question on your website, about writing to my former teacher requesting reference from him/her for a new job am trying to secure.
Can I start the opening statement with a brief introduction of myself before going in-depth into my main reason for writing? Just to bring them abreast on who is writing.
Thank you ma… you're a rare gem!!! much love from Perth Wa
The instructions will tell you if you need to introduce yourself. If you are writing to a teacher, it will be a teacher who knows you so you don't have to introduce yourself. Just follow the instructions and plan your paragraphs according to them.
Ok Ma… acknowledged with thanks.
Hi there i took the test only reading part was bit messed up.. due to time shortage last 6 questions i answered without reading them. could u tell me if there are six or 7 mistakes in IELTS general what will be the band score for reading. I heard marking of reading of general test is different from academic test. Is it true? How to check the band score according to number of mistakes for general test?
See this page: https://ieltsliz.com/ielts-band-scores/ . GT reading and Academic reading have different band score requirements.
Thanks ma for the incredible insights you do give us. Am happy getting emails from you. The task 1 format you gave (overview, introduction, body paragraph and conclusion) can you do me a favour by sending a full write up sample for this same task? Thanks Dashwep
I did not give a structure which includes a conclusion for writing task 1. I also did not say that you should have one body paragraph. You can find all model answers on the main writing task 1 page of this site.
Speak Your Mind Cancel reply
Notify me of follow-up comments by email.
Notify me of new posts by email.
Advanced IELTS Lessons & E-books
Writing Task 2 Advanced Lessons & E-books. Target 7, 8 & 9. CLICK HERE: VISIT LIZ'S STORE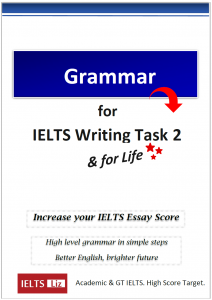 Recent Lessons
Answers to job application listening lesson, ielts listening practice lesson: job application, answers to bar char model gap fill exercise, ielts bar chart model answer 2023, ielts speaking part 2 topic: concentration, ielts candidate tips for an overall band 8.5.
Click Below to Learn:
Copyright Notice
Copyright © Elizabeth Ferguson, 2014 – 2023
All rights reserved.
Privacy Policy & Disclaimer
Click here:  Privacy Policy 
Click here: Disclaimer
Return to top of page
Copyright © 2023 · Prose on Genesis Framework · WordPress · Log in
Privacy preference center
We care about your privacy
When you visit our website, we will use cookies to make sure you enjoy your stay. We respect your privacy and we'll never share your resumes and cover letters with recruiters or job sites. On the other hand, we're using several third party tools to help us run our website with all its functionality.
But what exactly are cookies? Cookies are small bits of information which get stored on your computer. This information usually isn't enough to directly identify you, but it allows us to deliver a page tailored to your particular needs and preferences.
Because we really care about your right to privacy, we give you a lot of control over which cookies we use in your sessions. Click on the different category headings on the left to find out more, and change our default settings.
However, remember that blocking some types of cookies may impact your experience of our website. Finally, note that we'll need to use a cookie to remember your cookie preferences.
Without these cookies our website wouldn't function and they cannot be switched off. We need them to provide services that you've asked for.
Want an example? We use these cookies when you sign in to Kickresume. We also use them to remember things you've already done, like text you've entered into a registration form so it'll be there when you go back to the page in the same session.
Thanks to these cookies, we can count visits and traffic sources to our pages. This allows us to measure and improve the performance of our website and provide you with content you'll find interesting.
Performance cookies let us see which pages are the most and least popular, and how you and other visitors move around the site.
All information these cookies collect is aggregated (it's a statistic) and therefore completely anonymous. If you don't let us use these cookies, you'll leave us in the dark a bit, as we won't be able to give you the content you may like.
We use these cookies to uniquely identify your browser and internet device. Thanks to them, we and our partners can build a profile of your interests, and target you with discounts to our service and specialized content.
On the other hand, these cookies allow some companies target you with advertising on other sites. This is to provide you with advertising that you might find interesting, rather than with a series of irrelevant ads you don't care about.
How to Start a Cover Letter: 7 Great Cover Letter Openings (+Examples)
Beginnings are always hard. The same goes for writing a cover letter. You know exactly what you want to say, but you're not sure how to start a cover letter.
Generally speaking,  the cover letter intro is a place where you should:
introduce yourself in detail
explain why the job is exciting for you
show you're a great fit for the position
Of course, there's no single right way to do it. That means that you've got multiple options and can get a little creative.
Whether you're looking for a traditional cover letter introduction, or something more unconventional, you'll find it in this article — together with a quick guide and cover letter openings examples.
Alternatively, you can also just watch this quick video guide on how to write a cover letter below.
Successful cover letter introductions (examples)
We've gathered some really good opening lines from successful cover letters that got people hired in well-known companies such as HubSpot, Siemens, or Lush:
HubSpot Director of Business Development Cover Letter Sample
Account Executive Cover Letter Intro Sample
Sales Associate at LUSH Cover Letter Intro Example
Siemens SCADA Engineer Cover Letter Intro Template
Warner Bros. Public Relations Intern Cover Letter Example
Do you want to know how to craft such a strong cover letter opening yourself? Follow a quick guide below.
And if you prefer to see more examples from hired professionals or find a job-specific cover letter example for your industry, visit our  cover letter library .
Intro paragraph: a quick guide on how to start a cover letter
When it comes to cover letter openings, rule number one is that you should always start your cover letter in a way that grabs a recruiter's attention from the get go.
On the other hand, be careful and stay professional. Don't overdo it.
So the question is — when should you pick a standard opening paragraph and when to go with something more creative?
Well, it all depends on a particular job and the company culture .
Take time to research each company where you're applying for a job and identify its tone of voice.
Are they formal or casual? Look at the job description, their website, and social media accounts and you'll be able to get the right idea.
Then in your cover letter opening, follow at least one of these 7 main principles :
1. Be direct
Employers are busy people who usually don't have time to read long texts or overused  cover letter phrases . What they want to know is simply whether you're a good fit. Why not make it easier for them and be specific from the very beginning?
Let them know what position you're applying for and use your cover letter opening to highlight years of experience in your field and any relevant  hard or soft skills   you bring to the table.
It's a universal, yet effective answer to how to start a cover letter.
Cover Letter Intro Example #1
I am very interested in the Sales Specialist opportunity at [Company XYZ] that was advertised on LinkedIn. I am a hard-working and dedicated individual with over two years of extensive industry experience, a Business & Management degree from McGill University, and a strong determination to meet and exceed all business goals and objectives.
2. Respond to the company's needs
Employers want to know how you can contribute to their company. The first paragraph of the cover letter is a great place to demonstrate that.
Have a look at the job offer, go over the company's needs, and pick those that you can easily relate to.
Then take a look at your achievements and impressive skills, and use them to illustrate how you can bring value to the new job. Ideally by mentioning any quantifiable results from your previous jobs.
Cover Letter Intro Example #2
Over the course of last year, I more than doubled [Company XYZ]'s Twitter followers and ran two successful Instagram ad campaigns that generated $35K+ in revenue. I'd love to bring my expertise in organically expanding the social reach and delivering ROI to the social media manager position at [Company XYZ].
3. Include company facts and news
Companies want to see that you're interested in them and their industry. If you show that you already know about them and have done your research, you can make a great first impression.
Browse their website and scour the internet for related news articles. They can provide you with interesting facts that pertain to your role.
It can be anything — a specific event, fact, notable statistic, or an award that the company has recently received.
Cover Letter Intro Example #3
When I saw that [Company XYZ] was featured in Fortune Magazine last month for its commitment to renewable energy and reducing waste in the workplace, I was truly inspired. With my track record of reducing costs by over 30% and promoting sustainable technologies, I'm excited about the opportunity to take on the account executive role to expand your company's growth and work towards a greener future.
4. Highlight a mutual connection
Referrals can work like magic when it comes to getting invited to a  job interview . So if someone has recommended you for a position or you know anyone at the company who can vouch for you, mention their name right away.
After reading your cover letter, recruiters will most likely want to learn why your referrer thought you'd be a good fit. If nothing else, it will make recruiters pay attention to the rest of your cover letter.
Cover Letter Intro Example #4
I was excited to learn of this job opportunity from my former colleague, Lucy May. We've worked closely together for several years, most recently on a complex data analysis project at [Company XYZ]. She advised me to apply as she thought I'd be a good match for this position on your team.
5. Show passion for what you do
Employers love job candidates who are enthusiastic about what they do. These candidates tend to perform better and are more dedicated to their roles.
So if you're all hyped up about your job, don't hesitate to infuse your cover letter with a couple of sentences demonstrating your excitement about what you're doing.
Cover Letter Intro Example #5
I knew I had a knack for writing ever since I was the main editor of our high school magazine. Thanks to my 15+ years of experience, I've transformed my passion into a fashion blog with 30K+ monthly readers, featured articles on Time and Cosmopolitan that have garnered over 50K views, and a writer's workshop I founded for young up-and-coming writers.
6. Open with a relevant accomplishment
Hiring managers like achievers. If you've accomplished something noteworthy while with your previous employer, there's a good chance you can bring the same value to your next job too.
What's more, it shows that you're an expert in your field.
If you have any special skills or accomplishments that will make you stand out from other job candidates, mention them right away in your cover letter opening.
However, try to make no general claims without providing evidence. Support your arguments with real numbers and statistics.
Cover Letter Intro Example #6
Over the past year as digital marketing manager at [Company XYZ], I've generated $50k+ in revenue, increased organic traffic to our blog by 18%, and almost tripled our social media ROI.
7. Use humor and creativity
Recruiters are human beings, too (shocking). In a pile of boring resumes and repetitive  cover letters and motivation letters , they may find a good joke, juicy pun, or funny opening line a nice refreshing break.
It can even be a reason to call you up for an interview.
So if the company seems to have an easygoing vibe, use humor to bring attention to your skills or relevant personal traits that are needed for the position you're targeting.
Cover Letter Intro Example #7
Before I flood you with all the reasons why I'm going to be your next writer, I would like to tell you a little about myself. I didn't learn to hold a pencil until I was about six years old, which made everyone think I'd never pen a single letter. And now here I am, bidding to become your next Shakespeare.
Cover letter beginning: What other things to include?
Now that you saw some great examples of cover letter openings, you may wonder what else can you do to perfect your cover letter introduction.
Well, there are a few other key elements that a good cover letter beginning should include :
contact information both for you and the company
headline (optional)
personalized greeting
To know where to put this information, just scroll down.
Find out your resume score!
This is the place for your and your company's contact information.
Make sure that right at the top of the page you list your contact details such as:
Optionally, you can also include:
your professional title
date of birth
current date
personal website/LinkedIn
Additionally, never forget to add company-related information . You should always include the manager's recruiter's name (if it was made available to you), job title department, the name of the company, and their address.
Left align all of this information. Or make it easy for yourself and choose a pre-designed  cover letter template   and only fill in the details.
Headline (optional)
You don't have to include it, but it can help you grab the hiring manager's attention.
In your cover letter headline, you can use numbers, questions, or interesting adjectives .
It can be something like "5 Ways I Can Help You Improve Your Company's Marketing."
Alternatively, you can just state the name of the position you're applying for.
Salutation (or how to address a cover letter)
Try to avoid using "To Whom it May Concern" or "Dear Sir/Madam" . This form of address, while correct, has become so overused it won't help you stand out at all.
Instead, try to research the hiring manager's name online . Look at the job posting, and check the company's website or  LinkedIn . (Did you know that you can turn your LinkedIn profile into a great resume  with just one click?)
Alternatively, you can address it to the whole team or HR.
Generally, stick to these rules:
How to address a cover letter to a recruiter or hiring manager:  The best practice is to use a personalized greeting in the following form: "Dear [first name]" or "Dear Mr./Mrs. [last name]" for formal companies.
How to address a cover letter to multiple recipients: If you're addressing your cover letter to the entire team or human resources, you can use "Dear [name of the company/department] Team" or "Dear Human Resources" .
How to address a cover letter to an unknown person: If you fail to find the hiring manager's name and don't want to address your cover letter to an entire team or HR, use "Dear Hiring Manager" , or "Dear Recruitment Officer" .
After the salutations, you can continue with an attention-grabbing intro paragraph.
HR expert tip: Christy's word of advice
"In general, a traditional formal cover letter is the safest bet. But there are times when you can totally throw that advice out the window and have a bit of fun putting your personality on paper! Take a look at how the company brands its 'voice' on its website and in the job description. Do they sound relaxed and personality-driven? Is formality anathema to them? If yes, don't be afraid to reciprocate (while still keeping it professional). After all, you're not just applying for a job: you're applying to be part of the company's culture". —  Christy Morgan, Resident HR Expert
Key takeaways: How to begin a cover letter
To sum up — the beginning of your cover letter will determine whether the hiring managers will read the rest of it or not.
If you want them to pay attention to what you have to say, make sure your cover letter opening:
Uses a personalized greeting
Says who you are
Shows you're passionate about the job or the company
Highlights your top (and relevant) accomplishments and skills
Mentions a mutual contact
Reflects the company's tone of voice
Is tailored to a specific position and company's needs
Uses keywords from the job description
Is short, nice, and direct
Of course, the rest of your cover letter is important too.
If you'd like to know what to write in the rest of your letter, check out our complete  cover letter guide , get inspired by  cover letter examples , or learn how to  end a cover letter .
This article was recently updated. The original article was written by Nikoleta Žišková in 2021.
Kaja Jurčišinová
Kaja Jurcisinova is a fresh graduate and a junior copywriter at Kickresume. Kaja completed her undergraduate degree in Art History at the University of St Andrews in 2018 and graduated with a Master's in Arts and Culture from the University of Groningen in 2021. She was an intern at multiple cultural institutions across Europe, including the Dutch Museum Association in Amsterdam, the Matter of Art Biennale in Prague, and the European Cultural Centre in Venice. At the moment, she resides in Visby on the Swedish island of Gotland.
Hungry for more?
How to write a professional resume summary [+examples], how to put your education on a resume [+examples], how to describe your work experience on a resume [+examples], let your resume do the work..
Join 3,600,000 job seekers worldwide and get hired faster with your best resume yet.