How to Write an Informative Speech Outline: A Step-by-Step Guide
It's the moment of truth — the anxiety-inducing moment when you realize writing the outline for your informative speech is due soon. Whether you're looking to deliver a report on the migratory patterns of the great white stork or give a lecture on the proper techniques of candle making, knowing how to write an effective outline is essential.
That's why we've put together this complete, step-by-step guide on how to write an informative speech outline. From selecting a topic to transitioning during your speech, this guide will have you well on your way to writing a compelling informative speech outline . So grab your pen and paper, put on your thinking cap, and let's get started!
What is an Informative Speech Outline?
An informative speech outline is a document used to plan the structure and core content of a public speech. It's used by speakers to ensure their talk covers all the important points, stays on-topic and flows logically from one point to another. By breaking down complex topics into smaller, concise sections, an effective outline can help keep a speaker organized, set objectives for their talk, support key points with evidence and promote audience engagement. A well-structured outline can also make a presentation easier to remember and act as an invaluable reminder if nerves ever get the better of the speaker. On one hand, an informative speech outline enables speakers to cover multiple ideas in an efficient manner while avoiding digressions. On the other hand, it's important that speakers remain flexible to adjust and adapt content to meet audience needs. While there are some tried-and-tested strategies for creating outlines that work, many successful speakers prefer to tweak and modify existing outlines according to their personal preferences. In conclusion, preparing an informative speech outline can boost confidence and create an effective structure for presentations. With this in mind, let's now look at how to structure an informative speech outline
How to Structure an Informative Speech Outline
The structure of your informative speech outline should be based on the points you need to cover during your presentation. It should list out all of the main points in an organized and logical manner, along with supporting details for each point. The main structure for an informative speech should consist of three parts: the introduction, body and conclusion.
Introduction
When starting to craft your structure, begin by introducing the topic and giving a brief synopsis of what the audience can expect to learn from your speech. By setting up what they will gain from your presentation, it will help keep them engaged throughout the rest of your talk. Additionally, include any objectives that you want to achieve by the end of your speech.
The body of an informative speech outline typically consists of three parts: main points, sub-points, and supporting details. Main points are the core topics that the speaker wishes to cover throughout the speech. These can be further broken down into sub-points, that explore the main ideas in greater detail. Supporting details provide evidence or facts about each point and can include statistics, research studies, quotes from experts, anecdotes and personal stories . When presenting an informative speech, it is important to consider each side of the topic for an even-handed discussion. If there is an argumentative element to the speech, consider incorporating both sides of the debate . It is also important to be objective when presenting facts and leave value judgments out. Once you have determined your main points and all of their supporting details, you can start ordering them in a logical fashion. The presentation should have a clear flow and move between points smoothly. Each point should be covered thoroughly without getting overly verbose; you want to make sure you are giving enough information to your audience while still being concise with your delivery.
Writing an informative speech outline can be a daunting yet rewarding process. Through the steps outlined above, speakers will have created a strong foundation for their speech and can now confidently start to research their topics . The outline serves as a guiding map for speakers to follow during their research and when writing their eventual speech drafts . Having the process of developing an informative speech broken down into easy and manageable steps helps to reduce stress and anxiety associated with preparing speeches .
The introduction should be around 10-20% of the total speech duration and is designed to capture the audience's attention and introduce the topic.
The main points should make up 40-60% of the speech and provide further detail into the topic. The body should begin with a transition, include evidence or examples and have supporting details. Concluding with a recap or takeaway should take around 10-20% of the speech duration.
While crafting an informative speech outline is a necessary step in order for your presentation to run smoothly, there are many different styles and approaches you can use when creating one. Ultimately though, the goal is always to ensure that the information presented is factual and relevant to both you and your audience. By carefully designing and structuring an effective outline, both you and your audience will be sure to benefit greatly from it when it comes time for delivering a successful presentation .
Now that speakers know how to create an effective outline, it's time to begin researching the content they plan to include in their speeches. In the next section we'll discuss how to conduct research for an informative speech so speakers are armed with all the facts necessary to deliver an interesting and engaging presentation .
How to Research for an Informative Speech
When researching an informative speech, it's important to find valid and reliable sources of information. There are many ways that one can seek out research for an informative speech, and no single method will guarantee a thorough reliable research. Depending on the complexity of the topic and the depth of knowledge required, a variety of methods should be utilized. The first step when researching for an informative speech should be to evaluate your present knowledge of the subject. This will help to determine what specific areas require additional research, and give clues as to where you might start looking for evidence. It is important to know the basic perspectives and arguments surrounding your chosen topic in order to select good sources and avoid biased materials. Textbooks, academic journals, newspaper articles, broadcasts, or credible websites are good starting points for informational speeches. As you search for information and evidence, be sure to use trustworthy authors who cite their sources. These sources refer to experts in the field whose opinions add credibility and can bolster your argument with facts and data. Evaluating these sources is particularly important as they form the foundation of your speech content and structure. Analyze each source critically by looking into who wrote it and evaluating how recent or relevant it is to the current conversation on your chosen topic. As with any research paper, one must strive for accuracy when gathering evidence while also surveying alternative positions on a topic. Considering both sides of a debate allows your speech to provide accurate information while remaining objective. This will also encourage audience members to draw their conclusions instead of taking your word for it. Furthermore, verifying sources from multiple angles (multiple avenues) ensures that information is fact-checked versus opinionated or biased pieces which might distort accuracy or mislead an audience member seeking truth about a controversial issue. At this stage in preparing for an informative speech, research should have been carried out thoroughly enough to allow confidently delivering evidence-based statements about a chosen topic. With all of this necessary groundwork completed, it's time to move onto the next stage: sourcing different types of evidence which will allow you to illustrate your point in an even more helpful way. It is now time to transition into discussing "Sources & Evidence".
Sources and Evidence
When crafting an informative speech outline, it is important to include accurate sources and valid evidence. Your audience needs to be sure that the content you are presenting not only reflects a clear understanding of the topic but is also backed up with reliable sources. For example, if you are speaking about climate change, include research studies, statistics, surveys and other forms of data that provide concrete evidence that supports your argument or position. Additionally, be sure to cite any sources used in the speech so that your audience can double-check the accuracy. In some cases, particularly when discussing sensitive topics, each side of the issue should be addressed. Not only does this make for a more balanced discussion, it also allows you to show respect for different points of view without compromising your own opinion or position. Presenting both sides briefly will demonstrate a comprehensive understanding of the subject matter and show your ability to present a well-rounded argument. Knowing how to source accurately and objectively is key to creating an informative speech outline which will be compelling and engaging for an audience. With the right sources and evidence utilized correctly, you can ensure that your argument is both authoritative and convincing. With these fundamentals in place, you can move on to developing tips for crafting an informative speech for maximum impact and engagement with the listeners.
Tips for Crafting an Informative Speech
When crafting an informative speech, there are certain tips and tricks that you can use to make sure your outline is the best it can be. Firstly, if you are speaking about a controversial issue, make sure you present both sides of the argument in an unbiased manner. Rely on researching credible sources, and discuss different points of views objectively. Additionally, organize and prioritize your points so that they are easy to follow and follow a logical progression. Begin with introducing a succinct thesis statement that briefly summarizes the main points of your speech. This will give the audience a clear idea of what topics you will be discussing and help retain their attention throughout your speech. Furthermore, be mindful to weave in personal anecdotes or relevant stories so that the audience can better relate to your ideas. Make sure the anecdotes have a purpose and demonstrate the key themes effectively. Acquiring creative ways to present data or statistics is also important; avoid inundating the audience with too many facts and figures all at once. Finally, ensure that all visual aids such as props, charts or slides remain relevant to the subject matter being discussed. Visual aids not only keep listeners engaged but also make difficult concepts easier to understand. With these handy tips in mind, you should be well on your way to constructing an effective informative speech outline! Now let's move onto exploring some examples of effective informative speech outlines so that we can get a better idea of how it's done.
Examples of Effective Informative Speech Outlines
Informative speeches must be compelling and provide relevant details, making them effective and impactful. In order to create an effective outline, speakers must first conduct extensive research on the chosen topic. An effective informative speech outline will clearly provide the audience with enough information to keep them engaged while also adhering to a specific timeframe. The following are examples of how to effectively organize an informative speech: I. Introduction: A. Stimulate their interest – pose a question, present intriguing facts or establish a humorous story B. Clearly state the main focus of the speech C. Establish your credibility– explain your experience/research conducted for the speech II. Supporting Points: A. Each point should contain facts and statistics related to your main idea B. Each point should have its own solid evidence that supports it III. Conclusion: A. Summarize supporting points B. Revisit your introduction point and explain how it's been updated/changed through the course of the discussion C. Offer a final statement or call to action IV. Bibliography: A. Cite all sources used in creating the speech (provide an alphabetical list) Debate both sides of argument if applicable: N/A
Commonly Asked Questions
What techniques can i use to ensure my informative speech outline is organized and cohesive.
When crafting an informative speech outline, there are several techniques you can use to ensure your speech is organized and cohesive. First of all, make sure your speech follows a logical flow by using signposting , outlining the main ideas at the beginning of the speech and then bulleting out your supporting points. Additionally, you can use transitions throughout the speech to create a smooth order for your thoughts, such as 'next' and 'finally'. Furthermore, it is important that each point in your outline has a specific purpose or goal, to avoid rambling and confusion. Finally, use visual aids such as charts and diagrams to emphasise key ideas and add clarity and structure to your speech. By following these techniques , you can ensure your informative speech outline is well organized and easy to follow.
How should I structure the order of the information in an informative speech outline?
The structure of an informative speech outline should be simple and organized, following a linear step-by-step process. First, you should introduce the topic to your audience and provide an overview of the main points. Next, give an explanation of each point, offer evidence or examples to support it, and explain how it relates to the overall subject matter. Finally, you should conclude with a summary of the main points and a call for action. When structuring the order of information in an informative speech outline, it is important to keep topics distinct from one another and stick to the logical progression that you have established in your introduction. Additionally, pay attention to chronology if appropriate; when discussing historical events, for example, make sure that they are presented in the correct order. Moreover, use transition phrases throughout your outline to help move ideas along smoothly. Finally, utilize both verbal and visual aids such as diagrams or graphics to illustrate complex knowledge effectively and engage your audience throughout your presentation.
What are the essential components of an informative speech outline?
The essential components of an informative speech outline are the introduction, body, and conclusion. Introduction: The introduction should establish the topic of your speech, provide background information, and lead into the main purpose of your speech. It's also important to include a strong attention-grabbing hook in order to grab the audience's attention. Body: The body is where you expand on the main points that were outlined in the introduction. It should provide evidence and arguments to support these points, as well as explain any counterarguments that might be relevant. Additionally, it should answer any questions or objections your audience may have about the topic. Conclusion: The conclusion should restate the purpose of your speech and summarize the main points from the body of your speech. It should also leave your audience feeling inspired and motivated to take some kind of action after hearing your speech. In short, an effective informative speech outline should strongly focus on bringing all of these elements together in a cohesive structure to ensure that you deliver an engaging presentation that educates and informs your audience.

Want to create or adapt books like this? Learn more about how Pressbooks supports open publishing practices.
12.2 Types of Outlines
Learning objectives.
Define three types of outlines: working outline, full-sentence outline, and speaking outline.
Identify the advantages of using notecards to present your speaking outline.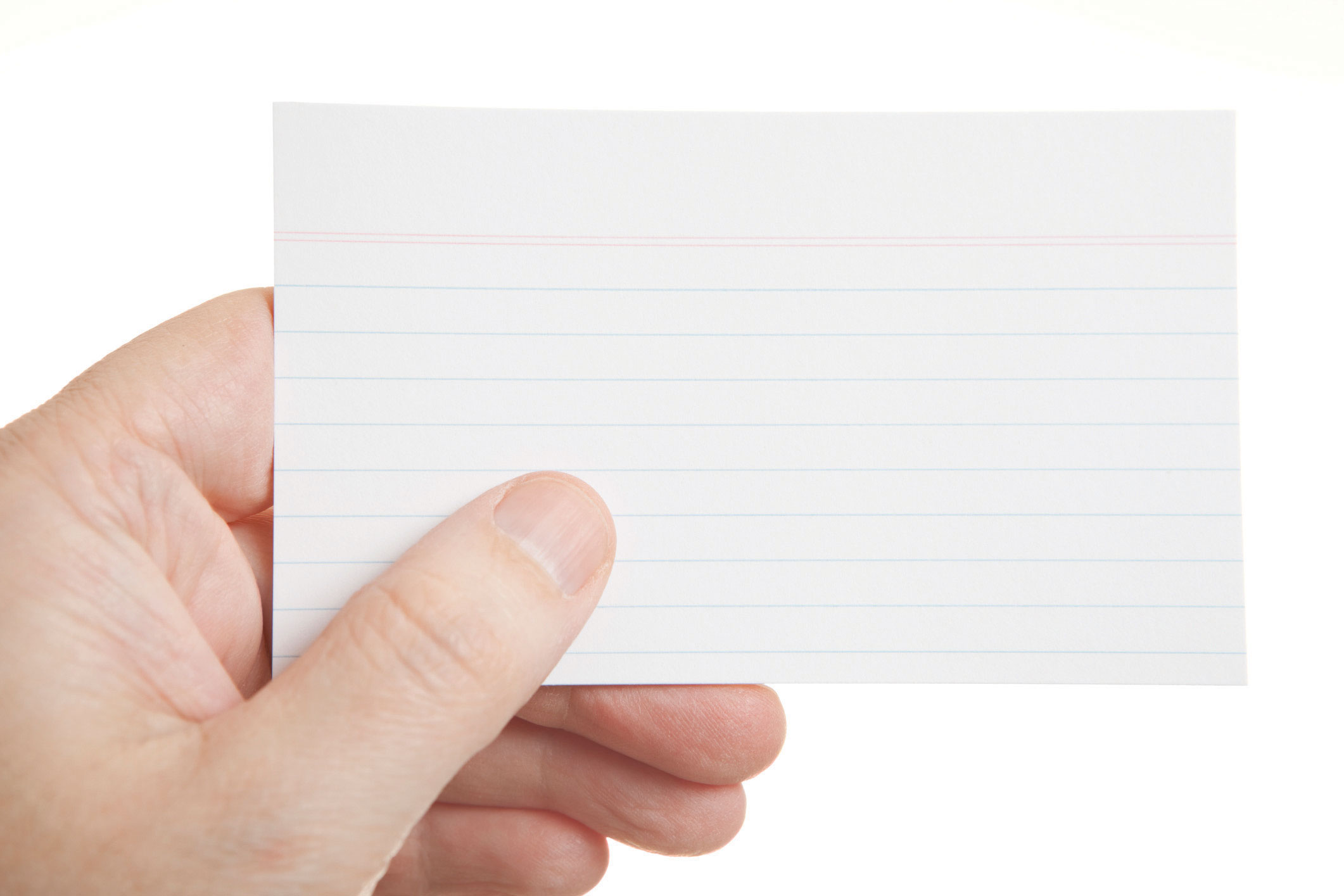 Dave Gray – Blank index card – CC BY 2.0.
When we discuss outlining, we are actually focusing on a series of outlines instead of a single one. Outlines are designed to evolve throughout your speech preparation process, so this section will discuss how you progress from a working outline to a full-sentence outline and, finally, a speaking outline. We will also discuss how using notecards for your speaking outline can be helpful to you as a speaker.
Working Outline
A working outline is an outline you use for developing your speech. It undergoes many changes on its way to completion. This is the outline where you lay out the basic structure of your speech. You must have a general and specific purpose; an introduction, including a grabber; and a concrete, specific thesis statement and preview. You also need three main points, a conclusion, and a list of references.
One strategy for beginning your working outline is to begin by typing in your labels for each of the elements. Later you can fill in the content.
When you look ahead to the full-sentence outline, you will notice that each of the three main points moves from the general to the particular. Specifically, each main point is a claim, followed by particular information that supports that claim so that the audience will perceive its validity. For example, for a speech about coal mining safety, your first main point might focus on the idea that coal mining is a hazardous occupation. You might begin by making a very general claim, such as "Coal mining is one of the most hazardous occupations in the United States," and then become more specific by providing statistics, authoritative quotations, or examples to support your primary claim.
A working outline allows you to work out the kinks in your message. For instance, let's say you've made the claim that coal mining is a hazardous occupation but you cannot find authoritative evidence as support. Now you must reexamine that main point to assess its validity. You might have to change that main point in order to be able to support it. If you do so, however, you must make sure the new main point is a logical part of the thesis statement–three main points–conclusion sequence.
The working outline shouldn't be thought of a "rough copy," but as a careful step in the development of your message. It will take time to develop. Here is an example of a working outline:
Name : Anomaly May McGillicuddy
Topic : Smart dust
General Purpose : To inform
Specific Purpose : To inform a group of science students about the potential of smart dust
Main Ideas :
Smart dust is an assembly of microcomputers.
Smart dust can be used by the military—no, no—smart dust could be an enormous asset in covert military operations. (That's better because it is more clear and precise.)
Smart dust could also have applications to daily life.
Introduction : (Grabber) (fill in later)
(Thesis Statement) Thus far, researchers hypothesize that smart dust could be used for everything from tracking patients in hospitals to early warnings of natural disasters and defending against bioterrorism.
(Preview) Today, I'm going to explain what smart dust is and the various applications smart dust has in the near future. To help us understand the small of it all, we will first examine what smart dust is and how it works. We will then examine some military applications of smart dust. And we will end by discussing some nonmilitary applications of smart dust.
(Transition) (fill in later)
Main Point I : Dr. Kris Pister, a professor in the robotics lab at the University of California at Berkeley, originally conceived the idea of smart dust in 1998 as part of a project funded by the Defense Advanced Research Projects Agency (DARPA).
Main Point II : Because smart dust was originally conceptualized under a grant from DARPA, military uses of smart dust have been widely theorized and examined.
Main Point III : According to the smart dust project website, smart dust could quickly become a common part of our daily lives.
Conclusion : (Bring your message "full circle" and create a psychologically satisfying closure.)
This stage of preparation turns out to be a good place to go back and examine whether all the main points are directly related to the thesis statement and to each other. If so, your message has a strong potential for unity of focus. But if the relationship of one of the main points is weak, this is the time to strengthen it. It will be more difficult later for two reasons: first, the sheer amount of text on your pages will make the visual task more difficult, and second, it becomes increasingly difficult to change things in which you have a large investment in time and thought.
You can see that this working outline can lay a strong foundation for the rest of your message. Its organization is visually apparent. Once you are confident in the internal unity of your basic message, you can begin filling in the supporting points in descending detail—that is, from the general (main points) to the particular (supporting points) and then to greater detail. The outline makes it visually apparent where information fits. You only need to assess your supporting points to be sure they're authoritative and directly relevant to the main points they should support.
Sometimes transitions seem troublesome, and that's not surprising. We often omit them when we have informal conversations. Our conversation partners understand what we mean because of our gestures and vocal strategies. However, others might not understand what we mean, but think they do, and so we might never know whether they understood us. Even when we include transitions, we don't generally identify them as transitions. In a speech, however, we need to use effective transitions as a gateway from one main point to the next. The listener needs to know when a speaker is moving from one main point to the next.
In the next type of outline, the full-sentence outline, take a look at the transitions and see how they make the listener aware of the shifting focus to the next main point.
Full-Sentence Outline
Your full-sentence outline should contain full sentences only. There are several reasons why this kind of outline is important. First, you have a full plan of everything you intend to say to your audience, so that you will not have to struggle with wordings or examples. Second, you have a clear idea of how much time it will take to present your speech. Third, it contributes a fundamental ingredient of good preparation, part of your ethical responsibility to your audience. This is how a full-sentence outline looks:
Name: Anomaly May McGillicuddy
Specific Purpose : To inform a group of science students about the potential of smart dust.
Smart dust could be an enormous asset in covert military operations.
Introduction : (Grabber) In 2002, famed science fiction writer, Michael Crichton, released his book Prey , which was about a swarm of nanomachines that were feeding off living tissue. The nanomachines were solar powered, self-sufficient, and intelligent. Most disturbingly, the nanomachines could work together as a swarm as it took over and killed its prey in its need for new resources. The technology for this level of sophistication in nanotechnology is surprisingly more science fact than science fiction. In 2000, three professors of electrical engineering and computer Science at the University of California at Berkeley, Kahn, Katz, and Pister, hypothesized in the Journal of Communications and Networks that wireless networks of tiny microelectromechanical sensors, or MEMS; robots; or devices could detect phenomena including light, temperature, or vibration. By 2004, Fortune Magazine listed "smart dust" as the first in their "Top 10 Tech Trends to Bet On."
(Thesis Statement) Thus far researchers hypothesized that smart dust could be used for everything from tracking patients in hospitals to early warnings of natural disasters and as a defense against bioterrorism.
(Transition) To help us understand smart dust, we will begin by first examining what smart dust is.
According to a 2001 article written by Bret Warneke, Matt Last, Brian Liebowitz, and Kris Pister titled "Smart Dust: Communicating with a Cubic-Millimeter Computer" published in Computer , Pister's goal was to build a device that contained a built-in sensor, communication device, and a small computer that could be integrated into a cubic millimeter package.
For comparison purposes, Doug Steel, in a 2005 white paper titled "Smart Dust" written for C. T. Bauer College of Business at the University of Houston, noted that a single grain of rice has a volume of five cubic millimeters.
Each individual piece of dust, called a mote, would then have the ability to interact with other motes and supercomputers.
As Steve Lohr wrote in the January 30, 2010, edition of the New York Times in an article titled "Smart Dust? Not Quite, But We're Getting There," smart dust could eventually consist of "Tiny digital sensors, strewn around the glove, gathering all sorts of information and communicating with powerful computer networks to monitor, measure, and understand the physical world in new ways."
(Transition) Now that we've examined what smart dust is, let's switch gears and talk about some of the military applications for smart dust.
Major Scott Dickson, in a Blue Horizons paper written for the US Air Force Center for Strategy and Technology's Air War College, sees smart dust as helping the military in battlespace awareness, homeland security, and weapons of mass destruction (WMD) identification.
Furthermore, Major Dickson also believes it may be possible to create smart dust that has the ability to defeat communications jamming equipment created by foreign governments, which could help the US military not only communicate among itself, but could also increase communications with civilians in military combat zones.
According to a 2010 article written by Jessica Griggs in new Scientist , one of the first benefits of smart dust could be an early defense warning for space storms and other debris that could be catastrophic.
(Transition) Now that we've explored some of the military benefits of smart dust, let's switch gears and see how smart dust may be able to have an impact on our daily lives.
Steve Lohr, in his 2010 New York Times article, wrote, "The applications for sensor-based computing, experts say, include buildings that manage their own energy use, bridges that sense motion and metal fatigue to tell engineers they need repairs, cars that track traffic patterns and report potholes, and fruit and vegetable shipments that tell grocers when they ripen and begin to spoil."
Theoretically, we could all be injected with smart dust, which relays information to our physicians and detects adverse changes to our body instantly.
Smart dust could detect the microscopic formations of center cells or alert us when we've been infected by a bacterium or virus, which could speed up treatment and prolong all of our lives.
(Transition) Today, we've explored what smart dust is, how smart dust could be utilized by the US military, and how smart dust could impact all of our lives in the near future.
Conclusion : While smart dust is quickly transferring from science fiction to science fact, experts agree that the full potential of smart dust will probably not occur until 2025. Smart dust is definitely in our near future, but swarms of smart dust eating people as was depicted in Michael Crichton's 2002 novel, Prey , isn't reality. However, as with any technological advance, there are definite ethical considerations and worries related to smart dust. Even Dr. Kris Pister's smart dust project website admits that as smart dust becomes more readily available, one of the trade-offs will be privacy. Pister responds to these critiques by saying, "As an engineer, or a scientist, or a hair stylist, everyone needs to evaluate what they do in terms of its positive and negative effect. If I thought that the negatives of working on this project were greater than or even comparable to the positives, I wouldn't be working on it. As it turns out, I think that the potential benefits of this technology far outweigh the risks to personal privacy."
Crichton, M. (2002). Prey . New York, NY: Harper Collins.
Dickson, S. (2007, April). Enabling battlespace persistent surveillance: the firm, function, and future of smart dust (Blue Horizons Paper, Center for Strategy and Technology, USAF Air War College). Retrieved from USAF Air War College website: http://www.au.af.mil/au/awc/awcgate/cst/bh_dickson.pdf
Griggs, J. (2010, February 6). Smart dust to provide solar early warning defense. New Scientist, 205 (2746), 22.
Kahn, J. M., Katz, R. H., & Pister, K. S. J. (2000). Emerging challenges: Mobile networking for "smart dust." Journal of Communications and Networks, 2 , 188–196.
Lohr, S. (2010, January 30). Smart dust? Not quite, but we're getting there. New York Times . Retrieved from http://www.nytimes.com
Pister, K., Kahn, J., & Boser, B. (n.d.). Smart dust: Autonomous sensing and communication at the cubic millimeter. Retrieved from http://robotics.eecs.berkeley.edu/~pister/SmartDust
Steel, D. (2005, March). Smart dust: UH ISRC technology briefing. Retrieved from http://www.uhisrc.com
Vogelstein, F., Boyle, M., Lewis, P., Kirkpatrick, D., Lashinsky, A.,…Chen, C. (2004, February 23). 10 tech trends to bet on. Fortune, 149 (4), 74–88.
Warneke, B., Last, M., Liebowitz, B., & Pister, K. S. J. (2001). Smart dust: Communicating with a cubic millimeter computer. Computer, 31 , 44–51.
When you prepare your full-sentence outline carefully, it may take as much as 1 ½ hours to complete the first part of the outline from your name at the top through the introduction. When you've completed that part, take a break and do something else. When you return to the outline, you should be able to complete your draft in another 1 ½ hours. After that, you only need to do a detailed check for completeness, accuracy, relevance, balance, omitted words, and consistency. If you find errors, instead of being frustrated, be glad you can catch these errors before you're standing up in front of your audience.
You will notice that the various parts of your speech, for instance, the transition and main points, are labeled. There are compelling reasons for these labels. First, as you develop your message, you will sometimes find it necessary to go back and look at your wording in another part of the outline. Your labels help you find particular passages easily. Second, the labels work as a checklist so that you can make sure you've included everything you intended to. Third, it helps you prepare your speaking outline.
You'll also notice the full references at the end of the outline. They match the citations within the outline. Sometimes while preparing a speech, a speaker finds it important to go back to an original source to be sure the message will be accurate. If you type in your references as you develop your speech rather than afterward, they will be a convenience to you if they are complete and accurate.
Don't think of the references as busywork or drudgery. Although they're more time consuming than text, they are good practice for the more advanced academic work you will do in the immediate future.
Speaking Outline
Your full-sentence outline prepares you to present a clear and well-organized message, but your speaking outline will include far less detail. Whenever possible, you will use key words and phrases, but in some instances, an extended quotation will need to be fully written on your speaking outline.
Resist the temptation to use your full-sentence outline as your speaking outline. The temptation is real for at least two reasons. First, once you feel that you've carefully crafted every sequence of words in your speech, you might not want to sacrifice quality when you shift to vocal presentation. Second, if you feel anxiety about how well you will do in front of an audience, you may want to use your full-sentence outline as a "safety net." In our experience, however, if you have your full-sentence outline with you, you will end up reading, rather than speaking, to your audience. The subject of reading to your audience will be taken up in Chapter 14 "Delivering the Speech" on speech delivery. For now, it is enough to know you shouldn't read, but instead, use carefully prepared notecards.
Your speech has five main components: introduction, main point one, main point two, main point three, and the conclusion. Therefore we strongly recommend the use of five notecards: one for each of those five components. There are extenuating circumstances that might call for additional cards, but begin with five cards only.
How will five notecards suffice in helping you produce a complete, rich delivery? Why can't you use the full-sentence outline you labored so hard to write? First, the presence of your full-sentence outline will make it appear that you don't know the content of your speech. Second, the temptation to read the speech directly from the full-sentence outline is nearly overwhelming; even if you resist this temptation, you will find yourself struggling to remember the words on the page rather than speaking extemporaneously. Third, sheets of paper are noisier and more awkward than cards. Fourth, it's easier to lose your place using the full outline. Finally, cards just look better. Carefully prepared cards, together with practice, will help you more than you might think.
Plan to use five cards. Use 4 × 6 cards. The smaller 3 × 5 cards are too small to provide space for a visually organized set of notes. With five cards, you will have one card for the introduction, one card for each of the three main points, and one card for the conclusion. You should number your cards and write on one side only. Numbering is helpful if you happen to drop your cards, and writing on only one side means that the audience is not distracted by your handwritten notes and reminders to yourself while you are speaking. Each card should contain key words and key phrases but not full sentences.
Some speeches will include direct or extended quotations from expert sources. Some of these quotations might be highly technical or difficult to memorize for other reasons, but they must be presented correctly. This is a circumstance in which you could include an extra card in the sequence of notecards. This is the one time you may read fully from a card. If your quotation is important and the exact wording is crucial, your audience will understand that.
How will notecards be sufficient? When they are carefully written, your practice will reveal that they will work. If, during practice, you find that one of your cards doesn't work well enough, you can rewrite that card.
Using a set of carefully prepared, sparingly worded cards will help you resist the temptation to rely on overhead transparencies or PowerPoint slides to get you through the presentation. Although they will never provide the exact word sequence of your full-sentence outline, they should keep you organized during the speech.
The "trick" to selecting the phrases and quotations for your cards is to identify the labels that will trigger a recall sequence. For instance, if the phrase "more science fact" brings to mind the connection to science fiction and the differences between the real developments and the fictive events of Crichton's novel Prey , that phrase on your card will support you through a fairly extended part of your introduction.
You must discover what works for you and then select those words that tend to jog your recall. Having identified what works, make a preliminary set of no more than five cards written on one side only, and practice with them. Revise and refine them as you would an outline.
The following is a hypothetical set of cards for the smart dust speech:
Introduction : 2002, Prey , swarm nanomachines feed on living tissue.
Kahn, Katz, and Pister, U C Berkeley engineering and computer sci. profs. hyp.
Microelectromechanical (MEMS) devices could detect light, temp, or vib.
Thesis Statement : Researchers hyp that s.d. could track patients, warn of natural disaster, act as defense against bioterrorism.
Prev .: What smart dust is and how it works, military aps, nonmilitary aps.
Transition : To help understand, first, what smart dust is.
I. Dr. Kris Pister, prof robotics lab UC Berkeley conceived the idea in 1998 in a proj. Defense Advanced Research Projects Agency (DARPA).
2001 article by Bret Warneke et al titled "Smart Dust: Communicating with a Cubic-Millimeter Computer" publ. in Computer , Pister wanted sensors, comm. devices, and computer in a cubic millimeter package.
Doug Steel of CT Bauer College of Bus at Houston noted grain of rice = 5 cm.
Each mote could interact w/ others.
(see extended quotation, next card)
Quotation : Steve Lohr, NYT Jan 30 2005, "Smart Dust? Not Quite, but We're Getting There." Smart dust could eventually consist of "Tiny digital sensors, strewn around the globe, gathering all sorts of information and communicating with powerful computer networks to monitor, measure, and understand the physical world in new ways."
II. Orig conceptualized under DARPA, military uses theor. and examined.
Smart Dust website, battlefield surveill., treaty monitor., transp. monitor., + scud hunting.
benefit, surveill.
Maj. Scott Dickson, Blue Horizons Paper for Ctr for Strat and Tech for USAF air war college, sees s.d. as help for battlespace awareness, homeland security, and WMD ID.
could also defeat comm. jamming equipt by communicating among itself and w/ civilians in combat zones.
2010 article Jessica Griggs New Scientist , early defense, storms and debris.
Transition : Switch gears to daily lives.
III. s.d. project website: s.d. could become common in daily life.
Pasting particles for virtual computer keyboard to inventory control poss.
Steve Lohr, 2010, NYT, "The applications for sensor-based computing, experts say, include buildings that manage their own energy use, bridges that sense motion and metal fatigue to tell engineers they need repairs, cars that track traffic patterns and report potholes, and fruit and vegetable shipments that tell grocers when they ripen and begin to spoil."
Medically, accdng to SD project website, help disabled.
injected, cd. relay info to docs and detect body changes instantly
cancer cells, bacteria or virus, speed up treatment, and so on.
Transition : We expl. What SD is, how SD cd be used military, and how SD cd impact our lives.
Conclusion : Transf fiction to fact, experts agree potential 2025. Michael Crichton's Prey isn't reality, but in developing SD as fact, there are ethical considerations. Pister: privacy.
Dr. Kris Pister: "As an engineer, or a scientist, or a hair stylist, everyone needs to evaluate what they do in terms of its positive and negative effect. If I thought that the negatives of working on this project were larger or even comparable to the positives, I wouldn't be working on it. As it turns out, I think that the potential benefits of this technology far far outweigh the risks to personal privacy."
Using a set of cards similar to this could help you get through an impressive set of specialized information. But what if you lose your place during a speech? With a set of cards, it will take less time to refind it than with a full-sentence outline. You will not be rustling sheets of paper, and because your cards are written on one side only, you can keep them in order without flipping them back and forth to check both sides.
What if you go blank? Take a few seconds to recall what you've said and how it leads to your next points. There may be several seconds of silence in the middle of your speech, and it may seem like minutes to you, but you can regain your footing most easily with a small set of well-prepared cards.
Under no circumstances should you ever attempt to put your entire speech on cards in little tiny writing. You will end up reading a sequence of words to your audience instead of telling them your message.
Key Takeaways
Working outlines help you with speech logic, development, and planning.
The full-sentence outline develops the full detail of the message.
The speaking outline helps you stay organized in front of the audience without reading to them.
Using notecards for your speaking outline helps with delivery and makes it easier to find information if you lose your place or draw a blank.
With respect to your speech topic, what words need to be defined?
Define what you mean by the terms you will use.
How does your definition compare with those of experts?
Stand up, Speak out Copyright © 2016 by University of Minnesota is licensed under a Creative Commons Attribution-NonCommercial-ShareAlike 4.0 International License , except where otherwise noted.
Share This Book
Module 4: Organizing and Outlining
Outlining your speech.
Most speakers and audience members would agree that an organized speech is both easier to present as well as more persuasive. Public speaking teachers especially believe in the power of organizing your speech, which is why they encourage (and often require) that you create an outline for your speech. Outlines , or textual arrangements of all the various elements of a speech, are a very common way of organizing a speech before it is delivered. Most extemporaneous speakers keep their outlines with them during the speech as a way to ensure that they do not leave out any important elements and to keep them on track. Writing an outline is also important to the speechwriting process since doing so forces the speakers to think about the main points and sub-points, the examples they wish to include, and the ways in which these elements correspond to one another. In short, the outline functions both as an organization tool and as a reference for delivering a speech.
Outline Types
"Alpena Mayor Carol Shafto Speaks at 2011 Michigan Municipal League Convention" by Michigan Municipal League. CC-BY-ND .
There are two types of outlines. The first outline you will write is called the preparation outline . Also called a working, practice, or rough outline, the preparation outline is used to work through the various components of your speech in an inventive format. Stephen E. Lucas [1] put it simply: "The preparation outline is just what its name implies—an outline that helps you prepare the speech" (p. 248). When writing the preparation outline, you should focus on finalizing the purpose and thesis statements, logically ordering your main points, deciding where supporting material should be included, and refining the overall organizational pattern of your speech. As you write the preparation outline, you may find it necessary to rearrange your points or to add or subtract supporting material. You may also realize that some of your main points are sufficiently supported while others are lacking. The final draft of your preparation outline should include full sentences, making up a complete script of your entire speech. In most cases, however, the preparation outline is reserved for planning purposes only and is translated into a speaking outline before you deliver the speech.
A speaking outline is the outline you will prepare for use when delivering the speech. The speaking outline is much more succinct than the preparation outline and includes brief phrases or words that remind the speakers of the points they need to make, plus supporting material and signposts. [2] The words or phrases used on the speaking outline should briefly encapsulate all of the information needed to prompt the speaker to accurately deliver the speech. Although some cases call for reading a speech verbatim from the full-sentence outline, in most cases speakers will simply refer to their speaking outline for quick reminders and to ensure that they do not omit any important information. Because it uses just words or short phrases, and not full sentences, the speaking outline can easily be transferred to index cards that can be referenced during a speech.
Outline Structure
Because an outline is used to arrange all of the elements of your speech, it makes sense that the outline itself has an organizational hierarchy and a common format. Although there are a variety of outline styles, generally they follow the same pattern. Main ideas are preceded by Roman numerals (I, II, III, etc.). Sub-points are preceded by capital letters (A, B, C, etc.), then Arabic numerals (1, 2, 3, etc.), and finally lowercase letters (a, b, c, etc.). Each level of subordination is also differentiated from its predecessor by indenting a few spaces. Indenting makes it easy to find your main points, sub-points, and the supporting points and examples below them. Since there are three sections to your speech— introduction, body, and conclusion— your outline needs to include all of them. Each of these sections is titled and the main points start with Roman numeral I.
Outline Formatting Guide
Title: Organizing Your Public Speech
Topic: Organizing public speeches
Specific Purpose Statement: To inform listeners about the various ways in which they can organize their public speeches.
Thesis Statement: A variety of organizational styles can used to organize public speeches.
Introduction Paragraph that gets the attention of the audience, establishes goodwill with the audience, states the purpose of the speech, and previews the speech and its structure.
(Transition)
I. Main point
A. Sub-point B. Sub-point C. Sub-point
1. Supporting point 2. Supporting point
Conclusion Paragraph that prepares the audience for the end of the speech, presents any final appeals, and summarizes and wraps up the speech.
Bibliography
In addition to these formatting suggestions, there are some additional elements that should be included at the beginning of your outline: the title, topic, specific purpose statement, and thesis statement. These elements are helpful to you, the speechwriter, since they remind you what, specifically, you are trying to accomplish in your speech. They are also helpful to anyone reading and assessing your outline since knowing what you want to accomplish will determine how they perceive the elements included in your outline. Additionally, you should write out the transitional statements that you will use to alert audiences that you are moving from one point to another. These are included in parentheses between main points. At the end of the outlines, you should include bibliographic information for any outside resources you mention during the speech. These should be cited using whatever citations style your professor requires. The textbox entitled "Outline Formatting Guide" provides an example of the appropriate outline format.
If you do not change direction, you may end up where you are heading. – Lao Tzu
Preparation Outline
This chapter contains the preparation and speaking outlines for a short speech the author of this chapter gave about how small organizations can work on issues related to climate change (see appendices). In this example, the title, specific purpose, thesis, and list of visual aids precedes the speech. Depending on your instructor's requirements, you may need to include these details plus additional information. It is also a good idea to keep these details at the top of your document as you write the speech since they will help keep you on track to developing an organized speech that is in line with your specific purpose and helps prove your thesis. At the end of the chapter, in Appendix A, you can find a full length example of a Preparation (Full Sentence) Outline.
Speaking Outline
In Appendix B, the Preparation Outline is condensed into just a few short key words or phrases that will remind speakers to include all of their main points and supporting information. The introduction and conclusion are not included since they will simply be inserted from the Preparation Outline. It is easy to forget your catchy attention-getter or final thoughts you have prepared for your audience, so it is best to include the full sentence versions even in your speaking outline.
Using the Speaking Outline
"TAG speaks of others first" by Texas Military Forces. CC-BY-ND .
Once you have prepared the outline and are almost ready to give your speech, you should decide how you want to format your outline for presentation. Many speakers like to carry a stack of papers with them when they speak, but others are more comfortable with a smaller stack of index cards with the outline copied onto them. Moreover, speaking instructors often have requirements for how you should format the speaking outline. Whether you decide to use index cards or the printed outline, here are a few tips. First, write large enough so that you do not have to bring the cards or pages close to your eyes to read them. Second, make sure you have the cards/pages in the correct order and bound together in some way so that they do not get out of order. Third, just in case the cards/pages do get out of order (this happens too often!), be sure that you number each in the top right corner so you can quickly and easily get things organized. Fourth, try not to fiddle with the cards/pages when you are speaking. It is best to lay them down if you have a podium or table in front of you. If not, practice reading from them in front of a mirror. You should be able to look down quickly, read the text, and then return to your gaze to the audience.
Any intelligent fool can make things bigger and more complex… It takes a touch of genius – and a lot of courage to move in the opposite direction. – Albert Einstein
Lucas, Stephen E. (2004). The art of public speaking (8th edition). New York: McGraw-Hill. ↵
Beebe, S. A. & Beebe, S. J. (2003). The public speaking handbook (5th edition). Boston: Pearson. ↵
Chapter 8 Outlining Your Speech. Authored by : Joshua Trey Barnett. Provided by : University of Indiana, Bloomington, IN. Located at : http://publicspeakingproject.org/psvirtualtext.html . Project : The Public Speaking Project. License : CC BY-NC-ND: Attribution-NonCommercial-NoDerivatives
Alpena Mayor Carol Shafto Speaks at 2011 Michigan Municipal League Convention. Authored by : Michigan Municipal League. Located at : https://flic.kr/p/aunJMR . License : CC BY-ND: Attribution-NoDerivatives
TAG speaks of others first. Authored by : Texas Military Forces. Located at : https://www.flickr.com/photos/texasmilitaryforces/5560449970/ . License : CC BY-ND: Attribution-NoDerivatives
Privacy Policy
Planning and Presenting an Informative Speech
In this guide, you can learn about the purposes and types of informative speeches, about writing and delivering informative speeches, and about the parts of informative speeches.
Purposes of Informative Speaking
Informative speaking offers you an opportunity to practice your researching, writing, organizing, and speaking skills. You will learn how to discover and present information clearly. If you take the time to thoroughly research and understand your topic, to create a clearly organized speech, and to practice an enthusiastic, dynamic style of delivery, you can be an effective "teacher" during your informative speech. Finally, you will get a chance to practice a type of speaking you will undoubtedly use later in your professional career.
The purpose of the informative speech is to provide interesting, useful, and unique information to your audience. By dedicating yourself to the goals of providing information and appealing to your audience, you can take a positive step toward succeeding in your efforts as an informative speaker.
Major Types of Informative Speeches
In this guide, we focus on informative speeches about:
These categories provide an effective method of organizing and evaluating informative speeches. Although they are not absolute, these categories provide a useful starting point for work on your speech.
In general, you will use four major types of informative speeches. While you can classify informative speeches many ways, the speech you deliver will fit into one of four major categories.
Speeches about Objects
Speeches about objects focus on things existing in the world. Objects include, among other things, people, places, animals, or products.
Because you are speaking under time constraints, you cannot discuss any topic in its entirety. Instead, limit your speech to a focused discussion of some aspect of your topic.
Some example topics for speeches about objects include: the Central Intelligence Agency, tombstones, surgical lasers, Franklin Delano Roosevelt, the pituitary gland, and lemmings.
To focus these topics, you could give a speech about Franklin Delano Roosevelt and efforts to conceal how he suffered from polio while he was in office. Or, a speech about tombstones could focus on the creation and original designs of grave markers.
Speeches about Processes
Speeches about processes focus on patterns of action. One type of speech about processes, the demonstration speech, teaches people "how-to" perform a process. More frequently, however, you will use process speeches to explain a process in broader terms. This way, the audience is more likely to understand the importance or the context of the process.
A speech about how milk is pasteurized would not teach the audience how to milk cows. Rather, this speech could help audience members understand the process by making explicit connections between patterns of action (the pasteurization process) and outcomes (a safe milk supply).
Other examples of speeches about processes include: how the Internet works (not "how to work the Internet"), how to construct a good informative speech, and how to research the job market. As with any speech, be sure to limit your discussion to information you can explain clearly and completely within time constraints.
Speeches about Events
Speeches about events focus on things that happened, are happening, or will happen. When speaking about an event, remember to relate the topic to your audience. A speech chronicling history is informative, but you should adapt the information to your audience and provide them with some way to use the information. As always, limit your focus to those aspects of an event that can be adequately discussed within the time limitations of your assignment.
Examples of speeches about events include: the 1963 Civil Rights March on Washington, Groundhog's Day, the Battle of the Bulge, the World Series, and the 2000 Presidential Elections.
Speeches about Concepts
Speeches about concepts focus on beliefs, ideas, and theories. While speeches about objects, processes, and events are fairly concrete, speeches about concepts are more abstract. Take care to be clear and understandable when creating and presenting a speech about a concept. When selecting a concept, remember you are crafting an informative speech. Often, speeches about concepts take on a persuasive tone. Focus your efforts toward providing unbiased information and refrain from making arguments. Because concepts can be vague and involved, limit your speech to aspects that can be readily explained and understood within the time limits.
Some examples of topics for concept speeches include: democracy, Taoism, principles of feminism, the philosophy of non-violent protest, and the Big Bang theory.
Strategies for Selecting a Topic
In many cases, circumstances will dictate the topic of your speech. However, if the topic has not been assigned or if you are having difficulty figuring out how to frame your topic as an informative speech,the following may be useful.
Begin by thinking of your interests. If you have always loved art, contemplate possible topics dealing with famous artists, art works, or different types of art. If you are employed, think of aspects of your job or aspects of your employer's business that would be interesting to talk about. While you cannot substitute personal experience for detailed research, your own experience can supplement your research and add vitality to your presentation. Choose one of the items below to learn more about selecting a topic.
Learn More about an Unfamiliar Topic
You may benefit more by selecting an unfamiliar topic that interests you. You can challenge yourself by choosing a topic you'd like to learn about and to help others understand it. If the Buddhist religion has always been an interesting and mysterious topic to you, research the topic and create a speech that offers an understandable introduction to the religion. Remember to adapt Buddhism to your audience and tell them why you think this information is useful to them. By taking this approach, you can learn something new and learn how to synthesize new information for your audience.
Think about Previous Classes
You might find a topic by thinking of classes you have taken. Think back to concepts covered in those classes and consider whether they would serve as unique, interesting, and enlightening topics for the informative speech. In astronomy, you learned about red giants. In history, you learned about Napoleon. In political science, you learned about The Federalist Papers. Past classes serve as rich resources for informative speech topics. If you make this choice, use your class notes and textbook as a starting point. To fully develop the content, you will need to do extensive research and perhaps even a few interviews.
Talk to Others
Topic selection does not have to be an individual effort. Spend time talking about potential topics with classmates or friends. This method can be extremely effective because other people can stimulate further ideas when you get stuck. When you use this method, always keep the basic requirements and the audience in mind. Just because you and your friend think home-brew is a great topic does not mean it will enthrall your audience or impress your instructor. While you talk with your classmates or friends, jot notes about potential topics and create a master list when you exhaust the possibilities. From this list, choose a topic with intellectual merit, originality, and potential to entertain while informing.
Framing a Thesis Statement
Once you settle on a topic, you need to frame a thesis statement. Framing a thesis statement allows you to narrow your topic, and in turns allows you to focus your research in this specific area, saving you time and trouble in the process.
Selecting a topic and focusing it into a thesis statement can be a difficult process. Fortunately, a number of useful strategies are available to you.
Thesis Statement Purpose
The thesis statement is crucial for clearly communicating your topic and purpose to the audience. Be sure to make the statement clear, concise, and easy to remember. Deliver it to the audience and use verbal and nonverbal illustrations to make it stand out.
Strategies For Framing a Thesis Statement
Focus on a specific aspect of your topic and phrase the thesis statement in one clear, concise, complete sentence, focusing on the audience. This sentence sets a goal for the speech. For example, in a speech about art, the thesis statement might be: "The purpose of this speech is to inform my audience about the early works of Vincent van Gogh." This statement establishes that the speech will inform the audience about the early works of one great artist. The thesis statement is worded conversationally and included in the delivery of the speech.
Thesis Statement and Audience
The thesis appears in the introduction of the speech so that the audience immediately realizes the speaker's topic and goal. Whatever the topic may be, you should attempt to create a clear, focused thesis statement that stands out and could be repeated by every member of your audience. It is important to refer to the audience in the thesis statement; when you look back at the thesis for direction, or when the audience hears the thesis, it should be clear that the most important goal of your speech is to inform the audience about your topic. While the focus and pressure will be on you as a speaker, you should always remember that the audience is the reason for presenting a public speech.
Avoid being too trivial or basic for the average audience member. At the same time, avoid being too technical for the average audience member. Be sure to use specific, concrete terms that clearly establish the focus of your speech.
Thesis Statement and Delivery
When creating the thesis statement, be sure to use a full sentence and frame that sentence as a statement, not as a question. The full sentence, "The purpose of this speech is to inform my audience about the early works of Vincent van Gogh," provides clear direction for the speech, whereas the fragment "van Gogh" says very little about the purpose of the speech. Similarly, the question "Who was Vincent van Gogh?" does not adequately indicate the direction the speech will take or what the speaker hopes to accomplish.
If you limit your thesis statement to one distinct aspect of the larger topic, you are more likely to be understood and to meet the time constraints.
Researching Your Topic
As you begin to work on your informative speech, you will find that you need to gather additional information. Your instructor will most likely require that you locate relevant materials in the library and cite those materials in your speech. In this section, we discuss the process of researching your topic and thesis.
Conducting research for a major informative speech can be a daunting task. In this section, we discuss a number of strategies and techniques that you can use to gather and organize source materials for your speech.
Gathering Materials
Gathering materials can be a daunting task. You may want to do some research before you choose a topic. Once you have a topic, you have many options for finding information. You can conduct interviews, write or call for information from a clearinghouse or public relations office, and consult books, magazines, journals, newspapers, television and radio programs, and government documents. The library will probably be your primary source of information. You can use many of the libraries databases or talk to a reference librarian to learn how to conduct efficient research.
Taking Notes
While doing your research, you may want to carry notecards. When you come across a useful passage, copy the source and the information onto the notecard or copy and paste the information. You should maintain a working bibliography as you research so you always know which sources you have consulted and so the process of writing citations into the speech and creating the bibliography will be easier. You'll need to determine what information-recording strategies work best for you. Talk to other students, instructors, and librarians to get tips on conducting efficient research. Spend time refining your system and you will soon be able to focus on the information instead of the record-keeping tasks.
Citing Sources Within Your Speech
Consult with your instructor to determine how much research/source information should be included in your speech. Realize that a source citation within your speech is defined as a reference to or quotation from material you have gathered during your research and an acknowledgement of the source. For example, within your speech you might say: "As John W. Bobbitt said in the December 22, 1993, edition of the Denver Post , 'Ouch!'" In this case, you have included a direct quotation and provided the source of the quotation. If you do not quote someone, you might say: "After the first week of the 1995 baseball season, attendance was down 13.5% from 1994. This statistic appeared in the May 7, 1995, edition of the Denver Post ." Whatever the case, whenever you use someone else's ideas, thoughts, or words, you must provide a source citation to give proper credit to the creator of the information. Failure to cite sources can be interpreted as plagiarism which is a serious offense. Upon review of the specific case, plagiarism can result in failure of the assignment, the course, or even dismissal from the University. Take care to cite your sources and give credit where it is due.
Creating Your Bibliography
As with all aspects of your speech, be sure to check with your instructor to get specific details about the assignment.
Generally, the bibliography includes only those sources you cited during the speech. Don't pad the bibliography with every source you read, saw on the shelf, or heard of from friends. When you create the bibliography, you should simply go through your complete sentence outline and list each source you cite. This is also a good way to check if you have included enough reference material within the speech. You will need to alphabetize the bibiography by authors last name and include the following information: author's name, article title, publication title, volume, date, page number(s). You may need to include additional information; you need to talk with your instructor to confirm the required bibliographical format.
Some Cautions
When doing research, use caution in choosing your sources. You need to determine which sources are more credible than others and attempt to use a wide variety of materials. The broader the scope of your research, the more impressive and believable your information. You should draw from different sources (e.g., a variety of magazines-- Time, Newsweek, US News & World Report, National Review, Mother Jones ) as well as different types of sources (i.e., use interviews, newspapers, periodicals, and books instead of just newspapers). The greater your variety, the more apparent your hard work and effort will be. Solid research skills result in increased credibility and effectiveness for the speaker.
Structuring an Informative Speech
Typically, informative speeches have three parts:
Introduction
In this section, we discuss the three parts of an informative speech, calling attention to specific elements that can enhance the effectiveness of your speech. As a speaker, you will want to create a clear structure for your speech. In this section, you will find discussions of the major parts of the informative speech.
The introduction sets the tone of the entire speech. The introduction should be brief and to-the-point as it accomplishes these several important tasks. Typically, there are six main components of an effective introduction:
Attention Getters
Thesis statement, audience adaptation, credibility statement, transition to the body.
As in any social situation, your audience makes strong assumptions about you during the first eight or ten seconds of your speech. For this reason, you need to start solidly and launch the topic clearly. Focus your efforts on completing these tasks and moving on to the real information (the body) of the speech. Typically, there are six main components of an effective introduction. These tasks do not have to be handled in this order, but this layout often yields the best results.
The attention-getter is designed to intrigue the audience members and to motivate them to listen attentively for the next several minutes. There are infinite possibilities for attention-getting devices. Some of the more common devices include using a story, a rhetorical question, or a quotation. While any of these devices can be effective, it is important for you to spend time strategizing, creating, and practicing the attention-getter.
Most importantly, an attention-getter should create curiosity in the minds of your listeners and convince them that the speech will be interesting and useful. The wording of your attention-getter should be refined and practiced. Be sure to consider the mood/tone of your speech; determine the appropriateness of humor, emotion, aggressiveness, etc. Not only should the words get the audiences attention, but your delivery should be smooth and confident to let the audience know that you are a skilled speaker who is prepared for this speech.
The crowd was wild. The music was booming. The sun was shining. The cash registers were ringing.
This story-like re-creation of the scene at a Farm Aid concert serves to engage the audience and causes them to think about the situation you are describing. Touching stories or stories that make audience members feel involved with the topic serve as good attention-getters. You should tell a story with feeling and deliver it directly to the audience instead of reading it off your notecards.
Example Text : One dark summer night in 1849, a young woman in her 20's left Bucktown, Maryland, and followed the North Star. What was her name? Harriet Tubman. She went back some 19 times to rescue her fellow slaves. And as James Blockson relates in a 1984 issue of National Geographic , by the end of her career, she had a $40,000.00 price on her head. This was quite a compliment from her enemies (Blockson 22).
Rhetorical Question
Rhetorical questions are questions designed to arouse curiosity without requiring an answer. Either the answer will be obvious, or if it isn't apparent, the question will arouse curiosity until the presentation provides the answer.
An example of a rhetorical question to gain the audiences attention for a speech about fly-fishing is, "Have you ever stood in a freezing river at 5 o'clock in the morning by choice?"
Example Text: Have you ever heard of a railroad with no tracks, with secret stations, and whose conductors were considered criminals?
A quotation from a famous person or from an expert on your topic can gain the attention of the audience. The use of a quotation immediately launches you into the speech and focuses the audience on your topic area. If it is from a well-known source, cite the author first. If the source is obscure, begin with the quote itself.
Example Text : "No day dawns for the slave, nor is it looked for. It is all night--night forever . . . ." (Pause) This quote was taken from Jermain Loguen, a fugitive who was the son of his Tennessee master and a slave woman.
Unusual Statement
Making a statement that is unusual to the ears of your listeners is another possibility for gaining their attention.
Example Text : "Follow the drinking gourd. That's what I said, friend, follow the drinking gourd." This phrase was used by slaves as a coded message to mean the Big Dipper, which revealed the North Star, and pointed toward freedom.
You might chose to use tasteful humor which relates to the topic as an effective way to attract the audience both to you and the subject at hand.
Example Text : "I'm feeling boxed in." [PAUSE] I'm not sure, but these may have been Henry "Box" Brown's very words after being placed on his head inside a box which measured 3 feet by 2 feet by 2 1\2 feet for what seemed to him like "an hour and a half." He was shipped by Adams Express to freedom in Philadelphia (Brown 60,92; Still 10).
Shocking Statistic
Another possibility to consider is the use of a factual statistic intended to grab your listener's attention. As you research the topic you've picked, keep your eyes open for statistics that will have impact.
Example Text : Today, John Elway's talents are worth millions, but in 1840 the price of a human life, a slave, was worth $1,000.00.
Example Text : Today I'd like to tell you about the Underground Railroad.
In your introduction, you need to adapt your speech to your audience. To keep audience members interested, tell them why your topic is important to them. To accomplish this task, you need to undertake audience analysis prior to creating the speech. Figure out who your audience members are, what things are important to them, what their biases may be, and what types of subjects/issues appeal to them. In the context of this class, some of your audience analysis is provided for you--most of your listeners are college students, so it is likely that they place some value on education, most of them are probably not bathing in money, and they live in Colorado. Consider these traits when you determine how to adapt to your audience.
As you research and write your speech, take note of references to issues that should be important to your audience. Include statements about aspects of your speech that you think will be of special interest to the audience in the introduction. By accomplishing this task, you give your listeners specific things with which they can identify. Audience adaptation will be included throughout the speech, but an effective introduction requires meaningful adaptation of the topic to the audience.
You need to find ways to get the members of your audience involved early in the speech. The following are some possible options to connect your speech to your audience:
Reference to the Occasion
Consider how the occasion itself might present an opportunity to heighten audience receptivity. Remind your listeners of an important date just passed or coming soon.
Example Text : This January will mark the 130th anniversary of a "giant interracial rally" organized by William Still which helped to end streetcar segregation in the city of Philadelphia (Katz i).
Reference to the Previous Speaker
Another possibility is to refer to a previous speaker to capitalize on the good will which already has been established or to build on the information presented.
Example Text : As Alice pointed out last week in her speech on the Olympic games of the ancient world, history can provide us with fascinating lessons.
The credibility statement establishes your qualifications as a speaker. You should come up with reasons why you are someone to listen to on this topic. Why do you have special knowledge or understanding of this topic? What can the audience learn from you that they couldn't learn from someone else? Credibility statements can refer to your extensive research on a topic, your life-long interest in an issue, your personal experience with a thing, or your desire to better the lives of your listeners by sifting through the topic and providing the crucial information.
Remember that Aristotle said that credibility, or ethos, consists of good sense, goodwill, and good moral character. Create the feeling that you possess these qualities by creatively stating that you are well-educated about the topic (good sense), that you want to help each member of the audience (goodwill), and that you are a decent person who can be trusted (good moral character). Once you establish your credibility, the audience is more likely to listen to you as something of an expert and to consider what you say to be the truth. It is often effective to include further references to your credibility throughout the speech by subtly referring to the traits mentioned above.
Show your listeners that you are qualified to speak by making a specific reference to a helpful resource. This is one way to demonstrate competence.
Example Text : In doing research for this topic, I came across an account written by one of these heroes that has deepened my understanding of the institution of slavery. Frederick Douglass', My Bondage and My Freedom, is the account of a man whose master's kindness made his slavery only more unbearable.
Your listeners want to believe that you have their best interests in mind. In the case of an informative speech, it is enough to assure them that this will be an interesting speech and that you, yourself, are enthusiastic about the topic.
Example Text : I hope you'll enjoy hearing about the heroism of the Underground Railroad as much as I have enjoyed preparing for this speech.
Preview the Main Points
The preview informs the audience about the speech's main points. You should preview every main body point and identify each as a separate piece of the body. The purpose of this preview is to let the audience members prepare themselves for the flow of the speech; therefore, you should word the preview clearly and concisely. Attempt to use parallel structure for each part of the preview and avoid delving into the main point; simply tell the audience what the main point will be about in general.
Use the preview to briefly establish your structure and then move on. Let the audience get a taste of how you will divide the topic and fulfill the thesis and then move on. This important tool will reinforce the information in the minds of your listeners. Here are two examples of a preview:
Simply identify the main points of the speech. Cover them in the same order that they will appear in the body of the presentation.
For example, the preview for a speech about kites organized topically might take this form: "First, I will inform you about the invention of the kite. Then, I will explain the evolution of the kite. Third, I will introduce you to the different types of kites. Finally, I will inform you about various uses for kites." Notice that this preview avoids digressions (e.g., listing the various uses for kites); you will take care of the deeper information within the body of the speech.
Example Text : I'll tell you about motivations and means of escape employed by fugitive slaves.
Chronological
For example, the preview for a speech about the Pony Express organized chronologically might take this form: "I'll talk about the Pony Express in three parts. First, its origins, second, its heyday, and third, how it came to an end." Notice that this preview avoids digressions (e.g., listing the reasons why the Pony Express came to an end); you will cover the deeper information within the body of the speech.
Example Text : I'll talk about it in three parts. First, its origins, second, its heyday, and third, how it came to an end.
After you accomplish the first five components of the introduction, you should make a clean transition to the body of the speech. Use this transition to signal a change and prepare the audience to begin processing specific topical information. You should round out the introduction, reinforce the excitement and interest that you created in the audience during the introduction, and slide into the first main body point.
Strategic organization helps increase the clarity and effectiveness of your speech. Four key issues are discussed in this section:
Organizational Patterns
Connective devices, references to outside research.
The body contains the bulk of information in your speech and needs to be clearly organized. Without clear organization, the audience will probably forget your information, main points, perhaps even your thesis. Some simple strategies will help you create a clear, memorable speech. Below are the four key issues used in organizing a speech.
Once you settle on a topic, you should decide which aspects of that topic are of greatest importance for your speech. These aspects become your main points. While there is no rule about how many main points should appear in the body of the speech, most students go with three main points. You must have at least two main points; aside from that rule, you should select your main points based on the importance of the information and the time limitations. Be sure to include whatever information is necessary for the audience to understand your topic. Also, be sure to synthesize the information so it fits into the assigned time frame. As you choose your main points, try to give each point equal attention within the speech. If you pick three main points, each point should take up roughly one-third of the body section of your speech.
There are four basic patterns of organization for an informative speech.
Chronological order
Spatial order
Causal order
Topical order
There are four basic patterns of organization for an informative speech. You can choose any of these patterns based on which pattern serves the needs of your speech.
Chronological Order
A speech organized chronologically has main points oriented toward time. For example, a speech about the Farm Aid benefit concert could have main points organized chronologically. The first main point focuses on the creation of the event; the second main point focuses on the planning stages; the third point focuses on the actual performance/concert; and the fourth point focuses on donations and assistance that resulted from the entire process. In this format, you discuss main points in an order that could be followed on a calendar or a clock.
Spatial Order
A speech organized spatially has main points oriented toward space or a directional pattern. The Farm Aid speech's body could be organized in spatial order. The first main point discusses the New York branch of the organization; the second main point discusses the Midwest branch; the third main point discusses the California branch of Farm Aid. In this format, you discuss main points in an order that could be traced on a map.
Causal Order
A speech organized causally has main points oriented toward cause and effect. The main points of a Farm Aid speech organized causally could look like this: the first main point informs about problems on farms and the need for monetary assistance; the second main point discusses the creation and implementation of the Farm Aid program. In this format, you discuss main points in an order that alerts the audience to a problem or circumstance and then tells the audience what action resulted from the original circumstance.
Topical Order
A speech organized topically has main points organized more randomly by sub-topics. The Farm Aid speech could be organized topically: the first main point discusses Farm Aid administrators; the second main point discusses performers; the third main point discusses sponsors; the fourth main point discusses audiences. In this format, you discuss main points in a more random order that labels specific aspects of the topic and addresses them in separate categories. Most speeches that are not organized chronologically, spatially, or causally are organized topically.
Within the body of your speech, you need clear internal structure. Connectives are devices used to create a clear flow between ideas and points within the body of your speech--they serve to tie the speech together. There are four main types of connective devices:
Transitions
Internal previews, internal summaries.
Within the body of your speech, you need clear internal structure. Think of connectives as hooks and ladders for the audience to use when moving from point-to-point within the body of your speech. These devices help re-focus the minds of audience members and remind them of which main point your information is supporting. The four main types of connective devices are:
Transitions are brief statements that tell the audience to shift gears between ideas. Transitions serve as the glue that holds the speech together and allow the audience to predict where the next portion of the speech will go. For example, once you have previewed your main points and you want to move from the introduction to the body of the Farm Aid speech, you might say: "To gain an adequate understanding of the intricacies of this philanthropic group, we need to look at some specific information about Farm Aid. We'll begin by looking at the administrative branch of this massive fund-raising organization."
Internal previews are used to preview the parts of a main point. Internal previews are more focused than, but serve the same purpose as, the preview you will use in the introduction of the speech. For example, you might create an internal preview for the complex main point dealing with Farm Aid performers: "In examining the Farm Aid performers, we must acknowledge the presence of entertainers from different genres of music--country and western, rhythm and blues, rock, and pop." The internal preview provides specific information for the audience if a main point is complex or potentially confusing.
Internal summaries are the reverse of internal previews. Internal summaries restate specific parts of a main point. To internally summarize the main point dealing with Farm Aid performers, you might say: "You now know what types of people perform at the Farm Aid benefit concerts. The entertainers come from a wide range of musical genres--country and western, rhythm and blues, rock, and pop." When using both internal previews and internal summaries, be sure to stylize the language in each so you do not become redundant.
Signposts are brief statements that remind the audience where you are within the speech. If you have a long point, you may want to remind the audience of what main point you are on: "Continuing my discussion of Farm Aid performers . . . "
When organizing the body of your speech, you will integrate several references to your research. The purpose of the informative speech is to allow you and the audience to learn something new about a topic. Additionally, source citations add credibility to your ideas. If you know a lot about rock climbing and you cite several sources who confirm your knowledge, the audience is likely to see you as a credible speaker who provides ample support for ideas.
Without these references, your speech is more like a story or a chance for you to say a few things you know. To complete this assignment satisfactorily, you must use source citations. Consult your textbook and instructor for specific information on how much supporting material you should use and about the appropriate style for source citations.
While the conclusion should be brief and tight, it has a few specific tasks to accomplish:
Re-assert/Reinforce the Thesis
Review the main points, close effectively.
Take a deep breath! If you made it to the conclusion, you are on the brink of finishing. Below are the tasks you should complete in your conclusion:
When making the transition to the conclusion, attempt to make clear distinctions (verbally and nonverbally) that you are now wrapping up the information and providing final comments about the topic. Refer back to the thesis from the introduction with wording that calls the original thesis into memory. Assert that you have accomplished the goals of your thesis statement and create the feeling that audience members who actively considered your information are now equipped with an understanding of your topic. Reinforce whatever mood/tone you chose for the speech and attempt to create a big picture of the speech.
Within the conclusion, re-state the main points of the speech. Since you have used parallel wording for your main points in the introduction and body, don't break that consistency in the conclusion. Frame the review so the audience will be reminded of the preview and the developed discussion of each main point. After the review, you may want to create a statement about why those main points fulfilled the goals of the speech.
Finish strongly. When you close your speech, craft statements that reinforce the message and leave the audience with a clear feeling about what was accomplished with your speech. You might finalize the adaptation by discussing the benefits of listening to the speech and explaining what you think audience members can do with the information.
Remember to maintain an informative tone for this speech. You should not persuade about beliefs or positions; rather, you should persuade the audience that the speech was worthwhile and useful. For greatest effect, create a closing line or paragraph that is artistic and effective. Much like the attention-getter, the closing line needs to be refined and practiced. Your close should stick with the audience and leave them interested in your topic. Take time to work on writing the close well and attempt to memorize it so you can directly address the audience and leave them thinking of you as a well-prepared, confident speaker.
Outlining an Informative Speech
Two types of outlines can help you prepare to deliver your speech. The complete sentence outline provides a useful means of checking the organization and content of your speech. The speaking outline is an essential aid for delivering your speech. In this section, we discuss both types of outlines.
Two types of outlines can help you prepare to deliver your speech. The complete sentence outline provides a useful means of checking the organization and content of your speech. The speaking outline is an essential aid for delivering your speech.
The Complete Sentence Outline
A complete sentence outline may not be required for your presentation. The following information is useful, however, in helping you prepare your speech.
The complete sentence outline helps you organize your material and thoughts and it serves as an excellent copy for editing the speech. The complete sentence outline is just what it sounds like: an outline format including every complete sentence (not fragments or keywords) that will be delivered during your speech.
Writing the Outline
You should create headings for the introduction, body, and conclusion and clearly signal shifts between these main speech parts on the outline. Use standard outline format. For instance, you can use Roman numerals, letters, and numbers to label the parts of the outline. Organize the information so the major headings contain general information and the sub-headings become more specific as they descend. Think of the outline as a funnel: you should make broad, general claims at the top of each part of the outline and then tighten the information until you have exhausted the point. Do this with each section of the outline. Be sure to consult with your instructor about specific aspects of the outline and refer to your course book for further information and examples.
Using the Outline
If you use this outline as it is designed to be used, you will benefit from it. You should start the outline well before your speech day and give yourself plenty of time to revise it. Attempt to have the final, clean copies ready two or three days ahead of time, so you can spend a day or two before your speech working on delivery. Prepare the outline as if it were a final term paper.
The Speaking Outline
Depending upon the assignment and the instructor, you may use a speaking outline during your presentation. The following information will be helpful in preparing your speech through the use of a speaking outline.
This outline should be on notecards and should be a bare bones outline taken from the complete sentence outline. Think of the speaking outline as train tracks to guide you through the speech.
Many speakers find it helpful to highlight certain words/passages or to use different colors for different parts of the speech. You will probably want to write out long or cumbersome quotations along with your source citation. Many times, the hardest passages to learn are those you did not write but were spoken by someone else. Avoid the temptation to over-do the speaking outline; many speakers write too much on the cards and their grades suffer because they read from the cards.
The best strategy for becoming comfortable with a speaking outline is preparation. You should prepare well ahead of time and spend time working with the notecards and memorizing key sections of your speech (the introduction and conclusion, in particular). Try to become comfortable with the extemporaneous style of speaking. You should be able to look at a few keywords on your outline and deliver eloquent sentences because you are so familiar with your material. You should spend approximately 80% of your speech making eye-contact with your audience.
Delivering an Informative Speech
For many speakers, delivery is the most intimidating aspect of public speaking. Although there is no known cure for nervousness, you can make yourself much more comfortable by following a few basic delivery guidelines. In this section, we discuss those guidelines.
The Five-Step Method for Improving Delivery
Read aloud your full-sentence outline. Listen to what you are saying and adjust your language to achieve a good, clear, simple sentence structure.
Practice the speech repeatedly from the speaking outline. Become comfortable with your keywords to the point that what you say takes the form of an easy, natural conversation.
Practice the speech aloud...rehearse it until you are confident you have mastered the ideas you want to present. Do not be concerned about "getting it just right." Once you know the content, you will find the way that is most comfortable for you.
Practice in front of a mirror, tape record your practice, and/or present your speech to a friend. You are looking for feedback on rate of delivery, volume, pitch, non-verbal cues (gestures, card-usage, etc.), and eye-contact.
Do a dress rehearsal of the speech under conditions as close as possible to those of the actual speech. Practice the speech a day or two before in a classroom. Be sure to incorporate as many elements as possible in the dress rehearsal...especially visual aids.
It should be clear that coping with anxiety over delivering a speech requires significant advanced preparation. The speech needs to be completed several days beforehand so that you can effectively employ this five-step plan.
Anderson, Thad, & Ron Tajchman. (1994). Informative Speaking. Writing@CSU . Colorado State University. https://writing.colostate.edu/guides/guide.cfm?guideid=52

Learning Objectives
Define Informative Speaking
Identify Types of Informative Speeches
Explain guidelines for Developing an Informative Speech
Has someone provided you information and afterward you thought, "what were they talking about?" or "why does this matter to me?" We, too, have found ourselves dazed and confused after an informational presentation or an exchange in a meeting.
"What?" we ask ourselves, often in response to information that: a) we already knew, b) is confusingly presented, or c) doesn't seem applicable to us. In these instances, the information was ineffectively presented. Perhaps it wasn't clear. Perhaps it was disorganized. Perhaps it was not adapted to meet you as the recipient.
Gathering and understanding new information is a part of becoming critical thinkers, so effective information sharing through informative speaking can be a powerful and important tool. In this chapter, we chart informative speaking and provide guidelines for approaching and preparing an informative speech. Let's start with the purpose and goal.
What is an Informative Speech?
The purpose of an informative speech is to share information that: a) increases audience understanding around a topic, b) provides an alternative, and/or c) raises awareness. You might, for example, give an informative speech that raises awareness about the increase in Kansas tornadoes over the past 15 years. Alternatively, you may increase your audience's understanding about your city's housing code changes. In each of these examples, you are selecting a topic and relevant content that would be useful for the audience to know.
Basically, an informative speech conveys knowledge— a task that every person engages in every day in some form or another. Whether giving someone who is lost directions, explaining the specials of the day as a server, or describing the plot of a movie to friends, people engage in daily forms of information sharing. When done well, information can provide a new perspective or increase our knowledge around a topic.
Despite the everyday nature of information sharing, approaching an informative speech can be slightly daunting. As the speaker, you are responsible for identifying an argument that is worthwhile—and in the age of globalization and access to digital information, there's a lot of stuff to sort through and choose from.
The key to an effective informative speech is identifying what information your audience needs. Why, for example, would it be important for your audience to know about major climate changes in Kansas? Does the audience already know? Would it benefit them? Remember that all information may not be relevant to all audiences. You may decide that sharing the city's changes to housing codes isn't particularly useful for an audience that doesn't reside in the affected neighborhoods. In other words: information is not equal in all contexts, so your job as a speaker is to advocate for meaningful, teachable content. When you select that content to share with an audience – an action that can provide alternatives and expand viewpoints—you are advocating for the relevance and timeliness of that informative topic.
Through information sharing, however, you are not taking a particular side or providing the audience with a call to action. While informative speeches advocate for novel ideas, they do not explicitly attempt to convince the audience that one thing is better than another—it doesn't attempt to persuade (which we'll cover in the next chapter). This can be a tricky distinction and one that you should attend to. Even if you are informing the audience about differences in views on controversial topics, you should simply and clearly explain each side of the issue.
Understanding the types of informative speeches may help as you work on selecting information that doesn't persuade.
"Can't We Find all the Information We Need on the Internet?
  We often hear, "If we can find anything on the Internet now, why bother to give an informative speech?" The answer lies in the unique relationship between audience and speaker found in the public speaking context. The speaker can choose to present information that is of most value to the audience.
Secondly, the speaker is not just overloading the audience with data. As we have mentioned before, that's not really a good idea because audiences cannot remember great amounts of data and facts after listening. The focus of the content is what matters. This is where the specific purpose and central idea come into play.
Third, although we have stressed that the informative speech is fact-based and does not have the purpose of persuasion, information still has an indirect effect on someone. If a classmate gives a speech on correctly using the Heimlich Maneuver to help a choking victim, the side effect (and probably desired result) is that the audience would use it when confronted with the situation.
Types of Informative Speeches
Understanding types of informative speech that you will give can help you to figure out the best way to organize, research, and prepare. While the topics to choose for informative speeches are nearly limitless, they can generally be pared down into four broad types: description, definition, explanation, or demonstration.
Speeches that Describe
Speeches of description provide a clear, vivid, and memorable picture of a person, place, thing, idea, or alternative. In this category, your goal is to effectively describe your topic in ways that allow the audience to visualize that idea. Put differently: you place the audience in the scene of the topic.
Suppose you are an archaeologist (some of you likely are). This approach would be appropriate if you wanted to highlight a recent discovery in your field – you might describe a key finding from a dig site that advances the scientific perspective on evolution. The speech would attempt to place the audience at the dig site by describing how the finding was uncovered, the artifact itself, etc. Describing information can help simplify content for an audience that is unfamiliar with an archaeological perspective.
If you opt to provide information to an audience about alternatives, describing the differences in each alternative can be an effective application of descriptive speeches. June, for example, is celebrated as LGBTQ Pride month throughout the United States. After doing research and brainstorming, you may realize that there are a plethora of Pride events and gatherings throughout your city, and you want to provide your audience with that information. Describing the different venues and events might allow audiences to understand what each alternative event experience might provide.
For any topic that you approach descriptively, ask yourself:
Have I effectively described this idea for an audience that may be unfamiliar with the information?
Can I revisit the language and be more vivid?
Am I describing information that's related to my thesis statement?
How can I use descriptive language that intrigues the audiences and relates this information to their lives?
Speeches that Define
Definitional speeches provide the meaning of an idea to the audience. Definitional speeches are helpful to clarify or simplify concepts, theories, or ideas that an audience may be otherwise unfamiliar.
For example, one of our authors has the tattoo "advocate feminism."
"What does that mean?" she's often asked. If we take a definitional approach, she would work to define and outline feminism, perhaps by providing the origin of the word or defining different feminist movements. While "advocate feminism" may appear persuasive, definitional informative speeches allow speakers to identify components of an idea that are based in information-sharing rather than asking the audience to change their perspective.
A common approach to selecting a definitional speech topic is to trace the history or origin of an idea (like feminism), an object, person, or theory.
If you're a mathematician, for example, you might opt for a definitional speech that focuses on a contemporary mathematical theory. Because the perspective may seem abstract, a definitional approach can simply that abstraction by defining what it is for the audience.
For any topic that takes a definitional approach, ask:
Have I provided definitional support in a way that's clear to my audience?
Have I defined all key parts of my topic? Have I over-defined? (In other words, is my speech just a list of definitions?)
Is my speech too abstract? Have I provided examples and placed these definitions in contexts that my audience can connect with?
Speeches that Explain
Speeches of explanation detail processes or how something works, often explaining an otherwise complex, abstract, or unfamiliar idea to the audience. This approach is common in industry-settings or professional contexts where a speaker needs to explain the process, data, or results of a study or program.
Explanatory speeches provide audiences with a behind-the-scenes look at information. Interested in philosophy? An explanatory speech may be appropriate to help audiences wade through a current philosophical perspective that you find fascinating. Interested in the United States criminal justice system? You could report on current body camera policies.
Teaching is a great example of explanatory speeches because teachers regularly explain assignments, protocols, policies, rubrics, etc. A teacher's main goal is to clarify expectations by using language that's appropriate to the audience—their students!
Think back to our opening topic example about changes in city codes around housing. An explanatory approach would work to explain how those changes occurred, detail the code changes to the audience, and/or explain how the changes would affect their neighborhoods.
For explanatory speech topics, ask yourself:
Have I effectively explained all components of the topic?
Are my explanations effectively translated to the audience and context?
Do my explanations detail how and why this information is relevant to the audience?
Speeches that Demonstrate
Speeches of demonstration are, well, you guessed it: speeches that demonstrate how something is done for the audience. These can be fun because they allow you to teach the audience something cool and interesting.
Demonstration speeches are commonly called "how to" speeches because they show the audience how to do something. These speeches require you to provide steps that will help your audience understand how to accomplish a specific task or process—bake cookies, for example. After a speech on how to verify information that's found on memes, for example, the audience members could probably do it on their own.
However, these speeches can be tricky because a) the audience may be familiar with your demonstration, or b) the limited time can constrain what you're able to demonstrate. If you want to demonstrate how to bake cookies, for example, your audience may be familiar with that process. The demonstration may lack uniqueness or novelty, especially if audiences are more confident turning on YouTube. It may also be difficult to provide all the necessary steps in the space or context that you're speaking. If you're an experienced baker, you may know that determining when the cookies are done can be a difficult part of the process, but your classroom space likely doesn't facilitate the inclusion of that step.
Ask yourself:
Does this information require a demonstration (i.e. is a demonstrative speech the best approach)?
Am I able to outline all the steps in the time provided?
Have I adequately outlined all the steps?
What materials do I need to bring to guarantee the success of the demonstration in the space that I've been given to speak?
Section Summary
While we have provided categories to assist in understanding types of informative speeches, your topic may require adopting tactics from more than one approach.
Consider "recidivism" in the criminal justice system – the likelihood for a person to re-offend after being convicted of a crime. If you were interested in informing your audience about recidivism, you would likely need to define recidivism – a term that may be unfamiliar to some – and explain how recidivism occurs in the context of the prison system. Alternatively, you could take a descriptive approach – after defining recidivism – and describe one person's experience going through the system.
As you begin to develop your topic, these 4 types of informative speeches can help direct your preparation and identify your specific purpose statement. Your goal, in general, is to inform, but your specific purpose will be to define, demonstrate, explain, and/or describe.
Guidelines for Selecting and Developing Your Informative Speech
Now that you have a better understanding of the informative speech types, let's talk specifically about developing your own informative speech: from topic selection through a completed outline.
We know what you're thinking: "We've already covered how to select, write, and organize arguments." While, yes, we did discuss general approaches to these processes in Part 2 on arguments, a refresher always helps. Below, we focus on guidelines for developing your informative speeches, specifically.
Pick a Focused and Unique Topic
First, pick an informative topic that is narrow and novel. Your speech emanates and builds from your topic, and your goal should be picking a thesis statement that is focused and unique to your audience.
A large misconception about informative speeches is that bigger and broader is better. Oftentimes, topics that are super broad happen for two reasons:
As the speaker, you believe that a broader topic will require less research. You might believe that you can brainstorm and research 5 minutes of information on a topic quickly, but if you investigate the topic, that research is often overwhelming because of the breadth of information. For example, suppose that you selected "to describe the Civil War for my audience" as your specific purpose. The Civil War was, conservatively speaking, four years long, resulted in over 750,000 casualties, and arguably changed the course of human history. A typical college library has hundreds of books dealing with the Civil War. It's a myth, then, that broader topics mean less research. (Also: research is cool, so try to hone your research skills, not avoid them.)
The speaker uses their first topic idea or concept that seems interesting. When you find a topic that sparks your interest, it's tempting to keep that idea as-is. You may want to select the Civil War because you're interested in learning more about a key moment in U.S. history. Great! We encourage you to research, learn, and explore – but it's unlikely that you have time to cover all facets of the topic with any depth. It's OK to use the first topic that sparks your interest, but it's likely that the topic will be too broad.
Instead, limit and narrow your topic. "How do we do that?" you might be wondering.
Like we mentioned in Chapter 3, brainstorming will allow you to map what information you already know about an argument or topic.
The questions in Figure 12.2 can aid you in narrowing your topic and identifying an insight that's unique to your audience. We often refer to this as the " funnel approach " – or starting broad and moving downward to a more specific idea. The Civil War is a broad, umbrella topic, and you could use research and the lateral approach (as introduced in Chapter 4) to funnel toward, for example, focusing on a key person that's often left out of history.
While all the questions in Figure 12.2 are important, the last question – "is this information unique to my audience?" – is key. Think about "unique" topics in two ways:
A topic is unique if the audience is unfamiliar with the idea. You may, for example, inform your audience about a new Climate Change technology that a local non-profit was launching. In this case, the entire topic is unique and the audience will learn something new. They're unfamiliar with the tech.
Second, a topic is unique if it provides novelty. There are times when your audience will know about the topic generally, but that doesn't automatically eliminate that idea; instead, ask: can I provide or approach this topic in a new or unfamiliar way? For example, "organ donation" is a common informative speech topic, but it often lacks novelty because speakers include general information that is already known by the audience. That doesn't prohibit "organ donation" as a topic, but it means speakers should approach the topic by finding information that is novel and fresh.
Let's talk through an extended example. Malcolm Gladwell (2019) in his podcast, "Revisionist History," provides an interesting informative perspective about the Boston Tea Party. At first glance, "Boston Tea Party" seems pretty broad for a topic, and it's likely that many of Gladwell's audience is already familiar with the Boston Tea Party, so the idea appears too big and lacking novelty. Gladwell, however, narrows the topic by focusing on smuggling practices that facilitated the event. We won't spoil the episode, but he masterfully narrows down a broad idea to provide listeners with a fresh and unfamiliar perspective.
Pick a Clear Structure
After selecting a topic, you'll begin expanding your informative argument, identifying an organizational pattern, and writing the outline. As you begin a working outline, the structure will play an important role in writing a successful speech. By structure, we mean 3 things: the outline structure, the argument structure, and the citation structure. Pay attention to all 3 during the speech development stage.
Organizational Structure
First, ask yourself, "what organizational pattern fits my specific purpose and/or working thesis statement?"
For topics that are broad, the information may be applicable to any of the organizational patterns that we outlined in Chapter 6. If your information is easily manipulated into multiple organizational patterns, we'd suggest asking, "can I make this more focused?" or, "how do I want to present this information?"
If you're confident in your working thesis statement, begin to gather information and research. As you do, think about how that information might fit into organizational patterns and how those patterns provide opportunities or constraints for your topic.
Consider our opening example about housing code changes in a city. You could approach this chronologically and map the linear progression of changes to the city code. Alternatively, you could use a categorical pattern and compare how the housing codes will affect different neighborhoods. These are both possibilities – it just depends on the kind of story you want to tell the audience.
Argument Structure
Working on a clear structure doesn't stop with the organizational pattern, however. Be attuned to the argument structure within your main points.
Even with informative speeches, claims, evidence, and warrants should still be integrated. For example, one main point on a demonstrative baking speech might read:
Claim: Bake cookies for approximately 10 minutes for chewy yet crunchy cookies.
Evidence : In 2019, Stacy Smith of Bakers Forever tested different times for baking cookies, finding that 10 minutes was the sweet spot.
Warrant : A reputable baker, Stacy's research does the work for us! Rather than open the oven every few seconds, we can be confident that a 10-minute cookie will result in the perfect consistency.
Warrants can play a particularly important role in an informative speech. A warrant – or connection between the claim and evidence – isn't always persuasive. Instead, utilize warrants to detail why that information should matter for the audience. If it's helpful, you can think of the warrant as the link between the claim, evidence, and audience .
Being clear in your argument structure can also aid in narrowing your topic. It's common for informative speakers to realize, "Woah! I have way too many claims here. I need to add more supporting materials and explanations, but I won't have time. I need to narrow this topic down."
As you work on your outline, it's imperative that your claims are accompanied by their appropriate argumentative companions: evidence and warrants.
Citation Structure
Finally, citations – both written and spoken – are part of a clear informative speech structure.
As you strengthen your ability to write arguments, continue to integrate proper references. Ask yourself: "Have I given credit to this evidence in the outline and reference page?" "Have I rehearsed my oral citations?"
Part of answering these questions is being appraised of the proper citation structure that's required – APA, or MLA, for example. If you aren't properly integrating that structure, you aren't properly citing the research that supports your topic.
Provide Accurate, Clear, and Interesting Information
A good informative speech conveys accurate information to the audience in a way that is clear and that keeps the listener interested in the topic. Achieving all three of these goals—accuracy, clarity, and interest—is the key to being an effective speaker. If information is inaccurate, unclear, or uninteresting, it will be of limited usefulness to the audience.
Part of being accurate is making sure that your information is current. Even if you know a great deal about your topic, you will need to verify the accuracy and completeness of what you know, especially if it is medical or scientific information. Most people understand that technology changes rapidly, so you need to update your information almost constantly. The same is true for topics that, on the surface, may seem to require less updating. For example, the Civil War occurred over 150 years ago, but contemporary research still offers new and emerging theories about the causes of the war and key individuals who may have been left out of common history books. Even with a topic that seems to be unchanging, carefully check the information to be sure it's accurate and up to date.
Second, be clear. Like we've discussed, make sure you're avoiding jargon or complicated information that the audience may not understand. Remember that informative speeches are meant to increase the audience's understanding, and if the language, evidence, or examples are too complex, it's unlikely to achieve that goal.
Third, be interesting! What defines "interesting?" In approaching the informative speech, you should keep in mind the overall principle that the audience is asking, "what's in it for me?" The audience is either consciously or unconsciously wondering "What's in this topic for me? How can I use this information? Of what value is this speech content to me? Why should I listen to it?" A good way to answer this question for others is to answer it for yourself. Why do you find your topic interesting? Work outward from there. You might consider it one of the jobs of the introduction to directly or indirectly answer this question. If you can't, then you need to think about your topic and why you are addressing it. If it's only because the topic is interesting to you, you are missing the point.
Accuracy, clarity, and interest are incredibly important. It can be tempting to approach informative speaking with the attitude that "I'm just reporting facts that other people have stated," but we want to minimize that approach. You are gathering information and crafting an interesting narrative around the importance of that idea – that's a difficult but worthwhile skill.
Remember the 3 C's: Constitutive, Contextual, Cultural
Finally, when developing your informative speech, ask yourself, am I representing information in ways that acknowledge that communication is constitutive, contextual, and cultural?
It's common to believe that reporting knowledge or "facts" could never result in unethical communication or representations. After all, it's not persuasive! But information sharing is not neutral, even in informative speaking, so we must consider how our communication represents others.
You may decide, for example, to provide your audience with information on a cultural practice that differs from their own, and that can be great! However, if you aren't part of that culture, be careful in how you represent those practices to others and work to avoid appropriating or reducing complex cultural beliefs or practices.
In sum, your speeches are part of world-making. The language that you use to describe, define, explain, or demonstrate an idea is impactful to your audience.
Learning how to give informative speeches will serve you well in your college career and your future work. Keep in mind the principles in this chapter but also those of the previous chapters: relating to the informational needs of the audience, using clear structure, and incorporating interesting and attention-getting supporting evidence.
Speak Out, Call In: Public Speaking as Advocacy Copyright © 2019 by Meggie Mapes is licensed under a Creative Commons Attribution-NonCommercial-ShareAlike 4.0 International License , except where otherwise noted.
Share This Book