Dissertations and major projects
Planning your dissertation
Introduction
Doing the research
Methodology, thinking about structure, working with your supervisor.
Managing your data
Writing up your dissertation
Useful links for dissertations and major projects
Study Advice Helping students to achieve study success with guides, video tutorials, seminars and one-to-one advice sessions.
Maths Support A guide to Maths Support resources which may help if you're finding any mathematical or statistical topic difficult during the transition to University study.
Academic writing LibGuide Expert guidance on punctuation, grammar, writing style and proof-reading.
Guide to citing references Includes guidance on why, when and how to use references correctly in your academic writing.
The Final Chapter An excellent guide from the University of Leeds on all aspects of research projects
Royal Literary Fund: Writing a Literature Review A guide to writing literature reviews from the Royal Literary Fund
Academic Phrasebank Use this site for examples of linking phrases and ways to refer to sources.
The research process for a dissertation or project is substantial and takes time. You will need to think about what you have to find out in order to answer your research question, and where and when you can find this information. As you gather your research, keep returning to your research question to check what you are doing is relevant.
This page gives advice on keeping on track during your research by using your plan, your method or research process, your structure, and your supervisor.
The kinds of research you will need to do will depend on your research question. You will usually need to survey existing literature to get an overview of the knowledge that has been gained so far on the topic; this will inform your own research and your interpretations. You may also decide to do:
- primary research (conducting your own experiments, surveys etc to gain new knowledge)
- secondary research (collating knowledge from other people's research to produce a new synthesis).
You may need to do either or both.
Primary research
If you are doing qualitative or quantitative research, or experiments, start on these as soon as you can. Gathering data takes a lot of time. People are often too busy to participate in interviews or fill out questionnaires and you might need to find extra participants to make up your sample. Scientific experiments may take longer than you anticipate especially if they require ethical clearance, special equipment, or learning new methods.
Design and plan your data collection methods – check them with your supervisor and see if they fit with your methodology.
Identify and plan for any ethical issues with collecting your data.
Do a test or pilot questionnaire as soon as possible so you can make changes if necessary.
Identify your sample size and control groups.
Have a contingency plan if not everyone is willing to participate.
Keep good records – number and store any evidence – don't throw anything out until you graduate! See our advice on Managing your data in this guide for more suggestions.
The key to effective secondary research is to keep it under control, and to take an approach which will make your reading and your notes meaningful first time round.
Start small with one main text and build up.
Once you have an overview, formulate some sub-questions which will help answer your main dissertation question.
Look for the answers to these questions.
Do more reading to fill in the gaps.
Keep thinking, and analysing the relevance of the information as you go along.
But be aware of your work schedule – you can't read everything, so be selective.
If you need help, consult your Academic Liaison Librarian - they may know about materials you hadn't thought of.
Literature searching A guide to finding articles, books and other materials on your subject
Doing your literature search - University of Reading Two short videos from the Library on planning and doing a literature search
Doing your literature review (video) Watch this brief video tutorial for more on the topic.
Doing your literature review (transcript) Read along while watching the video tutorial.
Contact your Academic Liaison Librarian
Methodology means being aware of the way in which you do something and being able to justify why you did it that way. Each academic discipline has a number of different sets of methods for conducting research.
For example: One method of conducting qualitative research is semi-structured interviews, another method is case studies – each are appropriate for finding different levels and types of information.
The method you choose will be the model for how you go about your research:
Why is the method you chose the most appropriate way of finding an answer to your research question?
Are there any other methods you might have used…why didn't you choose them?
Throughout your dissertation be aware of the decisions you make and note them down explaining why you made them:
Did you change your plans when you encountered a problem?
Did you have to adjust sample size, questions, approach?
This awareness of why you did your research in a certain way and your ability to explain and justify these choices is a vital part of your dissertation.
Do bear in mind that no structure, title or question is set in stone until you submit your completed work. If you find a more interesting or productive way to discuss your topic, don't be afraid to change your structure - providing you have time to do any extra work.
Structuring your dissertation (video) Watch this brief video tutorial for more on the topic.
Structuring your dissertation (transcript) Read along while watching the video tutorial.
Have some specific questions to ask your supervisor: These can be general like "How can I narrow down my question?" or more detailed such as "Am I interpreting this result correctly?"
If you are unsure of an idea or approach, don't be afraid to talk it through with your supervisor – that's what they're there for! Just explaining it to someone else can help sort out your own thinking.
It is easier for supervisors to give advice on a specific piece of work, so bring your research proposal, or chapter draft, to the meetings – your supervisor might not have time to read it all, so highlight places you'd like feedback on.
It's worth taking the advice of your supervisor seriously. You may have a strong idea of what you want to do in your dissertation, but your supervisor has academic experience and often knows what will and won't work. If you explain your ideas and are polite and enthusiastic, your supervisor can be a great sounding board and source of expert information.
<< Previous: Planning your dissertation
Next: Managing your data >>
Last Updated: Aug 22, 2023 4:52 PM
URL: https://libguides.reading.ac.uk/dissertations
How To Write A Dissertation Or Thesis
8 straightforward steps to craft an a-grade dissertation.
By: Derek Jansen (MBA) Expert Reviewed By: Dr Eunice Rautenbach | June 2020
Writing a dissertation or thesis is not a simple task. It takes time, energy and a lot of will power to get you across the finish line. It's not easy – but it doesn't necessarily need to be a painful process. If you understand the big-picture process of how to write a dissertation or thesis, your research journey will be a lot smoother.  
In this post, I'm going to outline the big-picture process of how to write a high-quality dissertation or thesis, without losing your mind along the way. If you're just starting your research, this post is perfect for you. Alternatively, if you've already submitted your proposal, this article which covers how to structure a dissertation might be more helpful.
How To Write A Dissertation: 8 Steps
Clearly understand what a dissertation (or thesis) is
Find a unique and valuable research topic
Craft a convincing research proposal
Write up a strong introduction chapter
Review the existing literature and compile a literature review
Design a rigorous research strategy and undertake your own research
Present the findings of your research
Draw a conclusion and discuss the implications
Step 1: Understand exactly what a dissertation is
This probably sounds like a no-brainer, but all too often, students come to us for help with their research and the underlying issue is that they don't fully understand what a dissertation (or thesis) actually is.
So, what is a dissertation?
At its simplest, a dissertation or thesis is a formal piece of research , reflecting the standard research process . But what is the standard research process, you ask? The research process involves 4 key steps:
Ask a very specific, well-articulated question (s) (your research topic)
See what other researchers have said about it (if they've already answered it)
If they haven't answered it adequately, undertake your own data collection and analysis in a scientifically rigorous fashion
Answer your original question(s), based on your analysis findings
In short, the research process is simply about asking and answering questions in a systematic fashion . This probably sounds pretty obvious, but people often think they've done "research", when in fact what they have done is:
Started with a vague, poorly articulated question
Not taken the time to see what research has already been done regarding the question
Collected data and opinions that support their gut and undertaken a flimsy analysis
Drawn a shaky conclusion, based on that analysis
If you want to see the perfect example of this in action, look out for the next Facebook post where someone claims they've done "research"… All too often, people consider reading a few blog posts to constitute research. Its no surprise then that what they end up with is an opinion piece, not research. Okay, okay – I'll climb off my soapbox now.
The key takeaway here is that a dissertation (or thesis) is a formal piece of research, reflecting the research process. It's not an opinion piece , nor a place to push your agenda or try to convince someone of your position. Writing a good dissertation involves asking a question and taking a systematic, rigorous approach to answering it.
If you understand this and are comfortable leaving your opinions or preconceived ideas at the door, you're already off to a good start!
Step 2: Find a unique, valuable research topic
As we saw, the first step of the research process is to ask a specific, well-articulated question. In other words, you need to find a research topic that asks a specific question or set of questions (these are called research questions ). Sounds easy enough, right? All you've got to do is identify a question or two and you've got a winning research topic. Well, not quite…
A good dissertation or thesis topic has a few important attributes. Specifically, a solid research topic should be:
Let's take a closer look at these:
Attribute #1: Clear
Your research topic needs to be crystal clear about what you're planning to research, what you want to know, and within what context. There shouldn't be any ambiguity or vagueness about what you'll research.
Here's an example of a clearly articulated research topic:
An analysis of consumer-based factors influencing organisational trust in British low-cost online equity brokerage firms.
As you can see in the example, its crystal clear what will be analysed (factors impacting organisational trust), amongst who (consumers) and in what context (British low-cost equity brokerage firms, based online).
Need a helping hand?
Attribute #2:   Unique
Your research should be asking a question(s) that hasn't been asked before, or that hasn't been asked in a specific context (for example, in a specific country or industry).
For example, sticking organisational trust topic above, it's quite likely that organisational trust factors in the UK have been investigated before, but the context (online low-cost equity brokerages) could make this research unique. Therefore, the context makes this research original.
One caveat when using context as the basis for originality – you need to have a good reason to suspect that your findings in this context might be different from the existing research – otherwise, there's no reason to warrant researching it.
Attribute #3: Important
Simply asking a unique or original question is not enough – the question needs to create value. In other words, successfully answering your research questions should provide some value to the field of research or the industry. You can't research something just to satisfy your curiosity. It needs to make some form of contribution either to research or industry.
For example, researching the factors influencing consumer trust would create value by enabling businesses to tailor their operations and marketing to leverage factors that promote trust. In other words, it would have a clear benefit to industry.
So, how do you go about finding a unique and valuable research topic? We explain that in detail in this video post – How To Find A Research Topic . Yeah, we've got you covered 😊
Step 3: Write a convincing research proposal
Once you've pinned down a high-quality research topic, the next step is to convince your university to let you research it. No matter how awesome you think your topic is, it still needs to get the rubber stamp before you can move forward with your research. The research proposal is the tool you'll use for this job.
So, what's in a research proposal?
The main "job" of a research proposal is to convince your university, advisor or committee that your research topic is worthy of approval. But convince them of what? Well, this varies from university to university, but generally, they want to see that:
You have a clearly articulated, unique and important topic (this might sound familiar…)
You've done some initial reading of the existing literature relevant to your topic (i.e. a literature review)
You have a provisional plan in terms of how you will collect data and analyse it (i.e. a methodology)
At the proposal stage, it's (generally) not expected that you've extensively reviewed the existing literature , but you will need to show that you've done enough reading to identify a clear gap for original (unique) research. Similarly, they generally don't expect that you have a rock-solid research methodology mapped out, but you should have an idea of whether you'll be undertaking qualitative or quantitative analysis , and how you'll collect your data (we'll discuss this in more detail later).
Long story short – don't stress about having every detail of your research meticulously thought out at the proposal stage – this will develop as you progress through your research. However, you do need to show that you've "done your homework" and that your research is worthy of approval .
So, how do you go about crafting a high-quality, convincing proposal? We cover that in detail in this video post – How To Write A Top-Class Research Proposal . We've also got a video walkthrough of two proposal examples here .
Step 4: Craft a strong introduction chapter
Once your proposal's been approved, its time to get writing your actual dissertation or thesis! The good news is that if you put the time into crafting a high-quality proposal, you've already got a head start on your first three chapters – introduction, literature review and methodology – as you can use your proposal as the basis for these.
Handy sidenote – our free dissertation & thesis template is a great way to speed up your dissertation writing journey.
What's the introduction chapter all about?
The purpose of the introduction chapter is to set the scene for your research (dare I say, to introduce it…) so that the reader understands what you'll be researching and why it's important. In other words, it covers the same ground as the research proposal in that it justifies your research topic.
What goes into the introduction chapter?
This can vary slightly between universities and degrees, but generally, the introduction chapter will include the following:
A brief background to the study, explaining the overall area of research
A problem statement , explaining what the problem is with the current state of research (in other words, where the knowledge gap exists)
Your research questions – in other words, the specific questions your study will seek to answer (based on the knowledge gap)
The significance of your study – in other words, why it's important and how its findings will be useful in the world
As you can see, this all about explaining the "what" and the "why" of your research (as opposed to the "how"). So, your introduction chapter is basically the salesman of your study, "selling" your research to the first-time reader and (hopefully) getting them interested to read more.
How do I write the introduction chapter, you ask? We cover that in detail in this post .
Step 5: Undertake an in-depth literature review
As I mentioned earlier, you'll need to do some initial review of the literature in Steps 2 and 3 to find your research gap and craft a convincing research proposal – but that's just scratching the surface. Once you reach the literature review stage of your dissertation or thesis, you need to dig a lot deeper into the existing research and write up a comprehensive literature review chapter.
What's the literature review all about?
There are two main stages in the literature review process:
Literature Review Step 1: Reading up
The first stage is for you to deep dive into the existing literature (journal articles, textbook chapters, industry reports, etc) to gain an in-depth understanding of the current state of research regarding your topic. While you don't need to read every single article, you do need to ensure that you cover all literature that is related to your core research questions, and create a comprehensive catalogue of that literature , which you'll use in the next step.
Reading and digesting all the relevant literature is a time consuming and intellectually demanding process. Many students underestimate just how much work goes into this step, so make sure that you allocate a good amount of time for this when planning out your research. Thankfully, there are ways to fast track the process – be sure to check out this article covering how to read journal articles quickly .
Literature Review Step 2: Writing up
Once you've worked through the literature and digested it all, you'll need to write up your literature review chapter. Many students make the mistake of thinking that the literature review chapter is simply a summary of what other researchers have said. While this is partly true, a literature review is much more than just a summary. To pull off a good literature review chapter, you'll need to achieve at least 3 things:
You need to synthesise the existing research , not just summarise it. In other words, you need to show how different pieces of theory fit together, what's agreed on by researchers, what's not.
You need to highlight a research gap that your research is going to fill. In other words, you've got to outline the problem so that your research topic can provide a solution.
You need to use the existing research to inform your methodology and approach to your own research design. For example, you might use questions or Likert scales from previous studies in your your own survey design .
As you can see, a good literature review is more than just a summary of the published research. It's the foundation on which your own research is built, so it deserves a lot of love and attention. Take the time to craft a comprehensive literature review with a suitable structure .
But, how do I actually write the literature review chapter, you ask? We cover that in detail in this video post .
Step 6: Carry out your own research
Once you've completed your literature review and have a sound understanding of the existing research, its time to develop your own research (finally!). You'll design this research specifically so that you can find the answers to your unique research question.
There are two steps here – designing your research strategy and executing on it:
1 – Design your research strategy
The first step is to design your research strategy and craft a methodology chapter . I won't get into the technicalities of the methodology chapter here, but in simple terms, this chapter is about explaining the "how" of your research. If you recall, the introduction and literature review chapters discussed the "what" and the "why", so it makes sense that the next point to cover is the "how" –that's what the methodology chapter is all about.
In this section, you'll need to make firm decisions about your research design. This includes things like:
Your research philosophy (e.g. positivism or interpretivism )
Your overall methodology (e.g. qualitative , quantitative or mixed methods)
Your data collection strategy (e.g. interviews , focus groups, surveys)
Your data analysis strategy (e.g. content analysis , correlation analysis, regression)
If these words have got your head spinning, don't worry! We'll explain these in plain language in other posts. It's not essential that you understand the intricacies of research design (yet!). The key takeaway here is that you'll need to make decisions about how you'll design your own research, and you'll need to describe (and justify) your decisions in your methodology chapter.
2 – Execute: Collect and analyse your data
Once you've worked out your research design, you'll put it into action and start collecting your data. This might mean undertaking interviews, hosting an online survey or any other data collection method. Data collection can take quite a bit of time (especially if you host in-person interviews), so be sure to factor sufficient time into your project plan for this. Oftentimes, things don't go 100% to plan (for example, you don't get as many survey responses as you hoped for), so bake a little extra time into your budget here.
Once you've collected your data, you'll need to do some data preparation before you can sink your teeth into the analysis. For example:
If you carry out interviews or focus groups, you'll need to transcribe your audio data to text (i.e. a Word document).
If you collect quantitative survey data, you'll need to clean up your data and get it into the right format for whichever analysis software you use (for example, SPSS, R or STATA).
Once you've completed your data prep, you'll undertake your analysis, using the techniques that you described in your methodology. Depending on what you find in your analysis, you might also do some additional forms of analysis that you hadn't planned for. For example, you might see something in the data that raises new questions or that requires clarification with further analysis.
The type(s) of analysis that you'll use depend entirely on the nature of your research and your research questions. For example:
If your research if exploratory in nature, you'll often use qualitative analysis techniques .
If your research is confirmatory in nature, you'll often use quantitative analysis techniques
If your research involves a mix of both, you might use a mixed methods approach
Again, if these words have got your head spinning, don't worry! We'll explain these concepts and techniques in other posts. The key takeaway is simply that there's no "one size fits all" for research design and methodology – it all depends on your topic, your research questions and your data. So, don't be surprised if your study colleagues take a completely different approach to yours.
Step 7: Present your findings
Once you've completed your analysis, it's time to present your findings (finally!). In a dissertation or thesis, you'll typically present your findings in two chapters – the results chapter and the discussion chapter .
What's the difference between the results chapter and the discussion chapter?
While these two chapters are similar, the results chapter generally just presents the processed data neatly and clearly without interpretation, while the discussion chapter explains the story the data are telling  – in other words, it provides your interpretation of the results.
For example, if you were researching the factors that influence consumer trust, you might have used a quantitative approach to identify the relationship between potential factors (e.g. perceived integrity and competence of the organisation) and consumer trust. In this case:
Your results chapter would just present the results of the statistical tests. For example, correlation results or differences between groups. In other words, the processed numbers.
Your discussion chapter would explain what the numbers mean in relation to your research question(s). For example, Factor 1 has a weak relationship with consumer trust, while Factor 2 has a strong relationship.
Depending on the university and degree, these two chapters (results and discussion) are sometimes merged into one , so be sure to check with your institution what their preference is. Regardless of the chapter structure, this section is about presenting the findings of your research in a clear, easy to understand fashion.
Importantly, your discussion here needs to link back to your research questions (which you outlined in the introduction or literature review chapter). In other words, it needs to answer the key questions you asked (or at least attempt to answer them).
For example, if we look at the sample research topic:
In this case, the discussion section would clearly outline which factors seem to have a noteworthy influence on organisational trust. By doing so, they are answering the overarching question and fulfilling the purpose of the research .
For more information about the results chapter , check out this post for qualitative studies and this post for quantitative studies .
Step 8: The Final Step Draw a conclusion and discuss the implications
Last but not least, you'll need to wrap up your research with the conclusion chapter . In this chapter, you'll bring your research full circle by highlighting the key findings of your study and explaining what the implications of these findings are.
What exactly are key findings? The key findings are those findings which directly relate to your original research questions and overall research objectives (which you discussed in your introduction chapter). The implications, on the other hand, explain what your findings mean for industry, or for research in your area.
Sticking with the consumer trust topic example, the conclusion might look something like this:
Key findings
This study set out to identify which factors influence consumer-based trust in British low-cost online equity brokerage firms. The results suggest that the following factors have a large impact on consumer trust:
While the following factors have a very limited impact on consumer trust:
Notably, within the 25-30 age groups, Factors E had a noticeably larger impact, which may be explained by…
Implications
The findings having noteworthy implications for British low-cost online equity brokers. Specifically:
The large impact of Factors X and Y implies that brokers need to consider….
The limited impact of Factor E implies that brokers need to…
As you can see, the conclusion chapter is basically explaining the "what" (what your study found) and the "so what?" (what the findings mean for the industry or research). This brings the study full circle and closes off the document.
Let's recap – how to write a dissertation or thesis
You're still with me? Impressive! I know that this post was a long one, but hopefully you've learnt a thing or two about how to write a dissertation or thesis, and are now better equipped to start your own research.
To recap, the 8 steps to writing a quality dissertation (or thesis) are as follows:
Understand what a dissertation (or thesis) is – a research project that follows the research process.
Find a unique (original) and important research topic
Craft a convincing dissertation or thesis research proposal
Write a clear, compelling introduction chapter
Undertake a thorough review of the existing research and write up a literature review
Undertake your own research
Present and interpret your findings
Once you've wrapped up the core chapters, all that's typically left is the abstract , reference list and appendices. As always, be sure to check with your university if they have any additional requirements in terms of structure or content.  
Psst… there's more (for free)
This post is part of our dissertation mini-course, which covers everything you need to get started with your dissertation, thesis or research project. 
You Might Also Like:
17 Comments
thankfull >>>this is very useful
Thank you, it was really helpful
unquestionably, this amazing simplified way of teaching. Really , I couldn't find in the literature words that fully explicit my great thanks to you. However, I could only say thanks a-lot.
Great to hear that – thanks for the feedback. Good luck writing your dissertation/thesis.
This is the most comprehensive explanation of how to write a dissertation. Many thanks for sharing it free of charge.
Very rich presentation. Thank you
Thanks Derek Jansen|GRADCOACH, I find it very useful guide to arrange my activities and proceed to research!
Thank you so much for such a marvelous teaching .I am so convinced that am going to write a comprehensive and a distinct masters dissertation
It is an amazing comprehensive explanation
This was straightforward. Thank you!
I can say that your explanations are simple and enlightening – understanding what you have done here is easy for me. Could you write more about the different types of research methods specific to the three methodologies: quan, qual and MM. I look forward to interacting with this website more in the future.
Thanks for the feedback and suggestions 🙂
Hello, your write ups is quite educative. However, l have challenges in going about my research questions which is below; *Building the enablers of organisational growth through effective governance and purposeful leadership.*
Very educating.
Just listening to the name of the dissertation makes the student nervous. As writing a top-quality dissertation is a difficult task as it is a lengthy topic, requires a lot of research and understanding and is usually around 10,000 to 15000 words. Sometimes due to studies, unbalanced workload or lack of research and writing skill students look for dissertation submission from professional writers.
Thank you 💕😊 very much. I was confused but your comprehensive explanation has cleared my doubts of ever presenting a good thesis. Thank you.
thank you so much, that was so useful
Submit a Comment Cancel reply
Your email address will not be published. Required fields are marked *
Save my name, email, and website in this browser for the next time I comment.
A Step-By-Step Guide to Write the Perfect Dissertation
"A dissertation or a thesis is a long piece of academic writing based on comprehensive research."
The significance of dissertation writing in the world of academia is unparalleled. A good dissertation paper needs months of research and marks the end of your respected academic journey. It is considered the most effective form of writing in academia and perhaps the longest piece of academic writing you will ever have to complete.
This thorough step-by-step guide on how to write a dissertation will serve as a tool to help you with the task at hand, whether you are an undergraduate student or a Masters or PhD student working on your dissertation project. This guide provides detailed information about how to write the different chapters of a dissertation, such as a problem statement , conceptual framework , introduction , literature review, methodology , discussion , findings , conclusion , title page , acknowledgements , etc.
What is a Dissertation? – Definition
Before we list the stages of writing a dissertation, we should look at what a dissertation is.
The Cambridge dictionary states that a dissertation is a long piece of writing on a particular subject, especially one that is done to receive a degree at college or university, but that is just the tip of the iceberg because a dissertation project has a lot more meaning and context.
To understand a dissertation's definition, one must have the capability to understand what an essay is. A dissertation is like an extended essay that includes research and information at a much deeper level. Despite the few similarities, there are many differences between an essay and a dissertation.
Another term that people confuse with a dissertation is a thesis. Let's look at the differences between the two terms.
What is the Difference Between a Dissertation and a Thesis?
Dissertation and thesis are used interchangeably worldwide (and may vary between universities and regions), but the key difference is when they are completed. The thesis is a project that marks the end of a degree program, whereas the dissertation project can occur during the degree. Hanno Krieger (Researchgate, 2014) explained the difference between a dissertation and a thesis as follows:
"Thesis is the written form of research work to claim an academic degree, like PhD thesis, postgraduate thesis, and undergraduate thesis. On the other hand, a dissertation is only another expression of the written research work, similar to an essay. So the thesis is the more general expression.
In the end, it does not matter whether it is a bachelor's, master or PhD dissertation one is working on because the structure and the steps of conducting research are pretty much identical. However, doctoral-level dissertation papers are much more complicated and detailed.
Problems Students Face When Writing a Dissertation
You can expect to encounter some troubles if you don't yet know the steps to write a dissertation. Even the smartest students are overwhelmed by the complexity of writing a dissertation.
A dissertation project is different from any essay paper you have ever committed to because of the details of planning, research and writing it involves. One can expect rewarding results at the end of the process if the correct guidelines are followed. Still, as indicated previously, there will be multiple challenges to deal with before reaching that milestone.
The three most significant problems students face when working on a dissertation project are the following.
Poor Project Planning
Delaying to start working on the dissertation project is the most common problem. Students think they have sufficient time to complete the paper and are finding ways to write a dissertation in a week, delaying the start to the point where they start stressing out about the looming deadline. When the planning is poor, students are always looking for ways to write their dissertations in the last few days. Although it is possible, it does have effects on the quality of the paper.
Inadequate Research Skills
The writing process becomes a huge problem if one has the required academic research experience. Professional dissertation writing goes well beyond collecting a few relevant reference resources.
You need to do both primary and secondary research for your paper. Depending on the dissertation's topic and the academic qualification you are a candidate for, you may be required to base your dissertation paper on primary research.
In addition to secondary data, you will also need to collect data from the specified participants and test the hypothesis . The practice of primary collection is time-consuming since all the data must be analysed in detail before results can be withdrawn.
Failure to Meet the Strict Academic Writing Standards
Research is a crucial business everywhere. Failure to follow the language, style, structure, and formatting guidelines provided by your department or institution when writing the dissertation paper can worsen matters. It is recommended to read the dissertation handbook before starting the write-up thoroughly.
Steps of Writing a Dissertation
For those stressing out about developing an extensive paper capable of filling a gap in research whilst adding value to the existing academic literature—conducting exhaustive research and analysis—and professionally using the knowledge gained throughout their degree program, there is still good news in all the chaos.
We have put together a guide that will show you how to start your dissertation and complete it carefully from one stage to the next.
Find an Interesting and Manageable Dissertation Topic
A clearly defined topic is a prerequisite for any successful independent research project. An engaging yet manageable research topic can produce an original piece of research that results in a higher academic score.
Unlike essays or assignments, when working on their thesis or dissertation project, students get to choose their topic of research.
You should follow the tips to choose the correct topic for your research to avoid problems later. Your chosen dissertation topic should be narrow enough, allowing you to collect the required secondary and primary data relatively quickly.
Understandably, many people take a lot of time to search for the topic, and a significant amount of research time is spent on it. You should talk to your supervisor or check out the intriguing database of Research Prospect's free topics for your dissertation.
Alternatively, consider reading newspapers, academic journals, articles, course materials, and other media to identify relevant issues to your study area and find some inspiration to get going.
You should work closely with your supervisor to agree to a narrowed but clear research plan.Here is what Michelle Schneider, learning adviser at the University of Leeds, had to say about picking the research topics,
"Picking something you're genuinely interested in will keep you motivated. Consider why it's important to tackle your chosen topic," Michelle added.
Develop a First-Class Dissertation Proposal.
Once the research topic has been selected, you can develop a solid dissertation proposal . The research proposal allows you to convince your supervisor or the committee members of the significance of your dissertation.
Through the proposal, you will be expected to prove that your work will significantly value the academic and scientific communities by addressing complex and provocative research questions .
Dissertation proposals are much shorter but follow a similar structure to an extensive dissertation paper. If the proposal is optional in your university, you should still create one outline of the critical points that the actual dissertation paper will cover. To get a better understanding of dissertation proposals, you can also check the publicly available samples of dissertation proposals .
Typical contents of the dissertation paper are as follows;
A brief rationale for the problem your dissertation paper will investigate.
The hypothesis you will be testing.
Research objectives you wish to address.
How will you contribute to the knowledge of the scientific and academic community?
How will you find answers to the critical research question(s)?
What research approach will you adopt?
What kind of population of interest would you like to generalise your result(s) to (especially in the case of quantitative research)?
What sampling technique(s) would you employ, and why would you not use other methods?
What ethical considerations have you taken to gather data?
Who are the stakeholders in your research are/might be?
What are the future implications and limitations you see in your research?
Let's review the structure of the dissertation. Keep the format of your proposal simple. Keeping it simple keeps your readers will remain engaged. The following are the fundamental focal points that must be included:
Title of your dissertation: Dissertation titles should be 12 words in length. The focus of your research should be identifiable from your research topic.
Research aim: The overall purpose of your study should be clearly stated in terms of the broad statements of the desired outcomes in the Research aim. Try and paint the picture of your research, emphasising what you wish to achieve as a researcher.
Research objectives: The key research questions you wish to address as part of the project should be listed. Narrow down the focus of your research and aim for at most four objectives. Your research objectives should be linked with the aim of the study or a hypothesis.
Literature review: Consult with your supervisor to check if you are required to use any specific academic sources as part of the literature review process. If that is not the case, find out the most relevant theories, journals, books, schools of thought, and publications that will be used to construct arguments in your literature research.Remember that the literature review is all about giving credit to other authors' works on a similar topic
Research methods and techniques: Depending on your dissertation topic, you might be required to conduct empirical research to satisfy the study's objectives. Empirical research uses primary data such as questionnaires, interview data, and surveys to collect.
On the other hand, if your dissertation is based on secondary (non-empirical) data, you can stick to the existing literature in your area of study. Clearly state the merits of your chosen research methods under the methodology section.
Expected results: As you explore the research topic and analyse the data in the previously published papers, you will begin to build your expectations around the study's potential outcomes. List those expectations here.
Project timeline: Let the readers know exactly how you plan to complete all the dissertation project parts within the timeframe allowed. You should learn more about Microsoft Project and Gantt Charts to create easy-to-follow and high-level project timelines and schedules.
References: The academic sources used to gather information for the proposed paper will be listed under this section using the appropriate referencing style. Ask your supervisor which referencing style you are supposed to follow.
The proposals we write have:
Precision and Clarity
Zero Plagiarism
High-level Encryption
Authentic Sources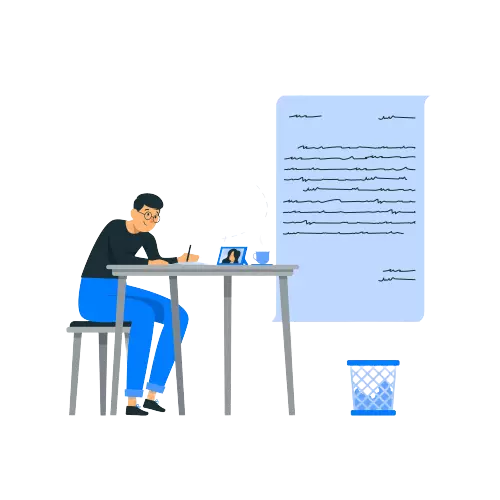 Investigation, Research and Data Collection
This is the most critical stage of the dissertation writing process. One should use up-to-date and relevant academic sources that are likely to jeopardise hard work.
Finding relevant and highly authentic reference resources is the key to succeeding in the dissertation project, so it is advised to take your time with this process. Here are some of the things that should be considered when conducting research.
dissertation project, so it is advised to take your time with this process. Here are some of the things that should be considered when conducting research.
You cannot read everything related to your topic. Although the practice of reading as much material as possible during this stage is rewarding, it is also imperative to understand that it is impossible to read everything that concerns your research.
This is true, especially for undergraduate and master's level dissertations that must be delivered within a specific timeframe. So, it is important to know when to stop! Once the previous research and the associated limitations are well understood, it is time to move on.
However, review at least the salient research and work done in your area. By salient, we mean research done by pioneers of your field. For instance, if your topic relates to linguistics and you haven't familiarised yourself with relevant research conducted by, say, Chomsky (the father of linguistics), your readers may find your lack of knowledge disconcerting.
So, to come off as genuinely knowledgeable in your own field, at least don't forget to read essential works in the field/topic!
Use an Authentic Research database to Find References.
Most students start the reference material-finding process with desk-based research. However, this research method has its own limitation because it is a well-known fact that the internet is full of bogus information and fake information spreads fasters on the internet than truth does .
So, it is important to pick your reference material from reliable resources such as Google Scholar , Researchgate, Ibibio and Bartleby . Wikipedia is not considered a reliable academic source in the academic world, so it is recommended to refrain from citing Wikipedia content.Never underrate the importance of the actual library. The supporting staff at a university library can be of great help when it comes to finding exciting and reliable publications.
Record as you learn
All information and impressions should be recorded as notes using online tools such as Evernote to make sure everything is clear. You want to retain an important piece of information you had planned to present as an argument in the dissertation paper.
Write a Flawless Dissertation
Start to write a fantastic dissertation immediately once your proposal has been accepted and all the necessary desk-based research has been conducted. Now we will look at the different chapters of a dissertation in detail. You can also check out the samples of dissertation chapters to fully understand the format and structures of the various chapters.
Dissertation Introduction Chapter
The introduction chapter of the dissertation paper provides the background, problem statement and research questions. Here, you will inform the readers why it was important for this research to be conducted and which key research question(s) you expect to answer at the end of the study.
Definitions of all the terms and phrases in the project are provided in this first chapter of the dissertation paper. The research aim and objectives remain unchanged from the proposal paper and are expected to be listed under this section.
Dissertation Literature Review Chapter
This chapter allows you to demonstrate to your readers that you have done sufficient research on the chosen topic and understand previous similar studies' findings. Any research limitations that your research incorporates are expected to be discussed in this section.
And make sure to summarise the viewpoints and findings of other researchers in the dissertation literature review chapter. Show the readers that there is a research gap in the existing work and your job is relevant to it to justify your research value.
Dissertation Methodology
The methodology chapter of the dissertation provides insight into the methods employed to collect data from various resources and flows naturally from the literature review chapter.Simply put, you will be expected to explain what you did and how you did it, helping the readers understand that your research is valid and reliable. When writing the methodology chapter for the dissertation, make sure to emphasise the following points:
The type of research performed by the researcher
Methods employed to gather and filter information
Techniques that were chosen for analysis
Materials, tools and resources used to conduct research (typically for empirical research dissertations)
Limitations of your chosen methods
Reliability and validity of your measuring tools and instruments (e.g. a survey questionnaire) are also typically mentioned within the mythology section. If you used a pre-existing data collection tool, cite its reliability/validity estimates here, too.Make use of the past tense when writing the methodology chapter.
Dissertation Findings
The key results of your research are presented in the dissertation findings chapter . It gives authors the ability to validate their own intellectual and analytical skills
Dissertation Conclusion
Cap off your dissertation paper with a study summary and a brief report of the findings. In the concluding chapter , you will be expected to demonstrate how your research will provide value to other academics in your area of study and its implications.It is recommended to include a short 'recommendations' section that will elaborate on the purpose and need for future research to elucidate the topic further.
Follow the referencing style following the requirements of your academic degree or field of study. Make sure to list every academic source used with a proper in-text citation. It is important to give credit to other authors' ideas and concepts.
Note: Keep in mind whether you are creating a reference list or a bibliography. The former includes information about all the various sources you referred to, read from or took inspiration from for your own study. However, the latter contains things you used and those you only read but didn't cite in your dissertation.
Proofread, Edit and Improve – Don't Risk Months of Hard Work.
Experts recommend completing the total dissertation before starting to proofread and edit your work. You need to refresh your focus and reboot your creative brain before returning to another critical stage.
Leave space of at least a few days between the writing and the editing steps so when you get back to the desk, you can recognise your grammar, spelling and factual errors when you get back to the desk.
It is crucial to consider this period to ensure the final work is polished, coherent, well-structured and free of any structural or factual flaws. Daniel Higginbotham from Prospects UK states that:
"Leave yourself sufficient time to engage with your writing at several levels – from reassessing the logic of the whole piece to proofreading to checking you've paid attention to aspects such as the correct spelling of names and theories and the required referencing format."
What is the Difference Between Editing and Proofreading?
Editing means that you are focusing on the essence of your dissertation paper. In contrast, proofreading is the process of reviewing the final draft piece to ensure accuracy and consistency in formatting, spelling, facts, punctuation, and grammar.
Editing: Prepare your work for submission by condensing, correcting and modifying (where necessary). When reviewing the paper, make sure that there are coherence and consistency between the arguments you presented.
If an information gap has been identified, fill that with an appropriate piece of information gathered during the research process. It is easy to lose sight of the original purpose if you become over-involved when writing.
Cut out the unwanted text and refine it, so your paper's content is to the point and concise.Proofreading: Start proofreading your paper to identify formatting, structural, grammar, punctuation and referencing flaws. Read every single sentence of the paper no matter how tired you are because a few puerile mistakes can compromise your months of hard work.
Many students struggle with the editing and proofreading stages due to their lack of attention to detail. Consult a skilled dissertation editor if you are unable to find your flaws. You may want to invest in a professional dissertation editing and proofreading service to improve the piece's quality to First Class.
Tips for Writing a Dissertation
Communication with supervisor – get feedback.
Communicate regularly with your supervisor to produce a first-class dissertation paper. Request them to comprehensively review the contents of your dissertation paper before final submission.
Their constructive criticism and feedback concerning different study areas will help you improve your piece's overall quality. Keep your supervisor updated about your research progress and discuss any problems that you come up against.
Organising your Time
A dissertation is a lengthy project spanning over a period of months to years, and therefore it is important to avoid procrastination. Stay focused, and manage your time efficiently. Here are some time management tips for writing your dissertation to help you make the most of your time as you research and write.
Don't be discouraged by the inherently slow nature of dissertation work, particularly in the initial stages.
Set clear goals and work out your research and write up a plan accordingly.
Allow sufficient time to incorporate feedback from your supervisor.
Leave enough time for editing, improving, proofreading, and formatting the paper according to your school's guidelines. This is where you break or make your grade.
Work a certain number of hours on your paper daily.
Create a worksheet for your week.
Work on your dissertation for time periods as brief as 45 minutes or less.
Stick to the strategic dissertation timeline, so you don't have to do the catchup work.
Meet your goals by prioritising your dissertation work.
Strike a balance between being overly organised and needing to be more organised.
Limit activities other than dissertation writing and your most necessary obligations.
Keep 'tangent' and 'for the book' files.
Create lists to help you manage your tasks.
Have 'filler' tasks to do when you feel burned out or in need of intellectual rest.
Keep a dissertation journal.
Pretend that you are working in a more structured work world.
Limit your usage of email and personal electronic devices.
Utilise and build on your past work when you write your dissertation.
Break large tasks into small manageable ones.
Seek advice from others, and do not be afraid to ask for help.
Dissertation Examples
Here are some samples of a dissertation to inspire you to write mind-blowing dissertations and to help bring all the above-mentioned guidelines home.
DE MONTFORT University Leicester – Examples of recent dissertations
Dissertation Research in Education: Dissertations (Examples)
How Long is a Dissertation?
The entire dissertation writing process is complicated and spans over a period of months to years, depending on whether you are an undergraduate, master's, or PhD candidate. Marcus Beck, a PhD candidate, conducted fundamental research a few years ago, research that didn't have much to do with his research but returned answers to some niggling questions every student has about the average length of a dissertation.
A software program specifically designed for this purpose helped Beck to access the university's electronic database to uncover facts on dissertation length.
The above illustration shows how the results of his small study were a little unsurprising. Social sciences and humanities disciplines such as anthropology, politics, and literature had the longest dissertations, with some PhD dissertations comprising 150,000 words or more.Engineering and scientific disciplines, on the other hand, were considerably shorter. PhD-level dissertations generally don't have a predefined length as they will vary with your research topic. Ask your school about this requirement if you are unsure about it from the start.
Focus more on the quality of content rather than the number of pages.
Hire an Expert Writer
Orders completed by our expert writers are
Formally drafted in an academic style
Free Amendments and 100% Plagiarism Free – or your money back!
100% Confidential and Timely Delivery!
Free anti-plagiarism report
Appreciated by thousands of clients. Check client reviews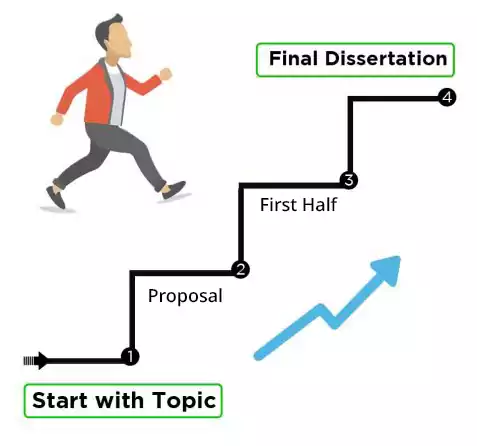 Phrases to Avoid
No matter the style or structure you follow, it is best to keep your language simple. Avoid the use of buzzwords and jargon.
A Word on Stealing Content (Plagiarism)
Very straightforward advice to all students, DO NOT PLAGIARISE. Plagiarism is a serious offence. You will be penalised heavily if you are caught plagiarising. Don't risk years of hard work, as many students in the past have lost their degrees for plagiarising. Here are some tips to help you make sure you don't get caught.
Copying and pasting from an academic source is an unforgivable sin. Rephrasing text retrieved from another source also falls under plagiarism; it's called paraphrasing. Summarising another's idea(s) word-to-word, paraphrasing, and copy-pasting are the three primary forms plagiarism can take.
If you must directly copy full sentences from another source because they fill the bill, always enclose them inside quotation marks and acknowledge the writer's work with in-text citations.
Are you struggling to find inspiration to get going? Still, trying to figure out where to begin? Is the deadline getting closer? Don't be overwhelmed! Research Prospect dissertation writing services have helped thousands of students achieve desired outcomes. Click here to get help from writers holding either a master's or PhD degree from a reputed UK university.
Frequently Asked Questions
What does a dissertation include.
A dissertation has main chapters and parts that support them. The main parts are:
Introduction
Literature review
Research Methodology
Your conclusion
Other parts are the abstract, references, appendices etc. We can supply a full dissertation or specific parts of one.
What is the difference between research and a dissertation?
A research paper is a sort of academic writing that consists of the study, source assessment, critical thinking, organisation, and composition, as opposed to a thesis or dissertation, which is a lengthy academic document that often serves as the final project for a university degree.
Can I edit and proofread my dissertation myself?
Of course, you can do proofreading and editing of your dissertation. There are certain rules to follow that have been discussed above. However, finding mistakes in something that you have written yourself can be complicated for some people. It is advisable to take professional help in the matter.
What If I only have difficulty writing a specific chapter of the dissertation?
Research Prospect ensures customer satisfaction by addressing all relevant issues. We provide dissertation chapter-writing services to students if they need help completing a specific chapter. It could be any chapter from the introduction, literature review, and methodology to the discussion and conclusion.
You May Also Like
Are you looking for intriguing and trending dissertation topics? Get inspired by our list of free dissertation topics on all subjects.
Looking for an easy guide to follow to write your essay? Here is our detailed essay guide explaining how to write an essay and examples and types of an essay.
Learn about the steps required to successfully complete their research project. Make sure to follow these steps in their respective order.
More Interesting Articles
Ready to place an order, useful links, learning resources.

COMPANY DETAILS

Have a language expert improve your writing
Run a free plagiarism check in 10 minutes, generate accurate citations for free.
Methodology
How to Write a Literature Review | Guide, Examples, & Templates
How to Write a Literature Review | Guide, Examples, & Templates
Published on January 2, 2023 by Shona McCombes . Revised on September 11, 2023.
What is a literature review? A literature review is a survey of scholarly sources on a specific topic. It provides an overview of current knowledge, allowing you to identify relevant theories, methods, and gaps in the existing research that you can later apply to your paper, thesis, or dissertation topic .
There are five key steps to writing a literature review:
Search for relevant literature
Evaluate sources
Identify themes, debates, and gaps
Outline the structure
Write your literature review
A good literature review doesn't just summarize sources—it analyzes, synthesizes , and critically evaluates to give a clear picture of the state of knowledge on the subject.
Table of contents
What is the purpose of a literature review, examples of literature reviews, step 1 – search for relevant literature, step 2 – evaluate and select sources, step 3 – identify themes, debates, and gaps, step 4 – outline your literature review's structure, step 5 – write your literature review, free lecture slides, other interesting articles, frequently asked questions, introduction.
Quick Run-through
Step 1 & 2
When you write a thesis , dissertation , or research paper , you will likely have to conduct a literature review to situate your research within existing knowledge. The literature review gives you a chance to:
Demonstrate your familiarity with the topic and its scholarly context
Develop a theoretical framework and methodology for your research
Position your work in relation to other researchers and theorists
Show how your research addresses a gap or contributes to a debate
Evaluate the current state of research and demonstrate your knowledge of the scholarly debates around your topic.
Writing literature reviews is a particularly important skill if you want to apply for graduate school or pursue a career in research. We've written a step-by-step guide that you can follow below.

Prevent plagiarism. Run a free check.
Writing literature reviews can be quite challenging! A good starting point could be to look at some examples, depending on what kind of literature review you'd like to write.
Example literature review #1: "Why Do People Migrate? A Review of the Theoretical Literature" ( Theoretical literature review about the development of economic migration theory from the 1950s to today.)
Example literature review #2: "Literature review as a research methodology: An overview and guidelines" ( Methodological literature review about interdisciplinary knowledge acquisition and production.)
Example literature review #3: "The Use of Technology in English Language Learning: A Literature Review" ( Thematic literature review about the effects of technology on language acquisition.)
Example literature review #4: "Learners' Listening Comprehension Difficulties in English Language Learning: A Literature Review" ( Chronological literature review about how the concept of listening skills has changed over time.)
You can also check out our templates with literature review examples and sample outlines at the links below.
Download Word doc Download Google doc
Before you begin searching for literature, you need a clearly defined topic .
If you are writing the literature review section of a dissertation or research paper, you will search for literature related to your research problem and questions .
Make a list of keywords
Start by creating a list of keywords related to your research question. Include each of the key concepts or variables you're interested in, and list any synonyms and related terms. You can add to this list as you discover new keywords in the process of your literature search.
Social media, Facebook, Instagram, Twitter, Snapchat, TikTok
Body image, self-perception, self-esteem, mental health
Generation Z, teenagers, adolescents, youth
Search for relevant sources
Use your keywords to begin searching for sources. Some useful databases to search for journals and articles include:
Your university's library catalogue
Google Scholar
Project Muse (humanities and social sciences)
Medline (life sciences and biomedicine)
EconLit (economics)
Inspec (physics, engineering and computer science)
You can also use boolean operators to help narrow down your search.
Make sure to read the abstract to find out whether an article is relevant to your question. When you find a useful book or article, you can check the bibliography to find other relevant sources.
You likely won't be able to read absolutely everything that has been written on your topic, so it will be necessary to evaluate which sources are most relevant to your research question.
For each publication, ask yourself:
What question or problem is the author addressing?
What are the key concepts and how are they defined?
What are the key theories, models, and methods?
Does the research use established frameworks or take an innovative approach?
What are the results and conclusions of the study?
How does the publication relate to other literature in the field? Does it confirm, add to, or challenge established knowledge?
What are the strengths and weaknesses of the research?
Make sure the sources you use are credible , and make sure you read any landmark studies and major theories in your field of research.
You can use our template to summarize and evaluate sources you're thinking about using. Click on either button below to download.
Take notes and cite your sources
As you read, you should also begin the writing process. Take notes that you can later incorporate into the text of your literature review.
It is important to keep track of your sources with citations to avoid plagiarism . It can be helpful to make an annotated bibliography , where you compile full citation information and write a paragraph of summary and analysis for each source. This helps you remember what you read and saves time later in the process.
A faster, more affordable way to improve your paper
Scribbr's new AI Proofreader checks your document and corrects spelling, grammar, and punctuation mistakes with near-human accuracy and the efficiency of AI!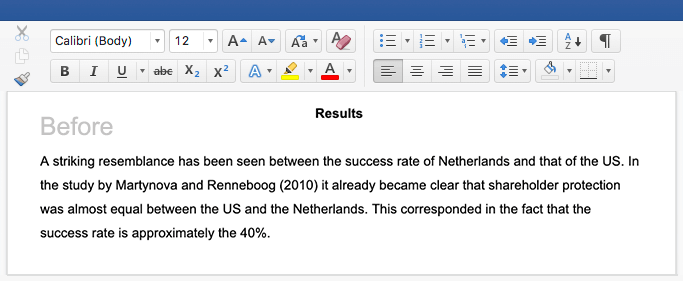 Proofread my paper
To begin organizing your literature review's argument and structure, be sure you understand the connections and relationships between the sources you've read. Based on your reading and notes, you can look for:
Trends and patterns (in theory, method or results): do certain approaches become more or less popular over time?
Themes: what questions or concepts recur across the literature?
Debates, conflicts and contradictions: where do sources disagree?
Pivotal publications: are there any influential theories or studies that changed the direction of the field?
Gaps: what is missing from the literature? Are there weaknesses that need to be addressed?
This step will help you work out the structure of your literature review and (if applicable) show how your own research will contribute to existing knowledge.
Most research has focused on young women.
There is an increasing interest in the visual aspects of social media.
But there is still a lack of robust research on highly visual platforms like Instagram and Snapchat—this is a gap that you could address in your own research.
There are various approaches to organizing the body of a literature review. Depending on the length of your literature review, you can combine several of these strategies (for example, your overall structure might be thematic, but each theme is discussed chronologically).
Chronological
The simplest approach is to trace the development of the topic over time. However, if you choose this strategy, be careful to avoid simply listing and summarizing sources in order.
Try to analyze patterns, turning points and key debates that have shaped the direction of the field. Give your interpretation of how and why certain developments occurred.
If you have found some recurring central themes, you can organize your literature review into subsections that address different aspects of the topic.
For example, if you are reviewing literature about inequalities in migrant health outcomes, key themes might include healthcare policy, language barriers, cultural attitudes, legal status, and economic access.
Methodological
If you draw your sources from different disciplines or fields that use a variety of research methods , you might want to compare the results and conclusions that emerge from different approaches. For example:
Look at what results have emerged in qualitative versus quantitative research
Discuss how the topic has been approached by empirical versus theoretical scholarship
Divide the literature into sociological, historical, and cultural sources
Theoretical
A literature review is often the foundation for a theoretical framework . You can use it to discuss various theories, models, and definitions of key concepts.
You might argue for the relevance of a specific theoretical approach, or combine various theoretical concepts to create a framework for your research.
Like any other academic text , your literature review should have an introduction , a main body, and a conclusion . What you include in each depends on the objective of your literature review.
The introduction should clearly establish the focus and purpose of the literature review.
Depending on the length of your literature review, you might want to divide the body into subsections. You can use a subheading for each theme, time period, or methodological approach.
As you write, you can follow these tips:
Summarize and synthesize: give an overview of the main points of each source and combine them into a coherent whole
Analyze and interpret: don't just paraphrase other researchers — add your own interpretations where possible, discussing the significance of findings in relation to the literature as a whole
Critically evaluate: mention the strengths and weaknesses of your sources
Write in well-structured paragraphs: use transition words and topic sentences to draw connections, comparisons and contrasts
In the conclusion, you should summarize the key findings you have taken from the literature and emphasize their significance.
When you've finished writing and revising your literature review, don't forget to proofread thoroughly before submitting. Not a language expert? Check out Scribbr's professional proofreading services !
This article has been adapted into lecture slides that you can use to teach your students about writing a literature review.
Scribbr slides are free to use, customize, and distribute for educational purposes.
Open Google Slides Download PowerPoint
If you want to know more about the research process , methodology , research bias , or statistics , make sure to check out some of our other articles with explanations and examples.
Sampling methods
Simple random sampling
Stratified sampling
Cluster sampling
Likert scales
Reproducibility
 Statistics
Null hypothesis
Statistical power
Probability distribution
Effect size
Poisson distribution
Research bias
Optimism bias
Cognitive bias
Implicit bias
Hawthorne effect
Anchoring bias
Explicit bias
A literature review is a survey of scholarly sources (such as books, journal articles, and theses) related to a specific topic or research question .
It is often written as part of a thesis, dissertation , or research paper , in order to situate your work in relation to existing knowledge.
There are several reasons to conduct a literature review at the beginning of a research project:
To familiarize yourself with the current state of knowledge on your topic
To ensure that you're not just repeating what others have already done
To identify gaps in knowledge and unresolved problems that your research can address
To develop your theoretical framework and methodology
To provide an overview of the key findings and debates on the topic
Writing the literature review shows your reader how your work relates to existing research and what new insights it will contribute.
The literature review usually comes near the beginning of your thesis or dissertation . After the introduction , it grounds your research in a scholarly field and leads directly to your theoretical framework or methodology .
A literature review is a survey of credible sources on a topic, often used in dissertations , theses, and research papers . Literature reviews give an overview of knowledge on a subject, helping you identify relevant theories and methods, as well as gaps in existing research. Literature reviews are set up similarly to other  academic texts , with an introduction , a main body, and a conclusion .
An  annotated bibliography is a list of  source references that has a short description (called an annotation ) for each of the sources. It is often assigned as part of the research process for a  paper .  
Cite this Scribbr article
If you want to cite this source, you can copy and paste the citation or click the "Cite this Scribbr article" button to automatically add the citation to our free Citation Generator.
McCombes, S. (2023, September 11). How to Write a Literature Review | Guide, Examples, & Templates. Scribbr. Retrieved November 21, 2023, from https://www.scribbr.com/dissertation/literature-review/
Is this article helpful?
Shona McCombes
Other students also liked, what is a theoretical framework | guide to organizing, what is a research methodology | steps & tips, how to write a research proposal | examples & templates, what is your plagiarism score.
Want to create or adapt books like this? Learn more about how Pressbooks supports open publishing practices.
Engaging With Research
Strategies for Conducting Research
In the 21st century, we have more information and knowledge instantaneously at our fingertips than could have been imagined 100, 50, or even 30 years ago. Figuring out how to wade through all of that information can be daunting. Research is one way we can we can make sense of and discuss all the information available to us. Research is the basis for strong and persuasive communication because it helps us understand what others have said, done, and written about a particular topic or issue.
What is research?
Research begins with questions.  Before you begin to find sources, you must determine what your already know and what you hope to learn. Do you want first-person reflections and commentary? Statistics and facts? News reports? Scientific analyses? History?
For example, if you are interested in a recent piece of legislation then you would want to locate the full-text of the bill as well as commentary about the legislation from reliable news organizations such as  The Wall Street Journal  or  The New York Times . If you are interested in statistics about the U.S. population, you might go to the U.S. Census Bureau or the Pew Research Center. Perhaps you are interested in the experiences of veterans returning from active duty. In this case you may turn to blogs or  op-eds written by vets, official U.S. military records from agencies such as the Department of Defense, Department of Veterans' Affairs, or organizations such as the RAND Corporation.
Primary v. Secondary Research
There are two basic kinds of research—primary and secondary. Often, primary and secondary research are used together.
Primary research  is often first-person accounts and can be useful when you are researching a local issue that may not have been addressed previously and/or have little published research available. You may also use primary research to supplement, confirm, or challenge national or regional trends with local information.  Primary research can include:
Questionnaires
Observations and analysis
Ethnography (the study and description of people, cultures, and customs)
Secondary research  is what many students are most familiar with as it is generally requires searching libraries and other research institutions' holdings.  Secondary research requires that you read others' published studies and research in order to learn more about your topic, determine what others have written and said, and then develop a conclusion about your ideas on the topic, in light of what others have done and said. Some examples of source types that might be used in secondary research include:
Academic, scientific, and technical journal articles
Governmental reports
Raw data and statistics
Trade and professional organization data
Primary and secondary research often work together to develop persuasive arguments. Let's say, for example, you are interested in using STEM knowledge to improve the quality of life for the homeless population in Columbus, Ohio. The most successful project would use both secondary and primary research. First, the secondary research will help establish best or common practices, trends, statistics, and current research about homelessness both broadly in the U.S. and state, and more narrowly in the county and city.
Your brainstorming would likely lead to questions regarding the following:
The major issues facing homelessness and combating homelessness in the U.S.
The homeless population and demographics for Columbus, Ohio
Services currently available for the homeless in Columbus
Services available in other cities and the state
The above information would likely be available through secondary research sources. Useful information would likely be available through city and state government agencies such as  U.S. Department of Health and Human Services  or the  U.S. Department of Housing and Urban Development ; local and national homeless advocacy groups such as the  Coalition on Homelessness and Housing in Ohio ,  Columbus Coalition for the Homeless ,   National Alliance to End Homelessness , and the  National Coalition for the Homeless . You would also need to search relevant research databases (discussed in the Where Do I Look? section) in subject areas such as engineering, sociology and social work, and government documents.
Second, primary research, such as interviews or surveys can provide more in-depth and local bent to the numbers and details provided in secondary sources. Some examples of groups to interview or survey include local homeless advocates; shelter and outreach employees and volunteers; people currently or previously experiencing homelessness, such as the vendors or writers for the street newspaper  Street Speech ; researchers or university-affiliated groups, such as  OSU's STAR House , that conducts, compiles, and applies research on homelessness.
Often, the strongest research blends primary and secondary research.
Where do I begin?
Research is about questions. In the beginning the questions are focused on helping you determine a topic and types of information and sources; later in the research process, the questions are focused on expanding and supporting your ideas and claims as well as helping you stay focused on the specific rhetorical situation of your project.
Questions to get started
What is my timeline for the project? You will likely want to set personal deadlines in addition to your instructor's deadlines.
What do I want to know or learn about? This helps you determine scope or the limits of your research. If you're writing a dissertation or thesis, then your scope will generally be larger because those types of projects are often 100+ pages. For a term paper, the scope will be more narrow. For example, if you're interested in NASA funding and research, you may limit yourself to the past 10-15 years because NASA because NASA has been around for nearly 60 years. Further, you may limit your focus to research that has transitioned into technologies or resources used outside of NASA and the space program.
What do I already know about this topic?
What biases might I have about this topic? How might I combat these biases?
Questions to determine methodology
Where might I find useful, reliable information about this topic? For academic research, you will generally focus on library, technical, scientific, and governmental resources. It is fine if you are not quite sure exactly where you should look; your instructor should be able to help you determine some places that would be appropriate.
Will I need to perform primary research, secondary research, or both?
Next you will have to develop a  research question . By this point you should have a general idea of your topic and some general ideas of where you might find this information.
Research Questions
Research questions generally form the basis for your project's thesis. Research questions are not about facts, but are about opinions, ideas, or concerns.
Which of these is a research question?
What is NASA's budget for 2016?
What is the impact of NASA's budget on scientific breakthroughs and contributions to non-space-related fields?
The former can be answered quickly and easily (NASA's 2016 budget was about $19.3 billion), but the latter requires detailed analysis of multiple sources and considerations of various opinions and facts.
Once you have developed your research question(s), you are ready to begin searching for answers.
Where do I look?
In the 21st century, we generally turn to the internet when we have a question. For technical, scientific, and academic research, we can still turn to the internet, but where we visit changes. We will discuss a few different places where you can perform research including Google, Google Scholar, and your university library website.
Google  and  Google Scholar
The default research site for most students tends to be Google. Google can be a great starting place for a variety of research. You can use Google to find news articles and other popular sources such as magazine articles and blog posts. You can use Google to discover keywords, alternative terms, and relevant professional, for-profit, and non-profits business and organizations. The most important thing to remember about using Google is that search results are organized by popularity, not by accuracy. Further, because Google customizes search results based on a user's search history, searches performed by different people or on different browsers may provide slightly different results.
For many technical, scientific, and scholarly topics, Google will not provide access to the appropriate and necessary types of sources and information. Google Scholar, however, searches only academic and scientific journals, books, patents, and governmental and legal documents.  This means the results will be more technical and scholarly and therefore more appropriate for much of the research you will be expected to perform as a student. Though Google Scholar will show academic and technical results, that does not mean that you will have access to the full-text documents. Many of the sources that appear on Google Scholar are from databases, publishers, or libraries, which means that they are often behind paywalls or password-protected. In many cases, this means you will have to turn to a university or other library for access.
University Libraries
Library resources such as databases, peer-reviewed journals, and books are generally the best bet for accurate and more technical information. A Google search might yield millions and millions of results and a Google Scholar search may yield tens or hundreds of thousands of results, but a library search will generally turn up only a couple thousands, hundreds, or even dozens of results. You may think, "Isn't fewer results a bad thing? Doesn't that mean limiting the possibilities for the project?" The quick answers are yes, fewer results means fewer options for your project, but no, this does not mean using the library limits the possibilities for a project.
Overall, library resources are more tightly controlled and vetted. Anyone can create a blog or website and post information, regardless of the accuracy or usefulness of the information. Library resources, in contrast, have generally gone through rigorous processes and revisions before publication. For example, academic and scientific journals have a review system in place—whether a peer-review process or an editorial board—both feature panels of people with expertise in the areas under consideration. Publishers for books also feature editorial boards who determine the usefulness and accuracy of information. Of course, this does not mean that every peer-reviewed journal article or book is 100% accurate and useful all of the time. Biases still exist, and many commonly accepted facts change over time with more research and analysis. Overall the process for these types of publications require that multiple people read and comment on the work, providing some checks and balances that are not present for general internet sources.
So what are common types of library sources?
Databases: databases are specialized search service that provide access to sources such as academic and scientific journals, newspapers, and magazines. An example of a database would be Academic Search Complete.
Journals: journals are specialized publications focused on an often narrow topic or field. For example,  Computers & Composition is a peer-reviewed journal focused on the intersection of computers, technology, and composition (i.e. writing) classrooms. Another example is the Journal of Bioengineering & Biomedical Science.
Books: also called monographs, books generally cover topics in more depth than can be done in a journal article. Sometimes books will contain contributions from multiple authors, with each chapter authored separately.
Various media: depending on the library, you may have access to a range of media, including documentries, videos, audio recordings, and more. Some libraries offer streaming media that you can watch directly on the library website without having to download any files.
How do I perform a search?
Research is not a linear process. Research requires a back and forth between sources, your ideas and analysis, and the rhetorical situation for your research.
The research process is a bit like an eye exam. The doctor makes a best guess for the most appropriate lens strength, and then adjusts the lenses from there. Sometimes the first option is the best and most appropriate; sometimes it takes a few tries with several different options before finding the best one for you and your situation.
Once you decide on a general topic, you will need to determine keywords that you can use to search different resources.
Let's say you read an article about  how four Mexican immigrants and their cheap robot beat MIT in a robotics competition , and now you are interested in the topic of immigration and STEM education or employment. After reading the article, you decide on some terms:
It is important to have a wide range of keywords because not all terms will result in the same information. Developing a list of keywords can be aided by a quick Google search. A Google search may reveal more official language or terms; broader or narrower terms and concepts; or related terms and concepts. You can also search for the term + synonym to find other words you might use.  Keep in mind, a  synonym search will not work for all terms. For technical and scientific topics, though, Google may not be a lot of help for finding other terms.
You can use a couple different tricks to narrow your search. Using quotation marks around two or more words means the search results will contain those words only in that specific order. For example, based on the exercise above, a search for "illegal aliens" would only provide results where these words appear in this exact order, with no words between them. A search for illegal aliens  without the quotation marks will search for "illegal aliens" but also any sources that have the word illegal and alien anywhere in the text.
A Guide to Technical Communications: Strategies & Applications Copyright © 2016 by Lynn Hall & Leah Wahlin is licensed under a Creative Commons Attribution-NonCommercial 4.0 International License , except where otherwise noted.
Share This Book
Harvey Cushing/John Hay Whitney Medical Library
YSN Doctoral Programs: Steps in Conducting a Literature Review
Biomedical Databases
Global (Public Health) Databases
Soc. Sci., History, and Law Databases
Grey Literature
Trials Registers
Data and Statistics
Public Policy
Google Tips
Recommended Books
Steps in Conducting a Literature Review
What is a literature review?
A literature review is an integrated analysis -- not just a summary-- of scholarly writings and other relevant evidence related directly to your research question. That is, it represents a synthesis of the evidence that provides background information on your topic and shows a association between the evidence and your research question.
A literature review may be a stand alone work or the introduction to a larger research paper, depending on the assignment. Rely heavily on the guidelines your instructor has given you.
Why is it important?
A literature review is important because it:
Explains the background of research on a topic.
Demonstrates why a topic is significant to a subject area.
Discovers relationships between research studies/ideas.
Identifies major themes, concepts, and researchers on a topic.
Identifies critical gaps and points of disagreement.
Discusses further research questions that logically come out of the previous studies.
APA7 Style resources
APA Style Blog - for those harder to find answers
1. Choose a topic. Define your research question.
Your literature review should be guided by your central research question. The literature represents background and research developments related to a specific research question, interpreted and analyzed by you in a synthesized way.
Make sure your research question is not too broad or too narrow. Is it manageable?
Begin writing down terms that are related to your question. These will be useful for searches later.
If you have the opportunity, discuss your topic with your professor and your class mates.
2. Decide on the scope of your review
How many studies do you need to look at? How comprehensive should it be? How many years should it cover?
This may depend on your assignment. How many sources does the assignment require?
3. Select the databases you will use to conduct your searches.
Make a list of the databases you will search.
Where to find databases:
use the tabs on this guide
Find other databases in the Nursing Information Resources web page
More on the Medical Library web page
... and more on the Yale University Library web page
4. Conduct your searches to find the evidence. Keep track of your searches.
Use the key words in your question, as well as synonyms for those words, as terms in your search. Use the database tutorials for help.
Save the searches in the databases. This saves time when you want to redo, or modify, the searches. It is also helpful to use as a guide is the searches are not finding any useful results.
Review the abstracts of research studies carefully. This will save you time.
Use the bibliographies and references of research studies you find to locate others.
Check with your professor, or a subject expert in the field, if you are missing any key works in the field.
Ask your librarian for help at any time.
Use a citation manager, such as EndNote as the repository for your citations. See the EndNote tutorials for help.
Review the literature
Some questions to help you analyze the research:
What was the research question of the study you are reviewing? What were the authors trying to discover?
Was the research funded by a source that could influence the findings?
What were the research methodologies? Analyze its literature review, the samples and variables used, the results, and the conclusions.
Does the research seem to be complete? Could it have been conducted more soundly? What further questions does it raise?
If there are conflicting studies, why do you think that is?
How are the authors viewed in the field? Has this study been cited? If so, how has it been analyzed?
Tips:
Review the abstracts carefully.
Keep careful notes so that you may track your thought processes during the research process.
Create a matrix of the studies for easy analysis, and synthesis, across all of the studies.
<< Previous: Recommended Books
Last Updated: Oct 31, 2023 3:00 PM
URL: https://guides.library.yale.edu/YSNDoctoral
Academic writing: a practical guide
Dissertations.
Academic writing
The writing process
Academic writing style
Structure & cohesion
Criticality in academic writing
Working with evidence
Referencing
Assessment & feedback
Reflective writing
Examination writing
Academic posters
Dissertations are a part of many degree programmes, completed in the final year of undergraduate studies or the final months of a taught masters-level degree.
Introduction to dissertations
What is a dissertation.
A dissertation is usually a long-term project to produce a long-form piece of writing; think of it a little like an extended, structured assignment. In some subjects (typically the sciences), it might be called a project instead.
Work on an undergraduate dissertation is often spread out over the final year. For a masters dissertation, you'll start thinking about it early in your course and work on it throughout the year.
You might carry out your own original research, or base your dissertation on existing research literature or data sources - there are many possibilities.
What's different about a dissertation?
The main thing that sets a dissertation apart from your previous work is that it's an almost entirely independent project. You'll have some support from a supervisor, but you will spend a lot more time working on your own.
You'll also be working on your own topic that's different to your coursemate; you'll all produce a dissertation, but on different topics and, potentially, in very different ways.
Dissertations are also longer than a regular assignment, both in word count and the time that they take to complete. You'll usually have most of an academic year to work on one, and be required to produce thousands of words; that might seem like a lot, but both time and word count will disappear very quickly once you get started!
Find out more:
Key dissertation tools
Digital tools.
There are lots of tools, software and apps that can help you get through the dissertation process. Before you start, make sure you collect the key tools ready to:
use your time efficiently
organise yourself and your materials
manage your writing
be less stressed
Here's an overview of some useful tools:
Digital tools for your dissertation [Google Slides]
Setting up your document
Formatting and how you set up your document is also very important for a long piece of work like a dissertation, research project or thesis. Find tips and advice on our text processing guide:
University of York past Undergraduate and Masters dissertations
If you are a University of York student, you can access a selection of digitised undergraduate dissertations for certain subjects:
History
History of Art
Social Policy and Social Work
The Library also has digitised Masters dissertations for the following subjects:
Archaeology
Centre for Eighteenth-Century Studies
Centre for Medieval Studies
Centre for Renaissance and Early Modern Studies
Centre for Women's Studies
English and Related Literature
Health Sciences
History of Art
Hull York Medical School
Language and Linguistic Science
School for Business and Society
School of Social and Political Sciences ​​​​​​​
Dissertation top tips
Many dissertations are structured into four key sections:
introduction & literature review
There are many different types of dissertation, which don't all use this structure, so make sure you check your dissertation guidance. However, elements of these sections are common in all dissertation types.
Dissertations that are an extended literature review do not involve data collection, thus do not have a methods or result section. Instead they have chapters that explore concepts/theories and result in a conclusion section. Check your dissertation module handbook and all information given to see what your dissertation involves.
Introduction & literature review
The Introduction and Literature Review give the context for your dissertation:
What topic did you investigate?
What do we already know about this topic?
What are your research questions and hypotheses?
Sometimes these are two separate sections, and sometimes the Literature Review is integrated into the Introduction. Check your guidelines to find out what you need to do.
Literature Review Top Tips [YouTube] | Literature Review Top Tips transcript [Google Doc]
The Method section tells the reader what you did and why.
Include enough detail so that someone else could replicate your study.
Visual elements can help present your method clearly. For example, summarise participant demographic data in a table or visualise the procedure in a diagram.
Show critical analysis by justifying your choices. For example, why is your test/questionnaire/equipment appropriate for this study?
If your study requires ethical approval, include these details in this section.
Methodology Top Tips [YouTube] | Methodology Top Tips transcript [Google Doc]
More resources to help you plan and write the methodology:
The Results tells us what you found out .
It's an objective presentation of your research findings. Don't explain the results in detail here - you'll do that in the discussion section.
Results Top Tips [YouTube] | Results Top Tips transcript [Google Doc]
The Discussion is where you explain and interpret your results - what do your findings mean?
This section involves a lot of critical analysis. You're not just presenting your findings, but putting them together with findings from other research to build your argument about what the findings mean.
Discussion Top Tips [YouTube] | Discussion Top Tips transcript [Google Doc]
Conclusions are a part of many dissertations and/or research projects. Check your module information to see if you are required to write one. Some dissertations/projects have concluding remarks in their discussion section. See the slides below for more information on writing conclusions in dissertations.
Conclusions in dissertations [Google Slides]
The abstract is a short summary of the whole dissertation that goes at the start of the document. It gives an overview of your research and helps readers decide if it's relevant to their needs.
Even though it appears at the start of the document, write the abstract last. It summarises the whole dissertation, so you need to finish the main body before you can summarise it in the abstract.
Usually the abstract follows a very similar structure to the dissertation, with one or two sentences each to show the aims, methods, key results and conclusions drawn. Some subjects use headings within the abstract. Even if you don't use these in your final abstract, headings can help you to plan a clear structure.
Abstract Top Tips [YouTube] | Abstract Top Tips transcript [Google Doc]
Watch all of our Dissertation Top Tips videos in one handy playlist:
Research reports, that are often found in science subjects, follow the same structure, so the tips in this tutorial also apply to dissertations:
Other support for dissertation writing
Online resources.
The general writing pages of this site offer guidance that can be applied to all types of writing, including dissertations. Also check your department guidance and VLE sites for tailored resources.
Other useful resources for dissertation writing:
Appointments and workshops
There is a lot of support available in departments for dissertation production, which includes your dissertation supervisor, academic supervisor and, when appropriate, staff teaching in the research methods modules.
You can also access central writing and skills support:
<< Previous: Reports
Next: Reflective writing >>
Last Updated: Nov 17, 2023 2:52 PM
URL: https://subjectguides.york.ac.uk/academic-writing
Purdue Online Writing Lab Purdue OWL® College of Liberal Arts
Writing a Literature Review

Welcome to the Purdue OWL
This page is brought to you by the OWL at Purdue University. When printing this page, you must include the entire legal notice.
Copyright ©1995-2018 by The Writing Lab & The OWL at Purdue and Purdue University. All rights reserved. This material may not be published, reproduced, broadcast, rewritten, or redistributed without permission. Use of this site constitutes acceptance of our terms and conditions of fair use.
A literature review is a document or section of a document that collects key sources on a topic and discusses those sources in conversation with each other (also called synthesis ). The lit review is an important genre in many disciplines, not just literature (i.e., the study of works of literature such as novels and plays). When we say "literature review" or refer to "the literature," we are talking about the research ( scholarship ) in a given field. You will often see the terms "the research," "the scholarship," and "the literature" used mostly interchangeably.
Where, when, and why would I write a lit review?
There are a number of different situations where you might write a literature review, each with slightly different expectations; different disciplines, too, have field-specific expectations for what a literature review is and does. For instance, in the humanities, authors might include more overt argumentation and interpretation of source material in their literature reviews, whereas in the sciences, authors are more likely to report study designs and results in their literature reviews; these differences reflect these disciplines' purposes and conventions in scholarship. You should always look at examples from your own discipline and talk to professors or mentors in your field to be sure you understand your discipline's conventions, for literature reviews as well as for any other genre.
A literature review can be a part of a research paper or scholarly article, usually falling after the introduction and before the research methods sections. In these cases, the lit review just needs to cover scholarship that is important to the issue you are writing about; sometimes it will also cover key sources that informed your research methodology.
Lit reviews can also be standalone pieces, either as assignments in a class or as publications. In a class, a lit review may be assigned to help students familiarize themselves with a topic and with scholarship in their field, get an idea of the other researchers working on the topic they're interested in, find gaps in existing research in order to propose new projects, and/or develop a theoretical framework and methodology for later research. As a publication, a lit review usually is meant to help make other scholars' lives easier by collecting and summarizing, synthesizing, and analyzing existing research on a topic. This can be especially helpful for students or scholars getting into a new research area, or for directing an entire community of scholars toward questions that have not yet been answered.
What are the parts of a lit review?
Most lit reviews use a basic introduction-body-conclusion structure; if your lit review is part of a larger paper, the introduction and conclusion pieces may be just a few sentences while you focus most of your attention on the body. If your lit review is a standalone piece, the introduction and conclusion take up more space and give you a place to discuss your goals, research methods, and conclusions separately from where you discuss the literature itself.
Introduction:
An introductory paragraph that explains what your working topic and thesis is
A forecast of key topics or texts that will appear in the review
Potentially, a description of how you found sources and how you analyzed them for inclusion and discussion in the review (more often found in published, standalone literature reviews than in lit review sections in an article or research paper)
Summarize and synthesize: Give an overview of the main points of each source and combine them into a coherent whole
Analyze and interpret: Don't just paraphrase other researchers – add your own interpretations where possible, discussing the significance of findings in relation to the literature as a whole
Critically Evaluate: Mention the strengths and weaknesses of your sources
Write in well-structured paragraphs: Use transition words and topic sentence to draw connections, comparisons, and contrasts.
Conclusion:
Summarize the key findings you have taken from the literature and emphasize their significance
Connect it back to your primary research question
How should I organize my lit review?
Lit reviews can take many different organizational patterns depending on what you are trying to accomplish with the review. Here are some examples:
Chronological : The simplest approach is to trace the development of the topic over time, which helps familiarize the audience with the topic (for instance if you are introducing something that is not commonly known in your field). If you choose this strategy, be careful to avoid simply listing and summarizing sources in order. Try to analyze the patterns, turning points, and key debates that have shaped the direction of the field. Give your interpretation of how and why certain developments occurred (as mentioned previously, this may not be appropriate in your discipline — check with a teacher or mentor if you're unsure).
Thematic : If you have found some recurring central themes that you will continue working with throughout your piece, you can organize your literature review into subsections that address different aspects of the topic. For example, if you are reviewing literature about women and religion, key themes can include the role of women in churches and the religious attitude towards women.
Qualitative versus quantitative research
Empirical versus theoretical scholarship
Divide the research by sociological, historical, or cultural sources
Theoretical : In many humanities articles, the literature review is the foundation for the theoretical framework. You can use it to discuss various theories, models, and definitions of key concepts. You can argue for the relevance of a specific theoretical approach or combine various theorical concepts to create a framework for your research.
What are some strategies or tips I can use while writing my lit review?
Any lit review is only as good as the research it discusses; make sure your sources are well-chosen and your research is thorough. Don't be afraid to do more research if you discover a new thread as you're writing. More info on the research process is available in our "Conducting Research" resources .
As you're doing your research, create an annotated bibliography ( see our page on the this type of document ). Much of the information used in an annotated bibliography can be used also in a literature review, so you'll be not only partially drafting your lit review as you research, but also developing your sense of the larger conversation going on among scholars, professionals, and any other stakeholders in your topic.
Usually you will need to synthesize research rather than just summarizing it. This means drawing connections between sources to create a picture of the scholarly conversation on a topic over time. Many student writers struggle to synthesize because they feel they don't have anything to add to the scholars they are citing; here are some strategies to help you:
It often helps to remember that the point of these kinds of syntheses is to show your readers how you understand your research, to help them read the rest of your paper.
Writing teachers often say synthesis is like hosting a dinner party: imagine all your sources are together in a room, discussing your topic. What are they saying to each other?
Look at the in-text citations in each paragraph. Are you citing just one source for each paragraph? This usually indicates summary only. When you have multiple sources cited in a paragraph, you are more likely to be synthesizing them (not always, but often
Read more about synthesis here.
The most interesting literature reviews are often written as arguments (again, as mentioned at the beginning of the page, this is discipline-specific and doesn't work for all situations). Often, the literature review is where you can establish your research as filling a particular gap or as relevant in a particular way. You have some chance to do this in your introduction in an article, but the literature review section gives a more extended opportunity to establish the conversation in the way you would like your readers to see it. You can choose the intellectual lineage you would like to be part of and whose definitions matter most to your thinking (mostly humanities-specific, but this goes for sciences as well). In addressing these points, you argue for your place in the conversation, which tends to make the lit review more compelling than a simple reporting of other sources.
Preparing, Starting, and Conducting a Thesis Study: Do this before you start!
Writing a thesis study is the pinnacle of your academic education. This guide explains how to decide your thesis question and plan for, begin, and conduct your thesis study.
Best practices
Your relationship with your supervisor is crucial to your academic success.
Build relationships
It is essential to develop a good working relationship with your supervisor , secondary supervisors, other Ph.D. students, and support staff. There will be days when you feel frustrated and want to give up. Talking to your peers will provide encouragement. This is also a great way to troubleshoot any problems you may have been unable to resolve. For example, if an experimental technique is not working, other students may be experiencing the same issue, and collaboration can quickly resolve it.
Relationships with support staff are just as valuable as those with academic staff. Treat them with respect, and they will be willing to go the extra mile for you (e.g., fixing the copy machine when they are about to go home). Without a doubt, the most important relationship is with your Ph.D. supervisor. As an expert in their field, they have a working knowledge of your subject area and are up to date with the latest developments. You will meet regularly for formal one-on-one meetings to discuss your research progress, where you will receive guidance and constructive feedback. Informal discussions are also appropriate when you have an immediate concern, so feel free to pop by their office or drop a quick email if you need some advice. Remember, your success reflects on theirs, and they expect you to come to them if you have a pressing issue.
Participate in department or research group activities
Build relationships with fellow Ph.D. students and staff members in your department by attending research seminars, field trips, and journal clubs. Also, attend any organized social events; they are great networking opportunities.
What if I don't get along with my supervisor?
Your relationship with your supervisor is crucial to your academic success. They are the first point of contact if you encounter problems with your thesis study, and you should be comfortable working with them. Address any communication issues as soon as possible. Often, they may be unaware that there is an issue and will appreciate you bringing it to their attention. Usually, a frank and open discussion will resolve the problem. For example, let your supervisor know if you feel that you are not receiving enough feedback or that they are micromanaging you. Do not feel intimidated—supervisors were also Ph.D. students at one time!
If you can't resolve the issue between yourselves, ask one of your secondary supervisors, another staff member, or your head of department to act as a mediator. A change in supervisors must be the last resort. You are likely to encounter this person again; be cordial, and don't burn bridges.
Steps for writing a thesis study
Refine your research question.
Once you have identified a field that interests you, narrow it down to decide exactly what you want to research. Research questions can be practical (e.g., a process that does not work properly or an issue faced by a specific group of people) or theoretical (e.g., relationships or opposing theories that have not been evaluated).
Your supervisor may already have projects in mind where they need a Ph.D. student to build on existing work in their research group. Alternatively, you might identify a gap or contradiction in the literature that you think requires further investigation, or you might be continuing your existing research by building on the findings of your Master's degree.
Plan your thesis study
Planning is the cornerstone of successful research. You may have already written a research proposal , which you can use to plan your research steps. Perform a literature review to familiarize yourself with your field of research. If you are aiming for a Ph.D. degree after your Master's degree, you may already have done this, but you should still check for new publications in the field since your last literature review.
Plan your thesis study using the SMART objectives:
Your research question must be specific and not vague.
Your research results must be measurable, either quantitatively or qualitatively, in a practical and cost-effective manner.
You need to complete your thesis study within the set timeframe and budget.
Don't set a goal that you are incapable of achieving. Ensure that your objective addresses your thesis question.
Create an achievable timeline and set specific milestones with dates (e.g., collect all specimens by 7 July).
Find a suitable working environment
You will need a suitable working environment for drafting your thesis paper. Your workspace should have all the resources (e.g., computer, stable internet connection) for you to plan and write up your work and should be as free from distractions as possible. If you can, plug a second monitor into your laptop so that you can read your references while writing. This will also save a lot of time and money on printing. A coffee maker is an added bonus!
Start your thesis study
Complete your induction.
New Ph.D. students undergo an induction program. This involves:
Meeting academic staff, support staff, and fellow Ph.D. students
Receiving details of meetings, journal clubs, and seminars held by the department or your research group
Receiving training on health and safety and the standard operating procedures (SOPs ) of the lab where you will be working
Completing any other relevant courses (e.g., radiation safety course, training on animal handling)
Start writing
The sooner you start work on your thesis study, the better. Before you begin, you may need to write grant applications, research proposals , or an application to upgrade your Master's degree. You will need to perform a literature review to complete these activities. Some of this information will be used later when you write the Introduction section of your thesis study.
Conduct your research
Start your research for your thesis study as soon as you can. Although your final results may only be generated in year 2 or 3 of your study, with good planning, you can begin preliminary experiments or pilot studies early. Get into the habit of regularly and meticulously recording all experiments in your lab notebook as you go, analyzing the outcomes, and saving all data.
What if my study focus changes?
Your research focus may change during the course of your investigations. This happens more than you think. Because you will be investigating new concepts and ideas or untested hypotheses, expect difficulties and setbacks. For example, your focus may need to change due to problems with experimental techniques, unexpected results, limited financial resources, or unforeseen limitations.
What if my research is poor or doesn't work?
Expect to encounter problems early in your research. This is part of the research process. Use these experiences to explore other approaches. Remember that negative results are still results. You may even end up including them in your final thesis.
Speak to your supervisor if your research is not going according to plan. They have vast experience and may suggest alternative approaches to solve your problem. Try problem-solving with fellow Ph.D. students or researchers in your lab. Some of the best ideas come from a good brainstorming session.
Thesis studies are hard work, but nothing beats the satisfaction of completing your PhD! Spend time formulating your thesis question. Careful planning is vital so that you complete your thesis on time. Ensure that you have the necessary approvals and certifications to conduct your research. Check out our site for more tips on how to write a good thesis/dissertation, where to find the best thesis editing services , and more about thesis editing and proofreading services .
Editor's pick
Get free updates.
Subscribe to our newsletter for regular insights from the research and publishing industry!
Review Checklist
BEFORE YOU START
Chose a topic that interests you
Pick a supervisor
Meet with your supervisor to discuss your proposed research
Define your research question
Define your study objectives
Plan your research methodology
Write a timeline for your project and include specific milestones
Find a suitable workspace
STARTING YOUR RESEARCH
Obtain the necessary ethical approvals from your institution
Research participants must be fully aware of why you are conducting your research, how it will be done, and the end-use of the results. Participation must be voluntary, and participants can withdraw from the study at any time
If your research involves animals, you will need to follow the relevant institutional guidelines for animal care
Complete all training/certification necessary to perform your research
Write research applications and grant proposals
Perform a literature review
CONDUCTING YOUR RESEARCH
Adhere to all institutional protocols
Ensure that all participants have given written consent
Repeat experiments to ensure reproducibility
Record everything in your lab notebook
Regularly update your supervisor of your progress
Store all electronic data safely and make more than one backup (e.g., a USB drive and cloud storage)
Stick to your timelines
Don't be afraid to ask for help
How do I choose a suitable research topic? +
Most importantly, chose a subject that interests you. You will be working on this project for a number of years, and if it does not excite you, you will not feel motivated and will find it hard to finish.
How do I choose a supervisor? +
As an undergraduate, you may have already formed good relationships with some of the academic staff at your institution. Your supervisor should be an expert in your academic field. They should have a publication record and supervision experience. If you are unsure, chat with other students about their experience with the supervisor(s) that you are considering.
What should I use as a starting point to perform my literature review? +
There are many literature databases (e.g., Google Scholar , PubMed , Scopus , Web of Science , Cochrane Library , and Embase ) as well sources of gray literature (information produced by government agencies and the for-profit sector that is not controlled by commercial publishers) that can be used.
Should I reference as I write? +
Although it may seem tedious, commit to referencing your writing as you go. An easy way to do this is to use reference managers, such as Mendeley , Zotero , or EndNote .
Privacy Policy
SignUp/Login
Home » Dissertation – Format, Example and Template
Dissertation – Format, Example and Template
Table of Contents
Dissertation
Definition:
Dissertation is a lengthy and detailed academic document that presents the results of original research on a specific topic or question. It is usually required as a final project for a doctoral degree or a master's degree.
Dissertation Meaning in Research
In Research , a dissertation refers to a substantial research project that students undertake in order to obtain an advanced degree such as a Ph.D. or a Master's degree.
Dissertation typically involves the exploration of a particular research question or topic in-depth, and it requires students to conduct original research, analyze data, and present their findings in a scholarly manner. It is often the culmination of years of study and represents a significant contribution to the academic field.
Types of Dissertation
Types of Dissertation are as follows:
Empirical Dissertation
An empirical dissertation is a research study that uses primary data collected through surveys, experiments, or observations. It typically follows a quantitative research approach and uses statistical methods to analyze the data.
Non-Empirical Dissertation
A non-empirical dissertation is based on secondary sources, such as books, articles, and online resources. It typically follows a qualitative research approach and uses methods such as content analysis or discourse analysis.
Narrative Dissertation
A narrative dissertation is a personal account of the researcher's experience or journey. It typically follows a qualitative research approach and uses methods such as interviews, focus groups, or ethnography.
Systematic Literature Review
A systematic literature review is a comprehensive analysis of existing research on a specific topic. It typically follows a qualitative research approach and uses methods such as meta-analysis or thematic analysis.
Case Study Dissertation
A case study dissertation is an in-depth analysis of a specific individual, group, or organization. It typically follows a qualitative research approach and uses methods such as interviews, observations, or document analysis.
Mixed-Methods Dissertation
A mixed-methods dissertation combines both quantitative and qualitative research approaches to gather and analyze data. It typically uses methods such as surveys, interviews, and focus groups, as well as statistical analysis.
How to Write a Dissertation
Here are some general steps to help guide you through the process of writing a dissertation:
Choose a topic : Select a topic that you are passionate about and that is relevant to your field of study. It should be specific enough to allow for in-depth research but broad enough to be interesting and engaging.
Conduct research : Conduct thorough research on your chosen topic, utilizing a variety of sources, including books, academic journals, and online databases. Take detailed notes and organize your information in a way that makes sense to you.
Create an outline : Develop an outline that will serve as a roadmap for your dissertation. The outline should include the introduction, literature review, methodology, results, discussion, and conclusion.
Write the introduction: The introduction should provide a brief overview of your topic, the research questions, and the significance of the study. It should also include a clear thesis statement that states your main argument.
Write the literature review: The literature review should provide a comprehensive analysis of existing research on your topic. It should identify gaps in the research and explain how your study will fill those gaps.
Write the methodology: The methodology section should explain the research methods you used to collect and analyze data. It should also include a discussion of any limitations or weaknesses in your approach.
Write the results: The results section should present the findings of your research in a clear and organized manner. Use charts, graphs, and tables to help illustrate your data.
Write the discussion: The discussion section should interpret your results and explain their significance. It should also address any limitations of the study and suggest areas for future research.
Write the conclusion: The conclusion should summarize your main findings and restate your thesis statement. It should also provide recommendations for future research.
Edit and revise: Once you have completed a draft of your dissertation, review it carefully to ensure that it is well-organized, clear, and free of errors. Make any necessary revisions and edits before submitting it to your advisor for review.
Dissertation Format
The format of a dissertation may vary depending on the institution and field of study, but generally, it follows a similar structure:
Title Page: This includes the title of the dissertation, the author's name, and the date of submission.
Abstract : A brief summary of the dissertation's purpose, methods, and findings.
Table of Contents: A list of the main sections and subsections of the dissertation, along with their page numbers.
Introduction : A statement of the problem or research question, a brief overview of the literature, and an explanation of the significance of the study.
Literature Review : A comprehensive review of the literature relevant to the research question or problem.
Methodology : A description of the methods used to conduct the research, including data collection and analysis procedures.
Results : A presentation of the findings of the research, including tables, charts, and graphs.
Discussion : A discussion of the implications of the findings, their significance in the context of the literature, and limitations of the study.
Conclusion : A summary of the main points of the study and their implications for future research.
References : A list of all sources cited in the dissertation.
Appendices : Additional materials that support the research, such as data tables, charts, or transcripts.
Dissertation Outline
Dissertation Outline is as follows:
Title Page:
Title of dissertation
Author name
Institutional affiliation
Date of submission
Brief summary of the dissertation's research problem, objectives, methods, findings, and implications
Usually around 250-300 words
Table of Contents:
List of chapters and sections in the dissertation, with page numbers for each
I. Introduction
Background and context of the research
Research problem and objectives
Significance of the research
II. Literature Review
Overview of existing literature on the research topic
Identification of gaps in the literature
Theoretical framework and concepts
III. Methodology
Research design and methods used
Data collection and analysis techniques
Ethical considerations
IV. Results
Presentation and analysis of data collected
Findings and outcomes of the research
Interpretation of the results
V. Discussion
Discussion of the results in relation to the research problem and objectives
Evaluation of the research outcomes and implications
Suggestions for future research
VI. Conclusion
Summary of the research findings and outcomes
Implications for the research topic and field
Limitations and recommendations for future research
VII. References
List of sources cited in the dissertation
VIII. Appendices
Additional materials that support the research, such as tables, figures, or questionnaires.
Example of Dissertation
Here is an example Dissertation for students:
Title : Exploring the Effects of Mindfulness Meditation on Academic Achievement and Well-being among College Students
This dissertation aims to investigate the impact of mindfulness meditation on the academic achievement and well-being of college students. Mindfulness meditation has gained popularity as a technique for reducing stress and enhancing mental health, but its effects on academic performance have not been extensively studied. Using a randomized controlled trial design, the study will compare the academic performance and well-being of college students who practice mindfulness meditation with those who do not. The study will also examine the moderating role of personality traits and demographic factors on the effects of mindfulness meditation.
Chapter Outline:
Chapter 1: Introduction
Background and rationale for the study
Research questions and objectives
Significance of the study
Overview of the dissertation structure
Chapter 2: Literature Review
Definition and conceptualization of mindfulness meditation
Theoretical framework of mindfulness meditation
Empirical research on mindfulness meditation and academic achievement
Empirical research on mindfulness meditation and well-being
The role of personality and demographic factors in the effects of mindfulness meditation
Chapter 3: Methodology
Research design and hypothesis
Participants and sampling method
Intervention and procedure
Measures and instruments
Data analysis method
Chapter 4: Results
Descriptive statistics and data screening
Analysis of main effects
Analysis of moderating effects
Post-hoc analyses and sensitivity tests
Chapter 5: Discussion
Summary of findings
Implications for theory and practice
Limitations and directions for future research
Conclusion and contribution to the literature
Chapter 6: Conclusion
Recap of the research questions and objectives
Summary of the key findings
Contribution to the literature and practice
Implications for policy and practice
Final thoughts and recommendations.
References :
List of all the sources cited in the dissertation
Appendices :
Additional materials such as the survey questionnaire, interview guide, and consent forms.
Note : This is just an example and the structure of a dissertation may vary depending on the specific requirements and guidelines provided by the institution or the supervisor.
How Long is a Dissertation
The length of a dissertation can vary depending on the field of study, the level of degree being pursued, and the specific requirements of the institution. Generally, a dissertation for a doctoral degree can range from 80,000 to 100,000 words, while a dissertation for a master's degree may be shorter, typically ranging from 20,000 to 50,000 words. However, it is important to note that these are general guidelines and the actual length of a dissertation can vary widely depending on the specific requirements of the program and the research topic being studied. It is always best to consult with your academic advisor or the guidelines provided by your institution for more specific information on dissertation length.
Applications of Dissertation
Here are some applications of a dissertation:
Advancing the Field: Dissertations often include new research or a new perspective on existing research, which can help to advance the field. The results of a dissertation can be used by other researchers to build upon or challenge existing knowledge, leading to further advancements in the field.
Career Advancement: Completing a dissertation demonstrates a high level of expertise in a particular field, which can lead to career advancement opportunities. For example, having a PhD can open doors to higher-paying jobs in academia, research institutions, or the private sector.
Publishing Opportunities: Dissertations can be published as books or journal articles, which can help to increase the visibility and credibility of the author's research.
Personal Growth: The process of writing a dissertation involves a significant amount of research, analysis, and critical thinking. This can help students to develop important skills, such as time management, problem-solving, and communication, which can be valuable in both their personal and professional lives.
Policy Implications: The findings of a dissertation can have policy implications, particularly in fields such as public health, education, and social sciences. Policymakers can use the research to inform decision-making and improve outcomes for the population.
When to Write a Dissertation
Here are some situations where writing a dissertation may be necessary:
Pursuing a Doctoral Degree: Writing a dissertation is usually a requirement for earning a doctoral degree, so if you are interested in pursuing a doctorate, you will likely need to write a dissertation.
Conducting Original Research : Dissertations require students to conduct original research on a specific topic. If you are interested in conducting original research on a topic, writing a dissertation may be the best way to do so.
Advancing Your Career: Some professions, such as academia and research, may require individuals to have a doctoral degree. Writing a dissertation can help you advance your career by demonstrating your expertise in a particular area.
Contributing to Knowledge: Dissertations are often based on original research that can contribute to the knowledge base of a field. If you are passionate about advancing knowledge in a particular area, writing a dissertation can help you achieve that goal.
Meeting Academic Requirements : If you are a graduate student, writing a dissertation may be a requirement for completing your program. Be sure to check with your academic advisor to determine if this is the case for you.
Purpose of Dissertation
some common purposes of a dissertation include:
To contribute to the knowledge in a particular field : A dissertation is often the culmination of years of research and study, and it should make a significant contribution to the existing body of knowledge in a particular field.
To demonstrate mastery of a subject: A dissertation requires extensive research, analysis, and writing, and completing one demonstrates a student's mastery of their subject area.
To develop critical thinking and research skills : A dissertation requires students to think critically about their research question, analyze data, and draw conclusions based on evidence. These skills are valuable not only in academia but also in many professional fields.
To demonstrate academic integrity: A dissertation must be conducted and written in accordance with rigorous academic standards, including ethical considerations such as obtaining informed consent, protecting the privacy of participants, and avoiding plagiarism.
To prepare for an academic career: Completing a dissertation is often a requirement for obtaining a PhD and pursuing a career in academia. It can demonstrate to potential employers that the student has the necessary skills and experience to conduct original research and make meaningful contributions to their field.
To develop writing and communication skills: A dissertation requires a significant amount of writing and communication skills to convey complex ideas and research findings in a clear and concise manner. This skill set can be valuable in various professional fields.
To demonstrate independence and initiative: A dissertation requires students to work independently and take initiative in developing their research question, designing their study, collecting and analyzing data, and drawing conclusions. This demonstrates to potential employers or academic institutions that the student is capable of independent research and taking initiative in their work.
To contribute to policy or practice: Some dissertations may have a practical application, such as informing policy decisions or improving practices in a particular field. These dissertations can have a significant impact on society, and their findings may be used to improve the lives of individuals or communities.
To pursue personal interests: Some students may choose to pursue a dissertation topic that aligns with their personal interests or passions, providing them with the opportunity to delve deeper into a topic that they find personally meaningful.
Advantage of Dissertation
Some advantages of writing a dissertation include:
Developing research and analytical skills: The process of writing a dissertation involves conducting extensive research, analyzing data, and presenting findings in a clear and coherent manner. This process can help students develop important research and analytical skills that can be useful in their future careers.
Demonstrating expertise in a subject: Writing a dissertation allows students to demonstrate their expertise in a particular subject area. It can help establish their credibility as a knowledgeable and competent professional in their field.
Contributing to the academic community: A well-written dissertation can contribute new knowledge to the academic community and potentially inform future research in the field.
Improving writing and communication skills : Writing a dissertation requires students to write and present their research in a clear and concise manner. This can help improve their writing and communication skills, which are essential for success in many professions.
Increasing job opportunities: Completing a dissertation can increase job opportunities in certain fields, particularly in academia and research-based positions.
About the author
Muhammad Hassan
Researcher, Academic Writer, Web developer
You may also like
Assignment – Types, Examples and Writing Guide
References in Research – Types, Examples and...
Figures in Research Paper – Examples and Guide
Delimitations in Research – Types, Examples and...
Research Findings – Types Examples and Writing...
Research Paper – Structure, Examples and Writing...
B.A. in Professional Studies
B.S. in Applied Management & Leadership
See All Business
B.A. in Education Studies
See All Education
B.S. in Healthcare Administration
See All Healthcare
See All Leadership
See All Nursing
See All Bachelor's
Certificate in Organizational Leadership
Certificate in Adult Education and Corporate Training
Certificate in Content Area Instruction
Certificate in Essential Employability Skills
Certificate in Principal Preparation
Certificate in Teaching English Learners
Certificate in Transition to Teaching in Elementary Education
Certificate in Transition to Teaching in Secondary Education
Certificate in Virtual Instruction
Certificate in Executive Healthcare Quality and Financial Management
Certificate in Advanced Graduate Study
Certificate in Higher Education
Certificate in Teacher Leadership
Certificate in Texas Educational Leadership
Certificate in Nursing Education and Simulation
Certificate in Nursing Leadership and Management
See All Certificates
Business Programs
Ed.D. in Curriculum and Instruction
Ed.D. in Early Childhood Education
Ed.D. in Instructional Technology
Ed.D. in Leadership
Ed.D. in Second Language Instruction
Ed.D. in Public Health Education
Ed.D. in Nursing Education
See All Doctoral
Ed.S. in Curriculum and Instruction
Ed.S. in Early Childhood Education
Ed.S. in Instructional  Technology
Ed.S. in Second Language Instruction
Ed.S. in Public Health Education
Ed.S. in Leadership
Ed.S. in Nursing Education
See All Education Specialist
M.Ed. in Educational Business Administration
M.S. in Organizational Leadership
M.S. in Sustainable Management
M.A. in Elementary Teaching
M.A. in Secondary Teaching
M.Ed. in Adult Education and Training
M.Ed. in Advanced Studies
M.Ed. in Biology Education
M.Ed. in Chemistry Education
M.Ed. in Curriculum and Instruction
M.Ed. in Early Childhood Education
M.Ed. in Educational Leadership
M.Ed. in Educational Technology
M.Ed. in Elementary Education
M.Ed. in English Education
M.Ed. in Health and Wellness Education
M.Ed. in Higher Education
M.Ed. in History Education
M.Ed. in Instructional Design and Technology
M.Ed. in Integrated Curriculum
M.Ed. in Literacy
M.Ed. in Mathematics Education
M.Ed. in Science Education
M.Ed. in Social Science Education
M.Ed. in Special Education
M.Ed. in STEM Education
M.Ed. in Teacher Leadership
M.Ed. in Teaching English Learners
M.S. in Health Informatics
Master of Healthcare Administration
Master of Public Health
See All Master's
Micro-Credential in Data Analytics
Micro-Credential in Diversity and Inclusion
Micro-Credential in Educational Entrepreneurship
Micro-Credential in Organizational Leadership
Micro-Credential in Sustainability
Micro-Credential in Curriculum and Instruction
Micro-Credential in Differentiated Instruction
Micro-Credential in Digital Learning and Teaching
Micro-Credential in Early Childhood Special Education
Micro-Credential in Educational Technology
Micro-Credential in Higher Education Administration
Micro-Credential in Learning Behavior Specialist 1
Micro-Credential in Personal and Professional Skills
Micro-Credential in School Business Official
Micro-Credential in Student Affairs in Higher Education
Micro-Credential in Teaching English Learners
Micro-Credential in Teamwork Skills
Micro-Credential in Healthcare Financial Resource Management
Micro-Credential in Healthcare Quality Management
Micro-Credential in Public Health and Health Leadership
Leadership Programs
Micro-Credential in Simulation in Healthcare
See All Micro-credentials
Find Your Course
See All Courses
Find Your Program
Academic Calendar
Payment Options
Grants and Scholarships
Partnership
Virtual Open House
Support Services
Current Students
Alumni Achievement Award
Success Stories
Current Catalog
Student Handbook
Internship and Student Teaching
Commencement
Accreditation
History and Mission
Rankings and Accolades
Social Responsibility
Student Right to Know
Annual Reports
Regulatory Affairs
Content Resources
Education Specialist
Certificates
Micro-Credential
MyACE Student Login
Achieve More in 2024! Apply Now for the Janaury 8 Term Start.
Achieve more in 2024! Enroll by December 15 for the January 8 start and we'll credit $50-100 back to you! Enroll Today
Obtaining Permission for Doctoral Research: 4 Essential Tips
November 11, 2021
Curriculum Revisions Manager
Once you've identified a topic for your dissertation, it's time to plan the population you want to study and how you'll conduct your research. Part of that process is determining the stakeholders or gatekeepers to getting permission to conduct your research. And then comes the hardest part – actually getting that permission before moving forward with your plan.
When I reached this step in my doctoral journey, I knew exactly what I wanted to research and the population I wanted to study. I wanted to interview community college faculty members and, more than that, I had a specific community college in mind. However, what I didn't anticipate were the challenges I would encounter getting the permissions I needed to complete the research.
Communicating the right things to the right people is key to securing permission for doctoral research. Based on my experience with the process, keeping these four tips top of mind will help you be successful:
1) Reach out immediately. As soon as you identify the organization you want to work with, reach out to the person in charge of granting permission for research. If it's a college or university, look for the director of institutional research. Other organizations might refer you to the director of human resources. Once you know who you have to contact, don't wait to do so. Give the organization time to get back to you and give yourself time to make other arrangements if necessary.
2) Make a back-up list. Don't put all your eggs in one basket by only identifying one organization you'd like to work with. I made this mistake and it cost me money, time and emotional energy. More likely than not, there will be several organizations with the population you want to research. Make a list of them and make it early. If your first choice says no, you may be disappointed but you won't be lost because you'll know exactly who to contact next.
3) Provide detailed information about your research proposal. What sparked your interest in the topic? Why did you choose this specific population? Why do you want to conduct your research at their organization? Some organizations require you to provide this information when requesting permission, but some may not. Be prepared to provide it anyway.
4) Clarify your connection with the organization, if applicable. This is important. Perhaps you used to work at the organization or you know someone who works there. Divulge this. Organizations could be concerned with researcher bias and the ways in which that bias will impact your research. Because of this, some will not grant permission if you are or have been connected to them in any way. Disappointing as it might be, you'll want to know sooner rather than later that you won't be able to conduct your research at your preferred organization.
I was turned down by a couple of organizations as I went through this process. You may be too, even if you follow the tips here. Remember not to take it personally. Organizations are looking out for their employees' safety and time. You can't control the actions and responsiveness of others. What you can control is your communication and planning. Stay focused on what you can control and you'll keep moving on your dissertation journey.
American College of Education's fully online doctoral programs support you every step of the way through the journey, including through the dissertation process.
Audra is the curriculum revisions manager at American College of Education. She holds an Ed.D. in Leadership from ACE.
Share this:
Related posts, journaling: the write way to start your day.
August 29, 2023
The Secret to Being More Focused and Productive While Working
October 19, 2022
5 Money Saving Hacks That Also Keep Your Health On Track
June 28, 2022
What Do Online Students and Astronauts Have in Common?
June 07, 2022
5 Tips for Making Friends in Online Programs
May 11, 2022
Steps To A Perfect Thesis
Carry Out A Thorough Research Before Writing A Thesis
A lot of students in college begin to panic when they are assigned a thesis paper subject by their professor. It could be that they are unfamiliar with this type of academic paper or they simply do not want to risk lowering their grades writing something of this magnitude on their own. Irrespective of the reason, these students begin to wonder, "Where can I find someone to write my dissertation for me?" However, the truth is, a thesis paper is not that hard to write once you've figured out the sort of content you wish to include in your paper and do the needful research to uncover the information you're looking for. All it takes is a bit of time and effort! So, if you think you've got what it takes to succeed on your own without relying on dissertation services, find out how to conduct the right kind of research work below:
Set Your Priorities Before you begin the research process, you need to devise a solid plan by considering several aspects of the details you wish to gather, including:
What questions do you wish to answer through your thesis paper?
What sort of information do you wish to use in your paper?
How do you expect to find that information?
How much information do you require?
Writing a thesis can get complicated, but these four questions will help ensure that you stick to the main facts and resist the temptation to deviate midway.
Ask Factual Questions Think back to how you developed your thesis doctoral topic and refer to the notes from that process. This will allow you to determine the right direction for your paper and will aid you in gathering data and researching information. The trick is to find the answers to the "who, what, when, how, where, and why" questions of your topic so you can approach your paper from any perspective. Always assume that the readers of your paper know very little about the subject matter. So, your goal is to educate them. Remember this bit of information when you're gathering resources for your paper and you'll easily be able to find relevant background details. Factual questions are a good idea because they are direct and help you follow a clear path during research.
Use Interpretive Questions to Gather Details Based on the nature of your topic, interpretive questions might also be necessary. While some of these thesis help questions can be developed during the information gathering stages, others can be developed as you continue to conduct research. Either way, you should ask the proper question:
Analogy/Comparison: Check for similarities between your subject matter and that of another paper. Geographical location and time period are also important factors.
Hypothetical: Do you think things would have been the same now if something different took place in the past?
Judgment: Based on all the information you have collected till now, what is your opinion or assessment?
Solution: What, according to you, is the right solution to the problem that exists now?
Prediction: Do you see things changing in the future depending on the way they are perceived now?
When you develop interpretive questions, you manage to write more creatively developed and focused thesis UK papers.
Process the Information You've Collected Prior to conducting thesis research, be sure to evaluate the information you have. The size of the paper usually determines the amount of information and the number of sources required to write a good paper. The twin processes of conducting research and gathering information can help you figure out more questions to add so that you end up with a full-fledged paper.
The next time you try to place a thesis order, think about how fulfilling it would be if you could write your own paper through in-depth research and get great marks from your professor.
Leave a Reply Cancel reply
Your email address will not be published. Required fields are marked *
Dissertation Format and Submission
Format Guidelines
Dissertation Submission
Getting Survey Permissions
Help Videos
Instrument Permission documents
Instrument Permissions FAQ
Download a pdf of this faq , download the template permission letter, permissions to use and reproduce instruments in a thesis/dissertation frequently asked questions, why might i need permission to use an instrument in my thesis/dissertation.
Determine whether you need permission
Identify the copyright holder
Ask for permission
Keep a record
What if I can't locate the copyright holder?
If you want to use surveys, questionnaires, interview questions, tests, measures, or other instruments created by other people, you are required to locate and follow usage permissions. The instrument may be protected by copyright and/or licensing restrictions.
Copyright Protection
Copyright provides authors of original creative work with limited control over the reproduction and distribution of that work. Under United States law, all original expressions that are "fixed in a tangible medium" are automatically protected by copyright at the time of their creation. In other words, it is not necessary to formally state a declaration of copyright, to use the © symbol, or to register with the United States Copyright Office.
Therefore, you must assume that any material you find is copyrighted, unless you have evidence otherwise. This is the case whether you find the instrument openly on the web, in a library database, or reproduced in a journal article. It is your legal and ethical responsibility to obtain permission to use, modify, and/or reproduce the instrument.
If you use and/or reproduce material in your thesis/dissertation beyond the limits outlined by the "fair use" doctrine, which allows for limited use of a work, without first gaining the copyright holder's permission, you may be infringing copyright.
Licensing/Terms of Use
Some instruments are explicitly distributed under a license agreement or terms of use. Unlike copyright, which applies automatically, users must agree to these terms in order to use the instrument. In exchange for abiding by the terms, the copyright holder grants the licensee specific and limited rights, such as the right to use the instrument in scholarly research, or to reproduce the instrument in a publication.
When you ask a copyright holder for permission to use or reproduce an instrument, you are in effect asking for a license to do those things.
How do I know if I need permission to use instruments in my thesis/dissertation research? (Adapted from Hathcock & Crews )
Follow the four-step process below:
1. Determine whether you need permission
There are different levels of permissions for using an instrument:
a) No permission required
i. The copyright holder has explicitly licensed the use of instrument for any purpose, without requiring you to obtain permission.
ii. If you are only using a limited portion of the instrument, your use may be covered under the Fair Use Doctrine. See more here: https://uhcl.libguides.com/copyright/fairuse .
iii. If the instrument was developed by the federal government or under a government grant it may be in the public domain, and permission is therefore not required.
iv. If the document was created before 1977, it may be in the public domain, and permission is therefore not required. See the Stanford Public Domain Flowchart at https://fairuse.stanford.edu/wp-content/uploads/2014/06/publicdomainflowchart.png .
b) Non-commercial/educational use: The copyright holder has licensed the instrument only for non-commercial research or educational purposes, without requiring you to obtain the permission of the copyright holder. Any other usage requires permission.
Sample Permission for Educational Use:
Test content may be reproduced and used for non-commercial research and educational purposes without seeking written permission. Distribution must be controlled, meaning only to the participants engaged in the research or enrolled in the educational activity. Any other type of reproduction or distribution of test content is not authorized without written permission from the author and publisher. Always include a credit line that contains the source citation and copyright owner when writing about or using any test.
Source: Marta Soto, "How Permissions Work in PsycTests," APA Databases & Electronic Resources Blog. American Psychological Association. http://blog.apapubs.org/2016/12/21/how-permissions-work-in-psyctests/ .
Even if you are not required to obtain permission to use the instrument, consider contacting the author for ideas on how to administer and analyze the test. Authors often welcome further use of their work, and may request you send them a copy of your final work.
c) Permission required: Instruments that require you to obtain the permission of the copyright holder, regardless of whether the use is for educational or commercial purposes. This may be because the copyright holder
has important directions for how the test must be administered and analyzed
wants to make sure the most current version is being used
charges users a fee in order to administer the test
If you cannot locate the permissions, you are required to identify the copyright holder and contact them to ask about permission to use the instrument.
2. Identify the copyright holder (Adapted from Crews )
The next step is to identify who owns the copyright. The copyright holder is usually the creator of the work. If the copyright owner is an individual, you will need to do the usual Internet and telephone searches to find the person. Be ready to introduce yourself and to explain carefully what you are seeking.
Some authors transfer copyright to another entity, such as a journal publisher or an organization. In these cases, you must obtain permission from that entity to use or reproduce the instrument. You can often identify the owner by locating a © copyright notice, but as mentioned above, not all copyrighted works have a notice.
Check the following sources to locate instruments, their copyright holders, and their permission statements:
Mental Measurements Yearbook: https://uhcl.idm.oclc.org/login?url=https://search.ebscohost.com/login.aspx?authtype=ip,uid&profile=ehost&defaultdb=mmt
PsycTESTS: https://uhcl.idm.oclc.org/login?url=https://search.ebscohost.com/login.aspx?authtype=ip,uid&profile=ehost&defaultdb=pst
Neumann Library Tests & Measures help: https://uhcl.libguides.com/PSYC/tests
Library assistance e-mail: [email protected]
​You may need to contact the author or publisher directly to find out who owns the copyright. Publishers often have websites that prescribe a method for contacting the copyright owner, so search the publisher website for a permissions department or contact person. Be sure to confirm the exact name and address of the addressee, and call/e-mail the person or publishing house to confirm the copyright ownership.
The copyright owner may prefer or require that permission requests be made using a certain medium (i.e. fax, mail, web form, etc.). If you do not follow instructions, you may not get a reply.
Telephone calls may be the quickest method for getting a response from the owner, but they should be followed up with a letter or e-mail in order to document the exact scope of the permission. E-mail permissions are legally acceptable in most cases, but getting a genuine signature is usually best.
The request should be sent to the individual copyright holder (when applicable) or permissions department of the publisher in question. Be sure to include your return address, telephone and fax numbers, e-mail address, and the date at the top of your letter or message. If you send the permission request by mail, include a self-addressed, stamped return envelope.
Make the process easy for the copyright owner. The less effort the owner has to put forth, the more likely you will get the permission you need. If you are using conventional mail, include a second copy of your request for the owner's records.
State clearly who you are, your institutional affiliation (e.g., University of Houston-Clear Lake), and the general nature of your thesis/dissertation research.
Do not send permissions letters to all possible rightsholders simultaneously. Taking the time to find the person who most likely holds the copyright will better yield success. If you do not have much information about who actually owns the copyright, be honest with your contacts, and they may be able to help you find the right person.
3. Ask for permission (Adapted from Crews )
Once you have identified the copyright holder, you must determine the scope of your permission request. Some copyright owners furnish their own permission form that you may download from their website.
If the copyright owner does not provide a permission agreement form, you may write your own letter ( click here to download a template ). Requests should be made in writing; e-mail is fine for this purpose. A most effective letter will include detailed information concerning your request for permission to use the work. Include the following information:
Who: Introduce yourself. Tell who you are, your degree program, and a brief overview of your research.
Why: Tell why you are contacting that person or entity for permission.
What: Be as specific as possible when you cite and describe the instrument you wish to use. Include whether you plan to use the entire instrument, or if you plan on modifying or adapting any of the questions.
How: Tell how you plan to use the instrument. Specify the parameters of your research study, and include any important information about the way you will administer the instrument and/or analyze the results.
When: Expected length of the project and time to complete the thesis/dissertation.
Important : Obtaining permission to use an instrument is not the same as obtaining permission to reproduce the instrument in your appendix. If you intend on providing a copy of the instrument in an appendix, ask for separate permissions to do that.
Click here to download a template letter . Feel free to modify and adapt this template for your purposes.
4. Keep a record
After securing permission to use and/or reproduce the instrument, save a copy of the correspondence and the agreement. Documentation allows you to demonstrate to others that you have the legal right to use the owner's work. In the unlikely event that your use of the work is ever challenged, you will need to demonstrate your good faith efforts. That challenge could arise far in the future, so keep a permanent file of the records. Moreover, you might need to contact that same copyright owner again for a later use of the work, and your notes from the past will make the task easier.
Upload a copy of your permission letter in Vireo with your thesis/dissertation, or include it as an appendix in the document itself.
What if I can't locate the copyright holder? (Adapted from Hathcock & Crews & Pantalony )
In some cases, you may never get a response from the copyright holder or you may never even be able to identify who they are or how to contact them. It can be difficult to know how to proceed when you reach a dead end. Unfortunately, no matter how diligently you have tried to get permission, these efforts cannot completely eliminate the risk of infringement should you proceed to use the work.
Assuming you have diligently investigated your alternatives, do not want to change your project, and remain in need of the elusive copyright permission, the remaining alternative is to explore a risk-benefit analysis. You need to balance the benefits of using that particular material in your given project against the risks that a copyright owner may see your project, identify the materials, and assert the owner's legal claims against you. Numerous factual circumstances may be important in this evaluation. The "benefit" may depend upon the importance of your project and the importance of using that particular material. The "risks" may depend upon whether your project will be published or available on the Internet for widespread access—as theses and dissertations will. You ought to investigate whether the work is registered with the U.S. Copyright Office and weigh the thoroughness of your search for the copyright owner and your quest for appropriate permission.
Undertaking this analysis can be sensitive and must be advanced with caution and with careful documentation. You may be acting to reduce the risk of liability, but you have not eliminated liability. A copyright owner may still hold rights to the material. Members of the University of Houston-Clear Lake community should consult with their chair or the Neumann Library to discuss their options.
Portions of this FAQ are used and adapted from:
Crews, Kenneth and Rina Elster Pantalony. "Special Cases." Columbia University Copyright Advisory Services. https://copyright.columbia.edu/basics/special-cases.html . Licensed under Creative Commons Attribution 4.0 International (CC BY 4.0).
Crews, Kenneth. "Asking for Permission." Columbia University Advisory Services. https://copyright.columbia.edu/basics/permissions-and-licensing.html . Licensed under Creative Commons Attribution 4.0 International (CC BY 4.0).
Hathcock, April. "Getting Permission." NYU Libraries Copyright Library Guide, https://guides.nyu.edu/c.php?g=276785&p=1845968 . Licensed under Creative Commons Attribution-NonCommercial 4.0 International (CC BY-NC 4.0).
<< Previous: Dissertation Submission
Next: Help Videos >>
Last Updated: Aug 10, 2023 3:08 PM
URL: https://uhcl.libguides.com/dissertation