Free Compare and Contrast Thesis Generator
If you're struggling with writing the thesis statement for your compare and contrast essay, you've come to the right place! Our compare and contrast thesis generator is here to help you out. Using it will take just a few seconds!
So, what are the benefits of the thesis maker developed by our writing company ?
It's easy to use. It's fully online, and you don't need to download any software.
It's free. No hidden charges! Create as many thesis statements for your college essays as you wish.
It saves you time. Do something you enjoy instead of spending hours working on essays.
Keep reading and learn how to get a thesis statement in 5 simple steps!
🖥️ How to Use our Generator
⚖️ Thesis Writing Steps
✅ Strong Thesis Checklist
📑 Good & Bad Examples
🔍 References
🖥️ how to use our compare and contrast thesis generator.
Type the main subjects of your paper into the field.
Choose whether the subjects are similar, different, or both.
Add the arguments regarding similarities and differences.
Click the button.
Enjoy the result!
⚖️ Compare and Contrast Thesis Writing Steps
A thesis statement for a compare and contrast essay is the last sentence of your paper's introduction. It sums up your essay and introduces the reader to all the main points of comparison.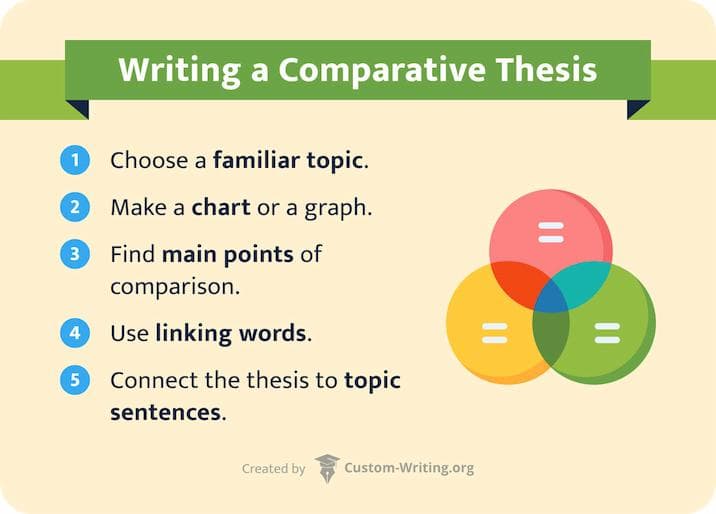 To create a solid thesis statement, you should do the following:
Make sure you are familiar with the topic . Try not to choose something too broad or narrow. You should be able to provide enough arguments to support your point.
Create a chart or a Venn diagram if needed. It will help you organize the similarities and differences between your subjects. You can create it yourself or use a template.
Try to include the most significant points of comparison in your thesis statement. You may refer to your chart to choose them.
Remember to use linking words . To make a smooth transition to the thesis, you can use words such as "compared to," "in contrast," etc.
Ensure your thesis statement is connected to the topic sentences. The thesis wraps up your essay's introduction. Then, the body paragraphs should cover the arguments you've introduced. So, make sure the topic sentences are connected to your main claim.
✅ Strong Compare and Contrast Thesis: Checklist
After you finish writing, answer these questions to ensure you have a strong thesis statement:
It's not enough to reword the prompt question or state the obvious facts. A solid thesis statement should also include a point to argue, so make sure it has one.
If you're analyzing what two objects have in common and how they are different, make sure your thesis should include arguments from both sides. If you're writing only about similarities or differences, it's enough to mention just one side.
Make sure to include the points that will actually be in your paper, and don't create any additional arguments just for your thesis.
Avoid including too many details or any irrelevant information. You have only one sentence to sum up your essay, so there is no need for lengthy explanations. By the way, if you use our tool, you can be sure your thesis will be strong and perfectly concise!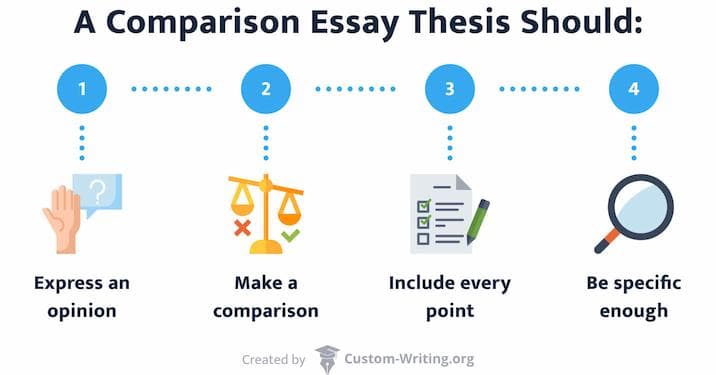 📑 Compare and Contrast Thesis: Good & Bad Examples
Check out the examples we've gathered to help you understand what a compare and contrast thesis should be like:
And here are some examples of how not to write a compare and contrast thesis statement:
We hope you enjoyed reading our article! Try out our compare and contrast thesis generator to take your essay writing to the next level! You're also welcome to use our other thesis statement generators .
❓ Compare and Contrast Thesis Generator FAQ
❓ how to write a compare and contrast thesis statement.
A compare and contrast thesis statement should summarize your essay's main points. Think of the most important differences and similarities covered in your paper and combine them into a single sentence in the introductory paragraph.
❓ How to write a thesis statement for a compare and contrast essay?
To write a thesis for a compare and contrast essay, you need to develop a topic for your paper. Come up with the main idea and provide enough arguments to support it. Then, select the most significant points and put them into a single sentence.
❓ How to write a good thesis for a compare and contrast essay?
To write a solid thesis statement, you should first choose the most significant points from your essay and combine them into a single sentence. Remember that your thesis should express an opinion and not just state facts.
❓ What is a good thesis statement for compare and contrast essay?
A good thesis statement for a compare and contrast essay should be solid and specific. To write one, summarize the arguments from your paper without too many details. Instead, try including only the most significant points. Make sure to state an opinion, too!
The Comparative Essay: University of Toronto
Comparing and Contrasting: University of North Carolina at Chapel Hill
Tips and Examples for Writing Thesis Statements: Purdue University
Beef Up Critical Thinking and Writing Skills: Comparison Essays

Plagiarism checker Do The Check
Academic editing Ask For Help
Samples database View Samples Base
How to Write a Compare and Contrast Thesis: A Formula to Success
21 Jun 2021
The basis of a good compare and contrast paper is the thesis statement. For an essay to be effective, it should have a strong thesis that grabs the reader's attention. If a paper doesn't have one, or if it has one that's no good, it probably won't do well. To write an assignment of quality, understanding how to develop a compare and contrast thesis statement is key.
Before tackling the bulk of your work, you should focus on perfecting the thesis. This establishes the direction your work is going in. Approaching the thesis for compare and contrast essays from different angles helps writers produce one that's worth reading.
If you're wondering how to write a thesis for a compare and contrast essay, carry on reading this article. Learn more about this type of thesis for assignments and how you go about producing one. You'll learn how to persuade the reader and tell them what your point of view is.
Is writing essays your hobby?
Participate in our "Independence Day of the United States" essay writing competition and get a 12-month Quizlet subscription.
Deadline: July 24, 2023
Topic: Declaration of Independence
Language: English
Length: 1000-5000 words
Font size: 11 or 12
What Is a Compare and Contrast Essay Thesis?
So what is a compare and contrast thesis statement and what's the purpose of one? It's a brief summary of what your argument will be about. It introduces the reader to your argument and gives them a clear idea of what's to come. Crafting one helps you develop the structure of a compare and contrast essay , as well as the outline. This is because it gets you thinking about your topics.
Condensing your whole work into a single summary can be challenging. However, doing so will help you expand your thoughts and come up with new ideas for the rest of your work.
Before coming up with the thesis statement for compare and contrast essay, ask yourself what your goal is. Simply put, it's about finding and analysing the similarities and differences between two topics. Examples include:
The emotional responses of men vs. women
The MLA and APA citation styles
Writing about contrasting topics can be approached in two different ways. It's important you understand each one before starting your work.
Tips for Writing a Good Compare and Contrast Thesis
Any type of college or university work should have a good-quality argument. If you're wondering how to make a compare and contrast thesis statement good, there are several simple yet worthwhile things to do.
In this section, we'll look at writing good thesis statements for compare and contrast essays. To produce one that's well-written, you should know where your work is heading. This means having a thorough understanding of the topics you'll be contrasting.
You'll probably have to do a lot of research to understand your topics well enough to write about them. Gather information and evidence that you can use in your work. Once you know enough about them, you should see how they differ and how they're similar. This should reveal the relationship between the topics and what similarities and differences there are.
Follow the tips for writing a good compare and contrast thesis ensure yours is of good quality.
Know what direction your piece of writing will head in. Understand your main argument and how you'll conclude your work. If you're struggling, create an outline and this should help you determine a route to go down.
Choose a topic that's quite specific but still has enough content to meet the word count. If your topic is too broad, it'll be harder to condense everything.
Include the most important comparisons and contrasts. Use an anchor chart to help determine what to include.
Use compare and contrast words to give your summary more flow and improve its readability.
Place the thesis statement of the compare and contrast essay at the end of the introduction. People reading your work should be able to easily identify it.
Choose your tone of voice carefully. Use language that's to the point but also informative. Don't put any words or phrases in that aren't necessary and don't contribute anything.
Use these tips to improve your thesis statement for comparison and contrast essays. Don't just write it in a hurry; spend time on it because it's an important part of your work. Come up with several versions and determine which one is likely to be the best to use.
Again, it's best that you produce the thesis before tackling the rest of your comparison assignment. This is because it should help you determine where the argument is heading. It should also remind you of the key points you'll be making throughout the work.
A compare and contrast essay thesis statement should be as long as necessary but, at the same time, as short as possible. Make it a few sentences in length. You should write what you need but not overdo it.
Compare and Contrast Thesis Formula
When composing a compare and contrast essay thesis, there's a general formula you should stick to. Below is the formula in a single sentence. Further down are some examples.
"Although topics X and Y are similar because of A and B , topic X is (your argument) because of C and D. "
How exactly does this formula work? First, you'll identify the topics you'll be discussing. These are X and Y. Then, you'll focus on some facts that they have in common. These are A and B - you can have more, but two should be enough.
Then, you'll bring in your argument. You'll then say that topic X wins the argument because of reasons C and D. Again, there can be more reasons, but you should keep it brief and have just two or possibly one.
Here are some examples:
Although medicine and chemistry are great degrees because of their job prospects and reputation, medicine is better for those who want to help people. This is because it involves direct contact with patients.
While Spanish and French are easy to learn and widely spoken, Spanish is better for those living in the USA. The reason is that the USA has many more Spanish speakers.
Although smartphones and tablets are great for mobile gaming, those who prefer a quality gaming experience prefer tablets. They cite the larger screens as the key reason why.
In each of the examples above, the topics X and Y are introduced early on. Then there are one or two things they have in common. Topic X is mentioned as fitting the argument. Finally, there's an explanation for this that highlights a point topic X has that topic Y doesn't.
Use our compare and contrast thesis template and improve your work with statements of quality. Getting your thesis statement for a compare and contrast paper is crucial if your work's going to read well. Don't forget to use our custom writing service if you're stuck on drafting a thesis for compare and contrast papers and still need help. We have experienced essay, dissertation and even PowerPoint presentation writers available to help bring to ideal your assignment.
Don't let plagiarism ruin your grade
Check the originality of a paper with just a couple of clicks.
Free unlimited checks
Accurate results
All common file formats
Intuitive interface
Was this article helpful?
Thanks for your feedback.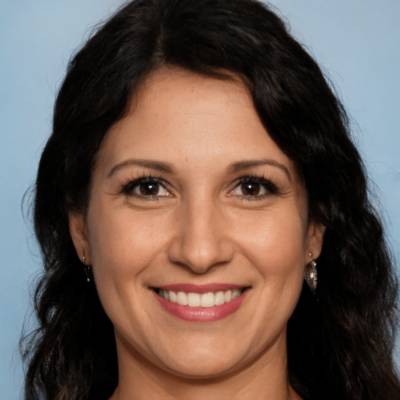 Dr. Karlyna PhD
I am a proficient writer from the United States with over five years of experience in academic writing. I comfortably complete given assignments within stipulated deadlines and at the same time deliver high-quality work, which follows the guidelines provided.
Readers also enjoyed
Legal essay topics for student.
Essay Writing Guides 20 likes
Science Essay Topics for Students
Essay Writing Guides 3 likes
Explanatory Essay Topics for Students
Essay Writing Guides 8 likes
WHY WAIT? PLACE AN ORDER RIGHT NOW!
Simply fill out the form, click the button, and have no worries!
Have a language expert improve your writing
Run a free plagiarism check in 10 minutes, generate accurate citations for free.
Knowledge Base
Comparing and contrasting in an essay | Tips & examples
Comparing and Contrasting in an Essay | Tips & Examples
Published on August 6, 2020 by Jack Caulfield . Revised on July 23, 2023.
Comparing and contrasting is an important skill in academic writing . It involves taking two or more subjects and analyzing the differences and similarities between them.
Table of contents
When should i compare and contrast, making effective comparisons, comparing and contrasting as a brainstorming tool, structuring your comparisons, other interesting articles, frequently asked questions about comparing and contrasting.
Many assignments will invite you to make comparisons quite explicitly, as in these prompts.
Compare the treatment of the theme of beauty in the poetry of William Wordsworth and John Keats.
Compare and contrast in-class and distance learning. What are the advantages and disadvantages of each approach?
Some other prompts may not directly ask you to compare and contrast, but present you with a topic where comparing and contrasting could be a good approach.
One way to approach this essay might be to contrast the situation before the Great Depression with the situation during it, to highlight how large a difference it made.
Comparing and contrasting is also used in all kinds of academic contexts where it's not explicitly prompted. For example, a literature review involves comparing and contrasting different studies on your topic, and an argumentative essay may involve weighing up the pros and cons of different arguments.
Receive feedback on language, structure, and formatting
Professional editors proofread and edit your paper by focusing on:
Academic style
Vague sentences
Style consistency
See an example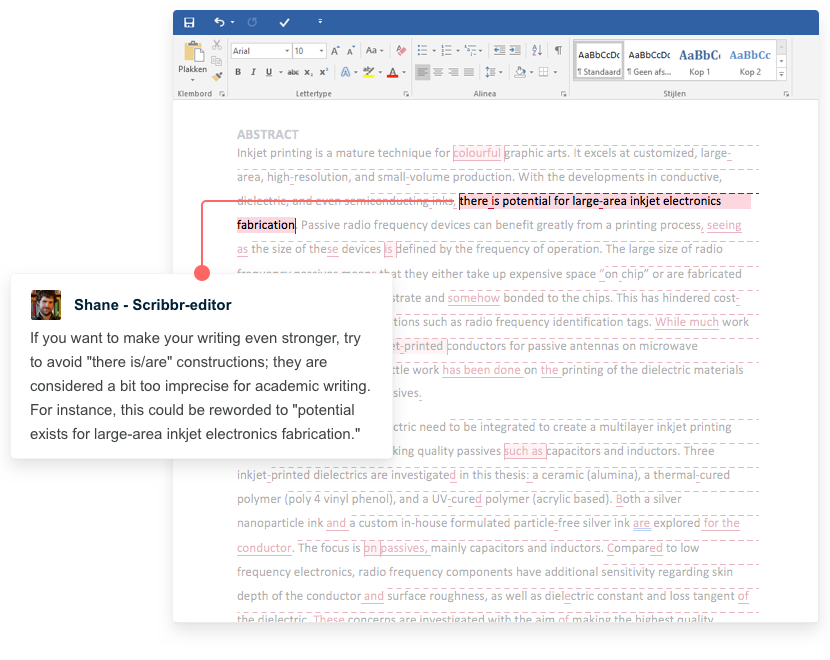 As the name suggests, comparing and contrasting is about identifying both similarities and differences. You might focus on contrasting quite different subjects or comparing subjects with a lot in common—but there must be some grounds for comparison in the first place.
For example, you might contrast French society before and after the French Revolution; you'd likely find many differences, but there would be a valid basis for comparison. However, if you contrasted pre-revolutionary France with Han-dynasty China, your reader might wonder why you chose to compare these two societies.
This is why it's important to clarify the point of your comparisons by writing a focused thesis statement . Every element of an essay should serve your central argument in some way. Consider what you're trying to accomplish with any comparisons you make, and be sure to make this clear to the reader.
Comparing and contrasting can be a useful tool to help organize your thoughts before you begin writing any type of academic text. You might use it to compare different theories and approaches you've encountered in your preliminary research, for example.
Let's say your research involves the competing psychological approaches of behaviorism and cognitive psychology. You might make a table to summarize the key differences between them.
Or say you're writing about the major global conflicts of the twentieth century. You might visualize the key similarities and differences in a Venn diagram.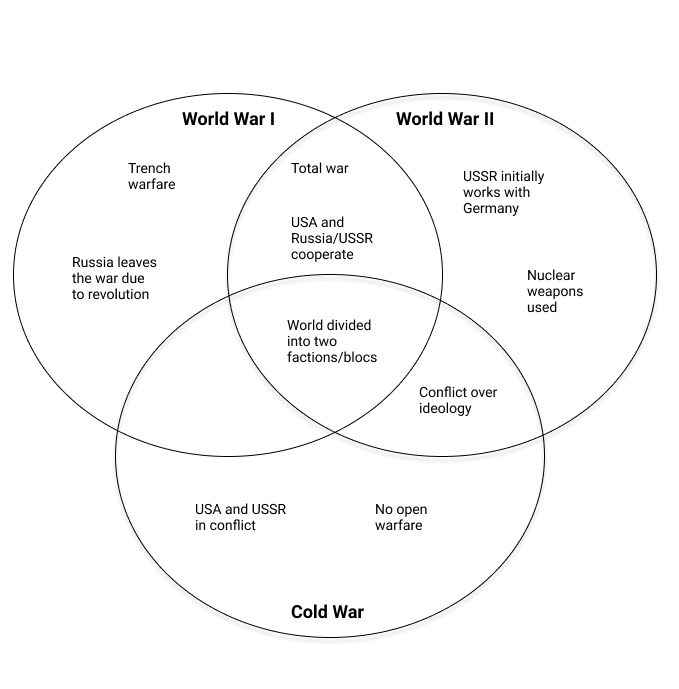 These visualizations wouldn't make it into your actual writing, so they don't have to be very formal in terms of phrasing or presentation. The point of comparing and contrasting at this stage is to help you organize and shape your ideas to aid you in structuring your arguments.
When comparing and contrasting in an essay, there are two main ways to structure your comparisons: the alternating method and the block method.
The alternating method
In the alternating method, you structure your text according to what aspect you're comparing. You cover both your subjects side by side in terms of a specific point of comparison. Your text is structured like this:
Mouse over the example paragraph below to see how this approach works.
One challenge teachers face is identifying and assisting students who are struggling without disrupting the rest of the class. In a traditional classroom environment, the teacher can easily identify when a student is struggling based on their demeanor in class or simply by regularly checking on students during exercises. They can then offer assistance quietly during the exercise or discuss it further after class. Meanwhile, in a Zoom-based class, the lack of physical presence makes it more difficult to pay attention to individual students' responses and notice frustrations, and there is less flexibility to speak with students privately to offer assistance. In this case, therefore, the traditional classroom environment holds the advantage, although it appears likely that aiding students in a virtual classroom environment will become easier as the technology, and teachers' familiarity with it, improves.
The block method
In the block method, you cover each of the overall subjects you're comparing in a block. You say everything you have to say about your first subject, then discuss your second subject, making comparisons and contrasts back to the things you've already said about the first. Your text is structured like this:
Point of comparison A
Point of comparison B
The most commonly cited advantage of distance learning is the flexibility and accessibility it offers. Rather than being required to travel to a specific location every week (and to live near enough to feasibly do so), students can participate from anywhere with an internet connection. This allows not only for a wider geographical spread of students but for the possibility of studying while travelling. However, distance learning presents its own accessibility challenges; not all students have a stable internet connection and a computer or other device with which to participate in online classes, and less technologically literate students and teachers may struggle with the technical aspects of class participation. Furthermore, discomfort and distractions can hinder an individual student's ability to engage with the class from home, creating divergent learning experiences for different students. Distance learning, then, seems to improve accessibility in some ways while representing a step backwards in others.
Note that these two methods can be combined; these two example paragraphs could both be part of the same essay, but it's wise to use an essay outline to plan out which approach you're taking in each paragraph.
A faster, more affordable way to improve your paper
Scribbr's new AI Proofreader checks your document and corrects spelling, grammar, and punctuation mistakes with near-human accuracy and the efficiency of AI!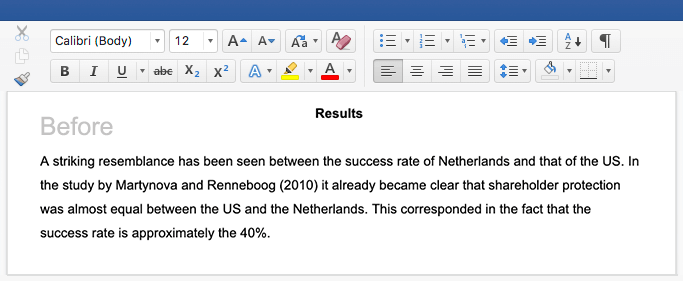 Proofread my paper
If you want to know more about AI tools , college essays , or fallacies make sure to check out some of our other articles with explanations and examples or go directly to our tools!
Ad hominem fallacy
Post hoc fallacy
Appeal to authority fallacy
False cause fallacy
Sunk cost fallacy
College essays
Choosing Essay Topic
Write a College Essay
Write a Diversity Essay
College Essay Format & Structure
Comparing and Contrasting in an Essay
 (AI) Tools
Grammar Checker
Paraphrasing Tool
Text Summarizer
AI Detector
Plagiarism Checker
Citation Generator
Some essay prompts include the keywords "compare" and/or "contrast." In these cases, an essay structured around comparing and contrasting is the appropriate response.
Comparing and contrasting is also a useful approach in all kinds of academic writing : You might compare different studies in a literature review , weigh up different arguments in an argumentative essay , or consider different theoretical approaches in a theoretical framework .
Your subjects might be very different or quite similar, but it's important that there be meaningful grounds for comparison . You can probably describe many differences between a cat and a bicycle, but there isn't really any connection between them to justify the comparison.
You'll have to write a thesis statement explaining the central point you want to make in your essay , so be sure to know in advance what connects your subjects and makes them worth comparing.
Comparisons in essays are generally structured in one of two ways:
The alternating method, where you compare your subjects side by side according to one specific aspect at a time.
The block method, where you cover each subject separately in its entirety.
It's also possible to combine both methods, for example by writing a full paragraph on each of your topics and then a final paragraph contrasting the two according to a specific metric.
Cite this Scribbr article
If you want to cite this source, you can copy and paste the citation or click the "Cite this Scribbr article" button to automatically add the citation to our free Citation Generator.
Caulfield, J. (2023, July 23). Comparing and Contrasting in an Essay | Tips & Examples. Scribbr. Retrieved November 3, 2023, from https://www.scribbr.com/academic-essay/compare-and-contrast/
Is this article helpful?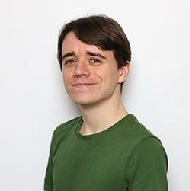 Jack Caulfield
Other students also liked, how to write an expository essay, how to write an argumentative essay | examples & tips, academic paragraph structure | step-by-step guide & examples, what is your plagiarism score.